The entire X-Men cast descended on Comic-Con Saturday night, surprising those in attendance at the 20th Century Fox panel with a look inside the upcoming mutant adventures for the big screen. We've already seen some tastes of it elsewhere, with Hugh Jackman announcing his final run as Wolverine and Deadpool making a big splash, but folks in attendance also got their first look at X-Men: Apocalypse and Gambit (and Fantastic Four, but that's another post).
The festivities started earlier in the day with the reveal of a poster for the film and our first look at Apocalypse. It didn't give too much, but it was a morsel of what was to come:
And then everyone gathered at Hall H for the big Q&A, kicked off by Jackman and Singer before, eventually, the entire cast from Deadpool and X-Men: Apocalypse were on stage together:
We got a better look of McAvoy's Professor X chromedome, some Jennifer Lawrence face making, and her revelation about the character we would be seeing from her in this film as compared to Days of Future Past:
Singer then introduced a short trailer cut together from rough footage in the early parts of the movie, giving us our first real glimpse of Oscar Isaac as Apocalypse as reported by Slash Film:
"You are all my children. And you're lost. Because you follow the wrong leader." (In here, overlaid, there's some additional dialogue that is hard to make out.) "Everything they've built will fall, and from the ashes of their world we'll build a better one."
Also cut into this footage are quick shots characters including Magneto, shorn of costume, Nightcrawler, and Storm. By the way, Storm looks aweome, like a nearly perfect realization of the mid '80s white-mohawked goddess. And as the lines above are spoken, we see that she's with Apocalypse.
That dialogue leads into a shot of Magneto, in a factory of some kind, or perhaps a mill, where he seems to be working. He turns. "Who the f*ck are you?"
And then there's the full reveal of Apocalypse, he's big and armored, and blue-purple. He looks nuts, and pretty fantastic. He also looks surprisingly like the classic early visions of the character. His response to Magneto: "Come and see."
There's a very rough clip floating around that gives us a look at the character, which is infuriating and interesting all at once. You can go check out the clip, or just see the money shot below.
Obviously the premise of Apocalypse's courtship of Magneto and others in the rough footage is to rally his horseman together, and the names being included are a mix of surprises and obvious choices according to Screen Rant:
We've known for some time that Angel/Archangel (Ben Hardy) will be one of the Horsemen – presumably death – and now the other three have been confirmed: Psylocke (Olivia Munn), Storm (Alexandra Shipp) and Magneto (Fassbender).

According to Isaac, Apocalypse's main ability is the power of persuasion, which he uses to entice these aforementioned mutants into becoming his allies. Hardy also boasted about having "really badass wings," which we've already seen in concept art for X-Men: Apocalypse. During the panel Hardy's character was referred to as Angel, but it's possible that he's transformed into Archangel after being recruited by Apocalypse, based on the mechanical wings that he's sporting in the concept art.
There's also a look at Nightcrawler from the film making the rounds. He looks decent, but I'm partial to the Alan Cumming version we saw way back in X2.
Later, Channing Tatum made his appearance sporting a Gambit t-shirt and hairstyle. There wasn't any footage or look from his role, but we finally did get a look at the logo for the film.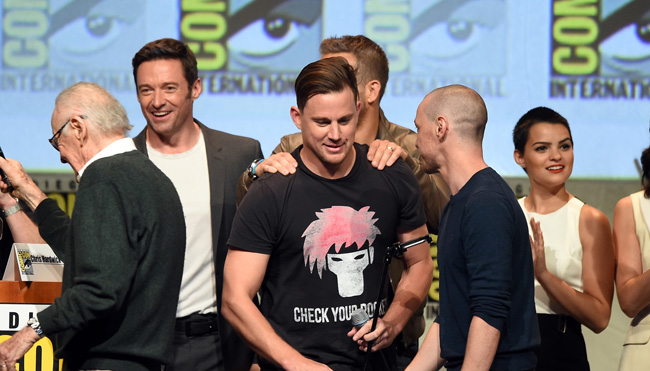 He also got involved in the massive "selfie" photograph with the entire cast on stage (thanks to moderator Chris Hardwick).
And you'll notice that Stan Lee was there, shaking hands and having a great time. It's nice to see him out and about after his recent stint in the hospital.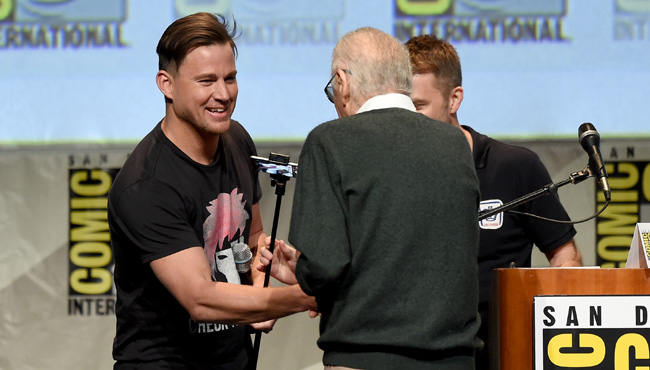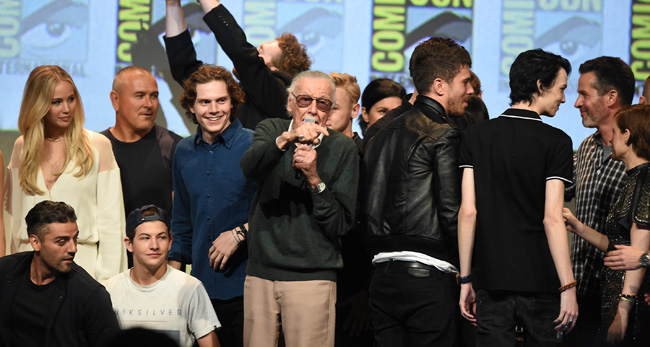 Now despite the strong showing, you have to deduct a few points from Fox for not releasing anything to the general peons out here in the real world. Even Warner surprised everyone by releasing the Batman V Superman trailer after showing it at Comic-Con. A nice Deadpool trailer would've been cool at the end of the showcase. It wouldn't have topped Lucasfilm and Disney, but it would've been nice.
(Via Screen Rant / Slash Film)