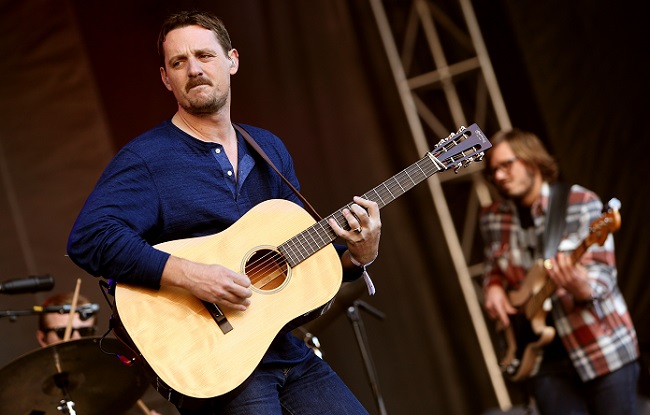 Sturgill Simpson has been raging against mainstream country music recently and, in particular, the forces behind such events as the ACM Awards and the CMAs. It began with a Facebook post taking the ACM to task for creating the Merle Haggard Spirit Award despite the fact he doesn't feel they represent the actual spirit of Haggard.
Simpson then took to Facebook again to further elaborate, at one point writing: "I fully realize that as I type this, meetings and conversations are taking place on Music Row to ensure I am blackballed from the industry and that's perfectly fine with me. I'm not sure how you can blackball somebody you don't acknowledge in the first place anyway." Well, the nominations for the Country Music Awards have been announced, and Simpson was on to something.
Despite the fact Simpson released the very good A Sailor's Guide to Earth this year (it currently hosts an 86 on Metacritic, making it the No. 10 highest-rated record among all 2016 albums), and despite the fact it topped the Billboard country charts, Simpson got zero nominations. Instead, the nominees are the folks in what Simpson calls the "mainstream country music" world such as Keith Urban, Dierks Bentley, and Carrie Underwood.
It's likely these nominations were assuredly gestating long before Simpson decided to get his knives out for the country music establishment. They speak more to Simpson's complaints than any active blackballing — not that Simpson's words are likely to help him in the future. Of course, Simpson also said that he wasn't going to attend the CMAs even if he was nominated, because he has a sold out show in Des Moines, Iowa. Like he said repeatedly in his posts, he's doing just fine without them, and he's likely to remain as outspoken as ever going forward.
Here's the full list of nominations:
Entertainer of the Year
Garth Brooks
Luke Bryan
Chris Stapleton
Carrie Underwood
Keith Urban
Album of the Year
Black — Dierks Bentley
Hero — Maren Morris
Mr. Misunderstood – Eric Church
Ripcord — Keith Urban
Storyteller — Carrie Underwood
Single of the Year
"Die a Happy Man" — Thomas Rhett
"Humble and Kind" — Tim McGraw
"My Church" — Maren Morris
"Nobody to Blame" — Chris Stapleton
"Record Year" — Eric Church
Song of the Year
"Burning House" — Cam
"Die a Happy Man" — Thomas Rhett
"Humble and Kind" — Tim McGraw
"My Church" — Maren Morris
"Record Year" — Eric Church
Male Vocalist of the Year
Dierks Bentley
Eric Church
Tim McGraw
Chris Stapleton
Keith Urban
Female Vocalist of the Year
Kelsea Ballerini
Miranda Lambert
Maren Morris
Kacey Musgraves
Carrie Underwood
New Artist of the Year
Kelsea Ballerini
Brothers Osborne
Maren Morris
Old Dominion
Cole Swindell
Vocal Duo of the Year
Brothers Osborne
Dan + Shay
Florida Georgia Line
Joey + Rory
Maddie & Tae
Vocal Group of the Year
Lady Antebellum
Little Big Town
Old Dominion
Rascal Flatts
Zac Brown Band
Music Video of the Year
"Burning House" — Cam
"Fire Away" — Chris Stapleton
"Humble and Kind" — Tim McGraw
"Record Year" — Eric Church
"Somewhere On A Beach" — Dierks Bentley
Musical Event of the Year
"Different For Girls" — Dierks Bentley feat. Elle King
"Home Alone Tonight" — Luke Bryan featuring Karen Fairchild
"The Fighter" — Keith Urban (featuring Carrie Underwood)
"Think of You" — Chris Young (duet with Cassadee Pope)
"You Are My Sunshine" — Morgane Stapleton with Chris Stapleton
Musician of the Year
Jerry Douglas (Dobro/Lap Steel Guitar)
Paul Franklin (Steel Guitar)
Dann Huff (Guitar)
Brent Mason (Guitar)
Derek Wells (Guitar)