The actual award the Grammy Awards hand out has been tweaked a bit over the years, but it has remained relatively the same. It looks like a gramophone, when even a CD player, at this point, would be antiquated. However, the award is getting a bit of an update for this year's award ceremony. You know how the Grammy doesn't have a video camera in it? Well, not anymore!
Yes, this year, the Grammys are introducing the "Grammycam." They have put a small camera, namely a GoPro, into the base of this year's awards they are handing out. Explaining the situation, Evan Greene, CMO of the Recording Academy, stated:
"As we started thinking about the incredible moments, the never-before-seen and unexpected moments that take place, we asked, 'How can we provide fans access and a point of view they've never before experienced? That's how the idea hatched."
The video taken from the Grammycams will be integrated into Grammy Live, the show's online streaming outlet, and some of the video clips will be used on CBS, presuming they can get video worth sharing.
What does this really mean, though? Probably a lot of shaky, blurry video of, like, the audience or the stage or whatever. Maybe some shots of people's stomachs as they are handed the award? In truth, this feels very gimmicky. What are you really going to see that is new or exciting because a camera is in the actual Grammys? There's already plenty of cameras capturing the event, and none of them are being manned by nervous musicians trying to remember their speeches.
Oh, also, if you are wondering, these aren't the awards the winners will actually be taking home. Every year, the Grammys gives winners a stand-in to use while they make a personally engraved version to send to the winner. So, we won't get any accidental video of, like, Adele at home. In fact, the cameras run on batteries, so it's entirely possible they will die out before the show even ends.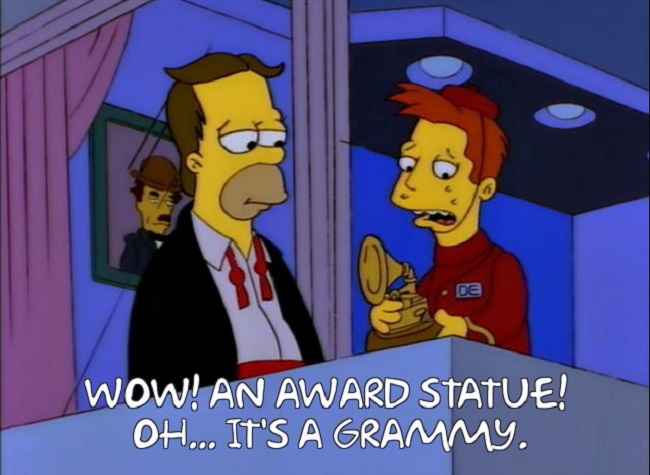 FOX
The 2016 Grammys will air live on CBS on February 15 at 8 p.m. ET.
(Via Fast Company)