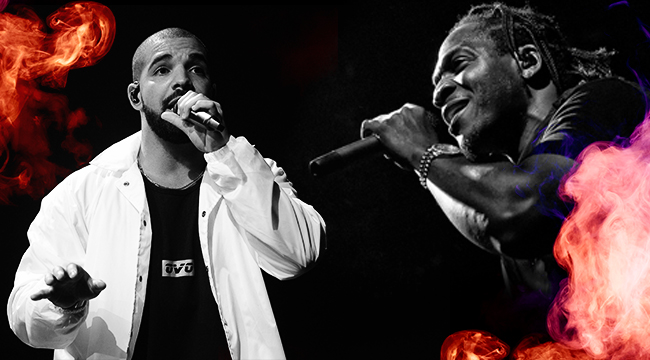 To say 2018 was one hell of a year, if not an outright exercise in developing an unfortunate tolerance to vapidity masquerading as innovation, simply isn't enough. Everyone really went through it last year, and we most certainly have the scars to prove it. Still, at least we have music.
And despite what your resident purist or full-time naysayer might have you believe, 2018 was absolutely stacked with essential releases from artists spanning multiple generations, all moving more toward a welcomed genrelessness in their own way. Of course, tucked into that hectic release year was an equal assortment of artist feuds. While some were mere social media-based entertainment at its finest — i.e. Kanye West battling his own legacy — others were uniquely 808s & Heartbreaking.
Below, we've compiled a carefully curated retrospective on 2018 in beefs, feuds, and cult-backed legal threats, as a way of putting the year to bed. Enjoy.
Bhad Bhabie vs. Iggy Azalea
Hello, levity.
A full 10 months after initially dissing Iggy Azalea on the "Hi Bich" remix, concerned citizens woke up to reports that Bhad Bhabie had tossed a "drink" at Iggy during a Cardi B-hosted Fashion Nova event. Now, an entire book could be written on exactly how f*cked up and grotesquely salacious it was for multiple outlets to use the word "drink" to describe literal water thrown by a 15-year-old artist, but that's not why we're here.
The water toss did indeed happen, but — despite the immediate outpouring of memes — Iggy ultimately took the high road. "I'm not about to fight a kid in the club," she later told fans on Instagram.
Still, regardless of how you feel about either artist's discography, the memes were funny and so too was this entire exchange. We all need a little levity every now and again, especially while watching heroes (hi, Kanye!) fumble preposterously.
And as for those discographies, are we really going to pretend Iggy and Tyga didn't kinda nail it with their oft-overlooked 2018 single "K.R.E.A.M"?
Cardi B vs. Nicki Minaj
It goes without saying (though I'll certainly say it again here) that if you're the sort of fan, general troll, and/or "music journalist" dumbf*ck who just loves pitting women artists against each other for no reason whatsoever, then you're vile, man. Your opinion has no value. And like clockwork, plenty of idiots tried to pull this one as Cardi B made her way to the top with a strong debut album and a string of Billboard Hot 100 hits to her name. Almost immediately, the Nicki Minaj comparisons and lyrical over-analysis started, creating a narrative that neither artist themselves had publicly entertained at the time.
As you now know, that ultimately changed with a series of events including some candid remarks from Nicki during a Zane Lowe interview, a "MotorSport" revelation, a NYFW party run-in, some Queen Radio-provided context, an allegedly leaked phone number, and so much more.
Still, it's hard not to throw at least some of the blame on the general public. Will we ever learn?
Drake vs. Pusha T
The vast ocean that contains the issues between King Push and the 6 God is, as my clumsy metaphor just made quite clear, extremely deep. One could easily go encyclopedic when attempting to summarize them all, so let's just keep it fairly concise: Pusha T, whose Daytona also plays a central role in Kanye's beef with his own legacy, took issue on "Infrared" with Drake's previous use of writer Quentin Miller. We were then given Drake's "Duppy Freestyle," which also saw Ye receiving some of the retaliation heat, and a joking request from Pusha T for an invoice that Drake later actually publicly supplied in the name of "career reviving."
But this year in Pusha x Drake will mostly be remembered for the outing of a son, some wildly controversial cover art, and some surprise finger-pointing at producer Noah "40" Shebib.
Sadly, this years-deep feud — which is possibly still going strong — never resulted in Pusha T going in over Drake's Scorpion highlight "Summer Games." There's still time, Push.
Eminem vs. Machine Gun Kelly
Amazingly, this one inadvertently roped in Chicago's noted rock 'n' roll savers Fall Out Boy. As you'll recall, unless you're some kind of cretin who doesn't Google "Fall Out Boy" while funneling coffee down your throat each morning, Machine Gun Kelly opened for the band on their Mania tour earlier this year. If a certain splash of headlines were to be believed at the time, MGK received a chorus of boos from the audience at one stop. This, of course, was alleged right in the middle of that whole Eminem back-and-forth that birthed the diss tracks "Not Alike," "Rap Devil," and the dramatically presented quote "Can we just pour some out for this old dumbass?"
However, Kelly later pointed out that footage of the booing incident in question had actually been salaciously edited to invent a narrative. While that speaks volumes for the post-truth era, it also speaks quite a bit on the fervency of Eminem fans even in the face of new material that's mostly failed to not feel more acrobatic than artistic. Overall, there were no real winners here.
Lil Uzi Vert vs. Heaven's Gate
Somehow, Lil Uzi Vert's Luv Is Rage 2 is only barely over a year old. Yet, with all that's transpired in both Uzi's career and music at large in the 14 months since, the world Uzi floats so effortlessly atop on his studio debut now feels like it's been punted directionlessly into another galaxy. So, yeah, we're still entirely empty-handed when it comes to previously teased full-length projects with Playboi Carti and Marilyn Manson. This year, however, did bring us an extended run of Uzi headlines that almost made up for it.
When teasing the better-feature-Manson Eternal Atake, Uzi took the liberty of utilizing some fairly obvious visual cues from the infamous Heaven's Gate cult. Alongside a logo inspired by the cult's notorious early internet presence, Uzi changed up the group's well-known statement of intent on "the UFO Two" to include references to his own Luv, Rage, and Uzi. As a surprise to presumably most, the San Diego-based cult — i.e. the same one largely made famous for its mass suicide — still has a small number of surviving members. Furthermore, those two people aren't Uzi fans. Eventually, the cult threatened Uzi with legal action. If this doesn't feel like an ingenious lead-up to a full-on Manson collab album, then I don't know what would.
6ix9ine vs. the Federal Government
For the most serious entry on our list, we turn to an artist whose very existence has — for storied purists and younger listeners alike — proven to be a continued source of contention. While 6ix9ine's commercial successes are numerous and inarguable, it was his presentation with which fellow artists seemed to most take issue.
Though not alone in his criticisms of 6ix9ine, YG stands out for a variety of reasons. In his 2018 video "Bulletproof," for example, he referred to a 6ix9ine lookalike as a "pedophile." This is a reference to 6ix9ine's 2015 guilty plea of the use of a child in a sexual performance.
Then, months after Fat Joe warned him of such an outcome (and specifically noted that authorities could be "plotting" against him), 6ix9ine was arrested by federal authorities on racketeering and firearms charges. 6ix9ine's legal team has argued that their client is merely "an entertainer who portrays a 'gangster image' to promote his music," something detractors have similarly alleged since 6ix9ine's rise. He has since pleaded not guilty, with a trial slated for September 2019.
At least for YG, none of this is cause for pausing the critiques. During a recent stop on his Stay Dangerous Tour, he offered a crowd in Sydney the following:
"I don't wish jail on nobody, you know what I'm saying? That's a f*cked up situation, that's a f*cked up place. I don't wish jail on nobody but f*ck 6ix9ine, n—a."
Kanye West vs. His Own Legacy
If you told me the version of me that discovered The College Dropout between listens of Blink-182's untitled album way back in 2004 that the same guy who ultimately inspired me to drop out of college twice would later be palling around with a delusional, reality TV, quasi-celebrity in the Oval Office, I probably wouldn't have responded to you at all. But I definitely would have solemnly, quietly stewed about it, more in shock about this purported future Kanye than the idiot currently occupying the White House.
Yet the year West has had didn't feel plausible, even considering everything that's happened since he first visited Trump Tower in 2016. As for the actual art, West — for the first time in his career — failed to nail his usual zeitgeist wheelie pop with the solo album Ye. His contributions to the Kid Cudi collab Kids See Ghosts and Pusha T's Daytona, however, showed that the artist buried deep beneath reckless MAGA co-signs and clout-chasing memes for meme's sake was (seemingly, at least) still in the fight.