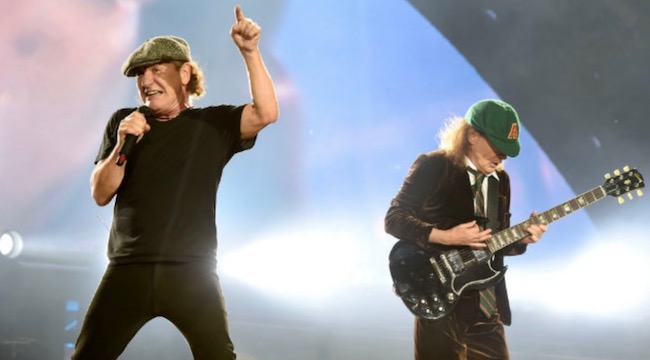 Brian Johnson, who for decades held it down as the caterwauling lead singer of the Aussie rock group AC/DC, has spent a large portion of his "retirement" indulging in the other great love of his life outside of music: Cars. Johnson is a notorious automotive buff, but the singer's hobby isn't one without danger as he learned over the weekend during the Silverstone Classic racing event.
Apparently, Johnson was driving a vintage Austin A35 on Saturday, when he lost control of the vehicle on the track causing it to flip over. Medial officials rushed to attend to him after the accident, but the singer apparently walked away from the crash unharmed.
Like many rock musicians — Jeff Beck, ZZ Top's Billy Gibbons and Neil Young spring to mind — Johnson has always held a deep love of cars and even wrote a book on the topic, Cars That Rock With Brian Johnson: Burn Rubber With Brian In the Most Iconic Cars Ever Built in 2015. His autobiography, Rockers And Rollers: A Full-Throttle Memoir also carried an automotive theme.
Johnson has had more time than ever over the last few years to mess around with cars ever since it was announced that due to hearing loss he would have to leave AC/DC, a band he fronted for over 30 years and enjoyed massive success with. While the band has yet to announce an official replacement, last year they fulfilled many outstanding tour dates with Guns N' Roses frontman Axl Rose filling in on the mic.