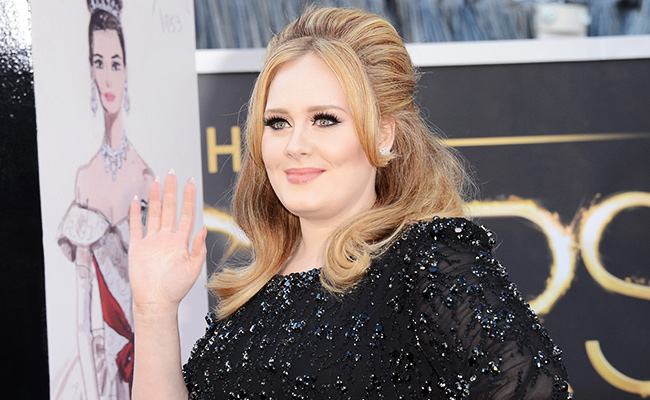 While it may seem like she's a rather ubiquitous celebrity right now, the chart-topping singer Adele rarely gives interviews, especially ones that are so personal. But with her new album, 25, soon arriving on November 20, she's decided to open up on many things we didn't know about her in a new interview with Rolling Stone.
The extensive chat examines a number of unknowns about the English singer, including the root of her reclusiveness:
"People think I hate being famous," Adele says. "And I don't. I'm really frightened of it. I think it's really toxic, and I think it's really easy to be dragged into it." Early in her career, she faced frequent musical comparisons to Amy Winehouse, whom she met only a few times: "Watching Amy deteriorate is one of the reasons I'm a bit frightened. We were all very entertained by her being a mess. I was f*cking sad about it, but if someone showed me a picture of her looking bad, I'd look at it. If we hadn't looked, then they'd have stopped taking her picture. That level of attention is really frightening, especially if you don't live around all that showbiz stuff."
That experience, she told the music mag, is enough to keep her in a quiet, domestic life with her son Angelo and his father Simon Konecki. But, of course, after a few years of family bliss and wondering where Frank Ocean's album is, as well ("I'm just f*cking waiting for Frank f*cking Ocean to come out with his album," she says. "It's taking so f*cking long."), she's been hard at work in the studio on 25 for the past year and a half.
Perhaps the biggest misconception that she shatters in the interview is that her forthcoming album will be another tearjerker like we all expected it to be:
"If my music can heal anyone's heart, then that is, like, the most satisfying thing ever," she says. "I don't think the record has a vibe of 'Whoo-hoo, I'm totally happy!' But with me being in a brighter space with my love life, will my fans be disappointed in me that I can't fix their broken hearts with a song that is brokenhearted? I don't want to disappoint them. But at the same time, I can't write a sad record, like, for everyone else. That's not a real record, unless I am sad… It would be a bit tragic to do a heartbreak album again," she says. "A cliché, not even tragic! It'd be such a cliché. What if I was heartbroken? What the f*ck would I write about? 'Cause I can't write a f*cking heartbreak record again! So just flip and reverse it."
So, with that in mind, she's been in the studio to craft her latest authentic vision with some of the music business's biggest names, like Rick Rubin, Greg Kurstin, Max Martin, and most notably Blur's Damon Albarn, who had some fairly negative things to say about her. Adele was disappointed, but rejected his assertion that she's "insecure":
"It ended up being one of those 'don't meet your idol' moments," she says. "And the saddest thing was that I was such a big Blur fan growing up. But it was sad, and I regret hanging out with him." They didn't finish a single song. "No! None of it was right. None of it suited my record. He said I was insecure, when I'm the least-insecure person I know. I was asking his opinion about my fears, about coming back with a child involved — because he has a child — and then he calls me insecure?"
For more about the sound of 25, how she dealt with almost losing her voice, how she's changed since becoming a mom, and much more, check out Rolling Stone's lengthy interview with the "Hello" singer.
(via Rolling Stone)