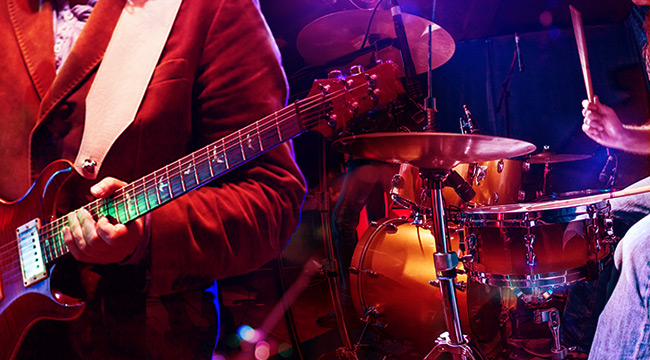 Uproxx has a diverse staff who write about all sorts of things, from sports to politics to food and travel, to TV and film, but obviously, most of the people who work here share a passion for music, because music is always in the background throughout all of those other things. It's one of the things that links us, no matter what our lifestyle, job, or location may be.
To celebrate that, Uproxx staffers are sharing their own personal year-end lists. Our official best albums list is here, and our favorite rap albums are here, with more genre-specific lists rolling out the rest of the week. For now, you can read Alex Galbraith's top 20 albums below.
20. Earth Girls, Wanderlust
Let's get this out of the way up front. When I'm making a personal Top 20, I'm not thinking about what an album meant to the world or worrying about the cultural importance of anything. On top of that, I have the world's biggest soft spot for fuzzy guitar tunes with female vocalists murdering choruses. If you get enough drinks in me, I'll argue that "Blue Gown" is the greatest song ever made until you wander away. This is a roundabout way of saying all opinions on this list are entirely my own and more than a little trash when held up to people who went in search of a theme. If you're looking for an album that said something about this year, look elsewhere. If you're looking for an excellent collection of bright and wonderful power-pop tunes, then pick up Wanderlust.
19. Chris Farren, Can't Die
I discovered this solo album from the head of Naples, FL's Fake Problems entirely by accident. Sean Bonnette of AJJ was playing a free acoustic in-store set near my house and — while I'm pretty much entirely unfamiliar with that band — it seemed like it might be fun.
Bonnette was perfectly fine, but there was no denying that Farren stole the show from the opening slot. He made up for the spare instrumentation by being an absolute belter. His room-filling performance of what I later realized was "Say U Want Me" made me seek out Can't Die as soon as I got home. While his voice is buried for much of the album under the requisite pop-punk fuzz, he still comes off like Jeff Rosenstock with a more traditionally pretty set of pipes. If you wished every album was a little bit more like Will Butler's solo album, tracks like "Human Being" and the aforementioned "Want Me" should have been a part of your 2016.
18. Sexy Dex & The Fresh, Plus 1 Edition
Dexter Gilmore fractured, oddball tunes from his Coldiloqs demos served a very distinct purpose in my life. The Minneapolis-indebted, bedroom tracks work perfectly for when I have an unchill friend in my car who asks if we can listen to something that's not Prince. "(m)ug" and "As I Light This Spliff Dying" went best with a shit-eating grin.
But now that Gilmore's expanded his funky, chaotic and falsetto-filled vision to include a whole band, I can enjoy the tracks out in the open and even those Purple Heretics will likely get on board. "Sp33D R4CR" and "Le Sigh" are like His Royal Badness on amphetamines, giving you all the oomph and speed of a track like "Sister" with a smidge less incest and a heaping layer of fuzz.
Use it to weed out the friends who are wrong for you, because anyone who's ears don't perk up at "crust-covered icy funk tunes from New Orleans" is not to be trusted.
17. Touche Amore, Stage Four
Every person I recommended Stage Four to this year (read: everyone) also got a warning. "Don't listen to this unless you're in a good place." Stage Four is so uncompromisingly, unflinchingly sad — so effective in its ability to put you in the headspace of lead singer Jeremy Bolm as he screams about losing his mother to cancer — that starting this album on anything less than your best day can put you down for a week.
It's heavy music in every sense of the word. Bolm has done the hard work of digging his heels in against a God he's not sure exists and this music is the sound of the forces of the universe thudding against him, attempting to get him to move. It's uncomfortable to hear in the same way as a brutal, score-less, close-up movie fight scene or early '00s body horror setpieces. And you spend the entire album doing the aural equivalent of watching through your fingers.
"You died at 69/ With a body full of cancer/ I asked your God 'How could you?'/ But never heard an answer" might be the most potent opening lines of the year. I have never lost a loved one to cancer. But Bolm makes the prospect so real and so terrifying that you can practically experience the chill of a hospital room that's always slightly too cold and feel the tingle of antiseptic in your nostrils.
16. Lisa Prank, Adult Teen
And now for something completely different. Adult Teen treats everything from alcoholism to love with the lightest touch imaginable.

15. D.R.A.M. – Big Baby D.R.A.M.
I can't say it better than our own Eddie Fu did earlier this year. Big Baby D.R.A.M. proves that joy can win. Play it when you need a pick-me-up.
14. A Tribe Called Quest, We Got It From Here… Thank You 4 Your Service
Albums released this late in a legendary career aren't supposed to be good. Albums with a 20-year-absence preceding them aren't supposed to be good.
This is especially true in rap, where trends, flows, styles and ideas seem to age in dog years. Hell, Jay Z was only out for two years and we got Kingdom Come. So, after two decades fans were right to mostly be cautiously optimistic about the idea of a new ATCQ album. We were excited to hear their voices again, maybe inject a little fresh blood into their Tribe playlists if one or two album tracks were decent. But then something wonderful happened. Tribe produced an album that wasn't just great for aging rap stars, but great, period.
Even more impressive, they did it without any embarrassing trend-jumping. This is a Tribe album in 2016, not a 2016 album by Tribe. Who knew that their jazzy, collaborative and dense style could still sound so fresh all these years later? Turns out being on point all the time knows no time limit.
13. Kendrick Lamar, Untitled Unmastered
K Dot on an off day > your fave on their best day. And this is the proof.
12. Kamaiyah, A Good Night In The Ghetto
Kamaiyah released one of the best songs of 2015 in the spring of 2016. And getting re-acquainted with "How Does It Feel" after a winter away perfectly mirrored the feeling of being able to drive with your windows down again. Album opener "I'm On" and excellent features on other established West Coast acts proved that this Oakland-ite is hanging around. Look for her when you start seeing convertibles again.
11. Nao, For All We Know
I did everything I could to evangelize for Nao throughout 2015. The London singer's February 15 EP was my pick for the standout of the first half of that year, and she snuck in at the end of the year with my favorite single "Bad Blood."
I've described her sound to plenty of people using some variation of the keywords "Aaliyah" and "outer space." And that holds true on For All We Know her first proper full-length. "Get To Know You" sounds like Amy Adams trying to talk to giant squids whose only contact with our language was via a broadcast of the "Are You That Somebody?" video. This album is funky, squelchy with just enough slightly off turns of phrase and musical shifts to make you question that the source thinks the same way we do.

10. Swet Shop Boys, Cashmere
Cashmere was one of those unfortunate albums that became more relevant as the year wore on. Of course, because it dropped before the election of Donald Trump, it's one more example that can easily be pointed to to show that brown-skinned people in the U.S. weren't exactly as shocked by the election outcome as the white liberal sphere was. They've been putting up with this bullsh*t for a while, and November 8 was akin to that old Dave Chappelle bit about putting something in Newsweek.
Heems has been making excellent music about living through post-9/11 America as an Indian-American since Das Racist dissolved. But the addition of Pakistani-Brit Riz MC helped ground him — Riz is a more technical rappin-ass-rapper where Heems is an esoteric weirdo — and show that the experience is sadly universal. And the best part is watching both of them refuse to have their style cramped by it.
"T5" is a song-length eye roll over airport hassling that still manages to stunt throughout. And "No Fly List" is a cheeky combination of rap braggadocio and security state protest that is undeniably fun.
9. Gloss, Trans Day Of Revenge
In a year where far too many people were focusing on the "how" of how a few people were protesting and not the "why" that got everybody else into the street, G.L.O.S.S. provided a refreshing take by blowing past the conversation entirely and openly advocating for the extreme sort-of resistance that got TV news hosts in a tizzy.
"When 'peace' is just another word for 'death'," Sadie Switchblade shouts in the first moments of the band's final EP, "it's our time to give violence a chance."
The song doesn't let up from there, laying its politics out even more plainly in the chorus of "F*ck the peace-keeping/f*ck the calm/ the investigation is a f*cking con/ the truth is found/ beneath the gun/ black lives don't matter in the eyes of the law."
The group keeps this radical energy and stance up throughout the album, which feels impressive even with all five tracks clocking in at under two minutes. If you're tired of hearing the term "respectability politics" when even the president-elect is on Twitter being disrespectful af, give Trans Day Of Revenge several spins.
8. Solange, A Seat At The Table
Solange's long-awaited album was a much-needed palate cleanser in more than a few ways. In the grand scheme, it was a different sort of political album that pushed for a radical celebration of self. But on a more personal level, it was exactly what I needed to wash the taste of Bon Iver's 22, A Million out of my mouth.
I listened to both albums on a drive back to New Orleans from my hometown. I-10 in between the east coast of Florida and Louisiana is possibly the least-interesting stretch of highway in the United States, so I was really counting on the music to keep my mind occupied. I started with Bon Iver, gassed up on great reviews and could pretty well instantly tell that I hated it. I'm aware that I'm very, very much in the minority in this opinion but I skipped out on that month's music writer Illuminati meeting. (Our motto is Audite Carly Rae, Obsecro).
After that, I couldn't handle another let-down. And Solange was there for me with her best work ever. A Seat At The Table is beautiful run through several different genres with a through-line of 'sounding really pretty' and Master P. And it came at the perfect time.
7. Chance The Rapper, Coloring Book
I climbed a mountain for the first time ever the same day that I heard Coloring Book for the first time. And "No Problem" was still the most triumphant experience of that day.
6. Car Seat Headrest, Teens Of Denial
Nobody does strung-out depression like Will Toledo. And with the backing of a major label, he made being bummed and slack sound epic.

5. Anderson .Paak, Malibu
Malibu was my (remarkably early) pick for Album of the Year. I was a fool.
That this excellent slab of soul/jazz/rap/r&b/surf doc fusion is only in the Top 5 is less a statement on Malibu as it is on how f*cking great 2016 was from a musical standpoint. The best way to describe how I've felt with this year in music is happily overwhelmed. Trying to keep up with the great music this year has turned us all into Louis C.K. talking about how the meal isn't over when we're full.
4. Kanye West, The Life Of Pablo
The greatest rap album of the year, regardless of how "Wolves" sounds.
3. PUP, The Dream Is Over
My best advice for people listening to this album for the first time is "give it a minute." Yeah, it starts off with a whine that reads like a parody of emotional pop-punk. Yeah, they're Canadian and it takes all of 30 seconds for them to call someone "buddy." But trust me, if you aren't hooked by the gang shouts of "Why can't we just get along?!" then you will be by the high-speed drunken ramble of "DVP."
If that doesn't work, I suggest you take the album in the way I did: driving across Canada all by your lonesome. Couch-surf, camp and car-sleep through the largely empty country, living on a steady diet of Timbits and boredom. If at the end you still don't like it, at least you'll understand why PUP are so bummed out all the time.
2. Tacocat, Lost Time
This was my most-listened to album of 2016 and it wasn't particularly close. But I didn't feel comfortable putting an album that's so goofy and fun in my top slot. Sure, I warned at the top that my tastes are my tastes. But in a year as awful for so many people as 2016 holding up surf-rock about The X-Files as the best work didn't seem prudent.
Still, this album meant a lot to me. I was dirtbagging it around the U.K. earlier this year — crashing wherever, searching desperately for places to plug in and do some work — and while I was having fun, I had a bit of a crisis a few weeks in.
Quite simply, I was tired. Tired of the sh*t weather and even worse coffee, tired of having to think logistically at all hours, tired of getting "American, yeah?" and a 5-minute-long prepared speech on our collective wrongs in response to every "Hello" like that's not rude as all hell.
I needed to recharge and Tacocat was there for me. Like, physically, actually there. They were playing a pub down the street from where I was staying in London. It was a show that made me think of home and the ocean, seeing the sun sometimes and third-wave coffee. The bar billed itself as an "American" bar so they even had PBRs like I would drink at my own scummy punk shows stateside.
Paying 5 pounds for one quickly reminded me of where I was. But the music was enough to pep me up until I could get into Scotland, the only part of the U.K. that ever got over instant brew.
1. Beyonce, Lemonade

It's the most significant album of the year, from one of the world's biggest stars. It proves that Bey can make a smash in any genre. And it wore its politics on its sleeve without sounding like homework. Is there anything the Queen can't do?