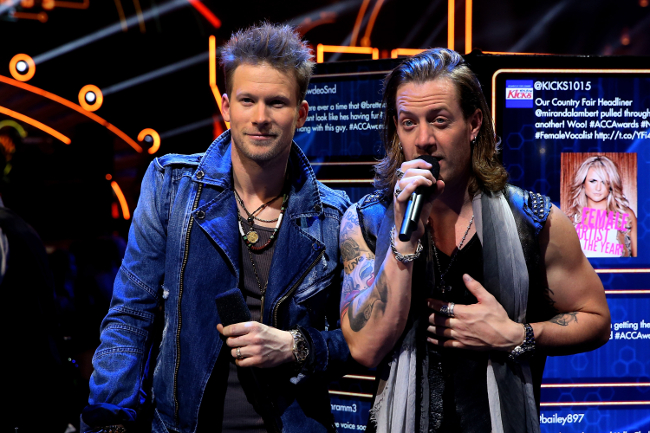 Last month, the Washington Post's Emily Yahr wrote a humorous article about the reaction from some of country music's most popular male artists to the success of the No. 1 track, "Girl in a Country Song." Written and performed by newcomers Maddie & Tae, the song parodied the genre that we have come to call Bro Country, which has been led by acts like Florida Georgia Line (spreading aural Ebola above) and the rough-and-tumbler Brantley Gilbert, as well as some other artists who adorably believe they're outlaws. Basically, these guys sing songs about dirt roads, pickup trucks, drinkin' beers with the boys and partying all night with the girls in the short shorts, and drunk bros and babes love to sing along.
The problem, Yahr wrote, was that these artists don't like being labeled as Bro Country, nor do they like being told that each new song sounds exactly like the one before it. They might be cookie cutters, but they'll tell you that they're just giving the masses what they want. And then they'll spit some flavored chaw on their fashion boots and worry that the highlights in their flat-ironed hair might be fading.
But in case you needed further proof that a lot of today's country hits sound exactly the same, a YouTube user named Sir Mashalot (who is also an aspiring country music artist) took six Bro Country songs – "Sure Be Cool If You Did"- Blake Shelton, "Drunk on You"- Luke Bryan, "Chillin' It"- Cole Swindell, "Close Your Eyes"- Parmalee, "This is How We Roll"- Florida Georgia Line, "Ready, Set, Roll"- Chase Rice – and combined them into one song. But it's not to make fun of them. At least for him.
This Mashup is all in good fun. I am not bashing these songs. I understand and even appreciate why the "formula" continues to dominate the airwaves- not only in country music, but pop and other genres as well. I simply enjoy mixing and producing on Pro Tools, and when I heard the striking similarities of these particular hits, I thought it would be fun to throw them all in a mix and have some fun. And it looks like people are having fun with it too, so I couldn't be happier.
The result will… probably make the girls in the short shorts and the bros with the pickups on the old dirt roads wave their beers in the air like they just don't care. Even if the rest of us are rolling our eyes.
(H/T to the wonderful Saving Country Music)