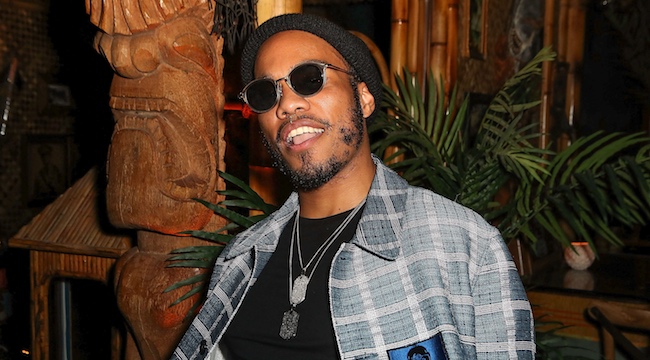 Anderson .Paak, his band The Free Nationals, The Internet, and Mac DeMarco are in the midst of a world tour at the moment, but Paak and Free Nationals are also getting work done on new albums, both of which are expected to be out in the world relatively soon.
Speaking with Triple J, Free Nationals guitarist Jose Rios said of the band's next album, "It's almost done. Next couple of months it should be out… before [June/July]. We're putting the finishing touches on it right now." He went on to say that the record will feature contributions from Mac Miller, Kali Uchis, Daniel Caesar, and maybe even T.I. and Unknown Mortal Orchestra.
Then Paak chimed in about the follow-up to his 2016 album Malibu, saying that we can "definitely expect" it to drop in 2018:
"[Dr. Dre] had a heavy role in this new album that's almost done as well. Just going through the mixing phase. I won't say any dates but you can definitely expect it this year, sometime. It's dope to be around like legends like that and you can feel the mutual respect. That's what I always did it for, I wasn't really thinking about money or fame, I just wanted the respect from the people I look up to musically. It's amazing."
Paak also talked about what it was like to contribute to Kendrick Lamar's Black Panther soundtrack, saying that his part came together very quickly:
"We were in South Africa, we had literally just got off the plane and I got a text from Kendrick, he was like 'I hear you on the song I don't hear nobody else on it.' I just go to South Africa, 'I'll try my best to get it done'. So we just booked a studio that night and I recorded it and sent it back – he loved it. Couple weeks later it was on the soundtrack"
Lastly, he shared that spending time on the road with DeMarco is a wild and unpredictable experience: "He took a piss on an ATM machine; got fully nude one place; made out with his keyboard player… He's not normal."
Read the full interview here.