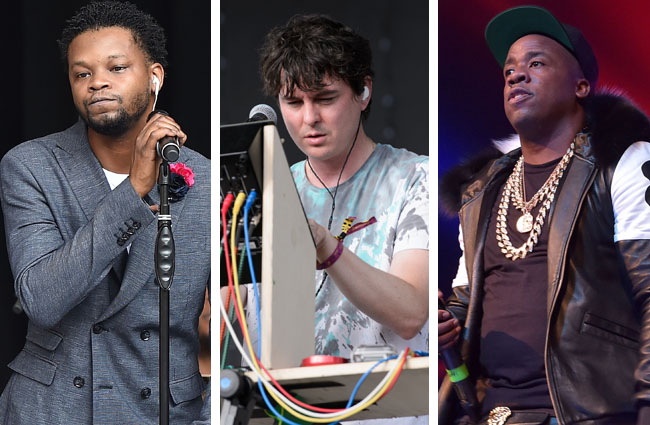 Now that we're out of the Kanye West sandstorm, at least a little bit, anyway, there is a whole slew of new albums to be excited about. Animal Collective return with a new LP of psychedelic pop, Yo Gotti wants to prove it goes down in more than just the DM, and BJ The Chicago Kid makes his major label debut. Plus there's new albums from Wild Nothing, Ra Ra Riot, the Star Wars Headspace compilation made from sound effects by dance music's biggest artists, Wolfmother, Mavis Staples, and so many more.
Here are the albums you need to hear this week.
Animal Collective – Painting With
Four years apart from Centipede Hz, Animal Collective stand at an odd position. As proud avant garde-ists, they've been the indie pop group who don't sound like anything else for more than a decade. But what happens when your influence seeps into the mainstream, and you're forced to change to move away from your sound onto something new. It's experimentation that's nomadic rather than organic. This was the main knock on their last LP, but thankfully, Painting With seems to fall in the latter than the former.
"FloriDada" feels like four minutes of jubilation, and "Lying in the Grass" has an infectious clap groove that's hard to follow, yet still captures. The album is the most inviting their sound has been in years.
Yo Gotti – The Art of Hustle
The grind for Yo Gotti has not slowed for the better part of two decades. The Memphis MC had some big hits, but inexplicably, 2016 was the year of his undeniable major breakthrough. "Down in the DM" was everywhere in the past year and even became shorthand for those looking to get lucky in private messages. Now that Gotti is a bit of a household name, The Art of Hustle has arrived. Features on the huge releases come by the way of Lil Wayne, Future, Timbaland, Pusha T, and Nicki Minaj on the "Down in the DM" remix.
BJ The Chicago Kid – In My Mind
For those who don't know yet, BJ The Chicago Kid is someone you need in your life. Long waiting in the wings as a songwriter and featured vocalist — most notably on Kanye West's "Impossible" and Schoolboy Q's "Studio" — In My Mind is the major label debut from the Chi-town native. The album's first single, "Church" featuring Chance The Rapper, balanced wanting to do wrong on Saturday night and do right by Sunday morning. The track got a West Coast remix by Ty Dolla $ign and Anderson .Paak, so any chance of being "saved" was lost to the sinful side. The slick LP also features production from Raphael Saadiq, and guest appearances from Kendrick Lamar and Big K.R.I.T.
Here are the rest of the week's albums:
Ra Ra Riot – Need Your Light
Various Artists – Star Wars Headspace
Wild Nothing – Life of Pause
Wolfmother – Victorious
Mya – Smoove Jones
Lushlife – Ritualize
The Cave Singers – Banshee
Mavis Staples – Livin' on a High Note
Matmos – Ultimate Care II
Jack Garratt – Phase
Seth Bogart – Seth Bogart
Yoko Ono – Yes, I'm a Witch, Too
Simple Plan – Taking One for the Team
Lake Street Dive – Side Pony
Young Dolph – King Of Memphis