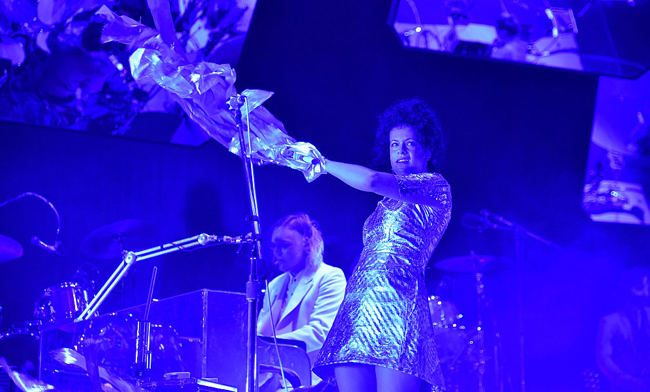 It's a great time to be an Arcade Fire fan. After a multi-year semi-hiatus, the band has released a plethora of new songs that will be on their forthcoming fifth album Everything Now that's due to drop on July 28th. The latest that made its way to the net is "No Signs of Life," which takes a page out of lead single "Everything Now's" playbook and delivers a sprawling dance track that reinforces the idea that Neon Bible's "Black Mirror" exploded and the shards were forged into a disco ball.
Fan account Arcade Fire Tube was able to nab the song (that sounds surprisingly good for a Periscope vid) from a concert in Scunthorpe, England, where Arcade Fire stopped for one of the first shows on their Infinite Content Tour.
Much ado has been made about Arcade Fire playing "Neon Bible" and "Black Mirror" live for the first time in years on their latest tour, and whether that's because of the state of politics (Neon Bible was heavily political and released near the end of the Bush presidency) or because they miss their old songs, only the band knows. What's definitive is that the Haitian rhythm section from the Reflektor tour seems to be back, and with them, comes a very groovy Arcade Fire.
(Via Pitchfork)