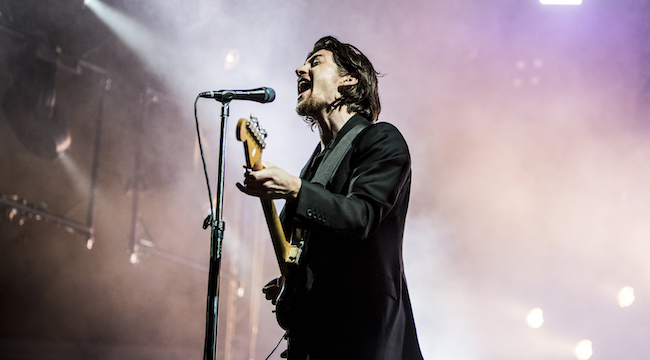 Arctic Monkeys spent much of the last year recording, refining, releasing and then promoting their latest, lounge-y album Tranquility Base Hotel & Casino. Now, they are offering their fans an intimate look on how that entire process unfolded via an 11-minute long short film titled Warp Speed Chic.
Directed by Ben Chappell, who also put together a short film back in 2014 chronicling the band's tour through South America, Warp Speed Chic offers galvanizing glimpses of the band in the studio refining the music on their new album interspersed with cuts of them playing before thousands of people live, onstage. Chappell spent a full year in the studio with Arctic Monkeys, chronicling the creation of Tranquility Base Hotel & Casino before catching up again with them for a set of performances in Lyon, France.
"I spent a few weeks with the band in France documenting the recording process with my 16mm camera in September 2017," Chappell said in a statement. "Nearly a year later, I was on stage with them in Lyon, France, shooting some of those same tunes. When the film came back from the lab I put the live songs next to my shots of them recording and found it to be quite nice. With that as a starting point, I then used James Ford's instrumental mixes of the album and I put an assortment of the images we created for this album overtop, giving a glimpse into the last year and the full progression of Tranquility Base Hotel & Casino."
In addition to the short film, Arctic Monkeys also announced today that next month on November 30, they plan on dropping a special seven-inch single of the song "Tranquility Base Hotel & Casino," along with a brand new b-side titled "Anyways." You can pre-order your copy of that single here, and watch a year in the life of Arctic Monkeys in the short-film "Warp Speed Chic" above.