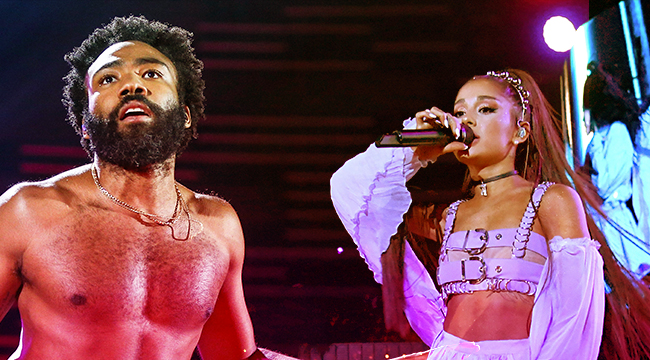 The adage goes that there are two ways to skin a cat. In the case of Coachella, there are two ways to kill the stage. There was no #Beychella this year at the Indio, California-based music festival, but the bill was still loaded with talented acts looking to entertain the thousands in attendance. Few shone brighter than Ariana Grande and Donald Glover, a pair of headlining acts who gave divergent displays which paid homage to hip-hop's past and its future.
Ariana invited rap legends like Diddy, Mase, and Nicki Minaj onstage for an extravaganza fit for her burgeoning role as a queen of pop while Donald stood solitary, staking claim to his own status as a legend with a winding set that he opted to make as intimate as possible in a sea of thousands of concertgoers. There are no explicitly right or wrong answers in art, and both artists made the best choices for them and made a range of statements, purposefully or not, with their performances.
Ariana could have had a successful set off of her extensive catalog alone, but she decided to embrace nostalgia by bringing a slew of beloved acts on her stage. She invited pop group NSYNC (sans Justin Timberlake), much to the excitement of fans who remember their Billboard and TRL-dominating heyday. But the most interesting guest spots during her performance were Nicki Minaj as well as Diddy and Mase. Ariana interpolated Biggie, Diddy and Mase's "Mo Money Mo Problems" on her 2014 "Break Your Heart Right Back" track with Donald Glover.
On the surface, the performance gave Diddy the chance to be the showstopper that he's always been in a year where he may want to feel the love more than normal. But what's more important is that Ariana used her moment to pay homage to the source of one of her most enjoyed singles.
In recent years, the 23-year-old has joined artists like Bruno Mars and Post Malone in the cultural appropriation hot seat. While those familiar with her catalog could note collaborations by respected rap figures Nicki Minaj, and her late ex Mac Miller, there's not much that Grande will be able to do to shift the perception for many that she's a veritable guest in the land of hip-hop. It's difficult for even the most reasonable person to pinpoint the line between influence and outright appropriation, but Ariana undeniably ruffled feathers by borrowing flows in her "7 Rings" song and utilizing 2 Chainz' iconic pink trap-house imagery without a formal shoutout to him in the video. She atoned from her mistake the best way she could, by putting him on the remix to the track.
Her nod to "Mo Money Mo Problems" was a move in a similar vein. Diddy needs no help promoting himself, but making sure a rap legend like Mase hit the stage to smell some roses was an admirable gesture to show respect for her predecessors — while simultaneously showing how far hip-hop has come. Hip-hop is now a global culture, and many of the world's biggest artists are undeniably leaning into the genre for inspiration. It's important that they offer their massive platform to tribute the forebearers not just for exposure to new audiences, but in appreciation of the universality of hip-hop culture. The genre-bending trap sound that Grande impressively explored on Thank U, Next was barely a thought in 1997. But now pop artists are casually releasing music that's undeniably hip-hop influenced, able to rock onstage with icons of a hip-hop golden era. Those griping about the circumstance should be in awe of hip-hop's continued expansion.
Grande's effervescent sound was the perfect foil for a fun, star-studded turn-up session. On the flipside, Donald Glover's intimate setting, in which he implored fans to put away their phones and be "his church," was an ideal atmosphere for his still-growing and thoughtful catalog of pensive rhymes and impassioned vocals.
While Grande used the power of her fun, empowering discography and a dose of hip-hop nostalgia to create a spectacle, Glover achieved the same impact mostly on his own. He mused about the fragility of life and the need for the youth to "plant trees they won't eat the fruit from," before performing "Riot." It was clear that he aimed for his set to be poignant, "me, you, and God" moment that might not have maintained the same energy if he had invited people into his world besides his band and the choir dancers who took their cues from him.
Donald and his band's performance was the MC and DJ set revitalized for the new age, where rappers are rockstars, and the biggest stages available to rock just happen to be the biggest in music. Grande and Glover's Coachella sets were defiantly different, but they were both impressive models of how to make statements and encapsulate the vibe of your sonic world into the real world.