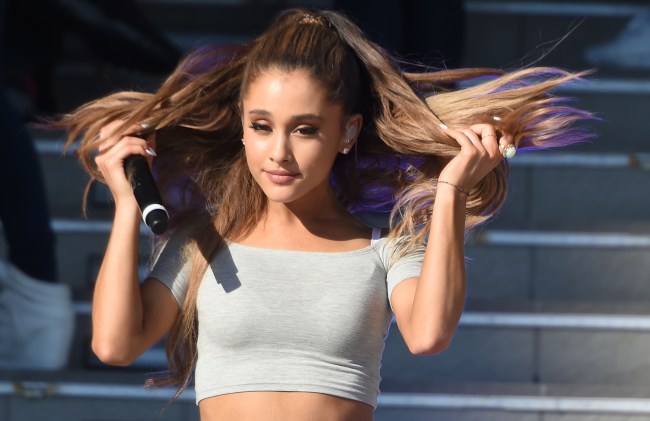 If you get caught licking donuts in a donut shop on camera, you're going to tick a few people off. If you talk about hating America, you are really going to tick some people off.
Such is the case with Ariana Grande, who earlier this summer, committed both of these acts at the same time. Grande was rightfully lambasted, slammed and panned for her actions, and even though she profusely apologized, saying she was "disgusted" and "disappointed" in herself, her popularity dipped significantly as a result.
But how significantly? I mean, we're talking about licking donuts and hating America here. That's serious business. Is there any way that anyone else could have suffered a more troublesome tumble in popularity?
That's where Q Scores come into play. Q Scores poll Americans, gathering opinions about brands and celebrities in an attempt to find out how liked or disliked they are. The end result is a celebrity or brand's Q Score rating.
The Hollywood Reporter decided to take the most recent scores and compare them with scores from that same celebrity's score from 2013 to see who's suffered "the biggest celebrity falls from grace," i.e. the celebrities whose score dropped the most. They compiled a top-10 list of the celebs whose public image has taken the biggest hit.
Miley Cyrus is there, sitting pretty at No. 8. Her negative Q rating has seen a four-point increase. People still aren't over her MTV Video Music Award performance with Robin Thicke, and apparently her dying her armpit hair pink had what those in the Q Scores' lunch room call a "negative effect." Speaking of Thicke, he comes in at No. 4 with a 14-point jump in his score because hey, don't rip off Marvin Gaye dude!
And coming in at No. 2, cat ears and all, Ariana Grande!
Grande saw her negative Q Score go up a whopping 26 points. But wait, No. 2? Does that mean…yes, yes it does.
There at No. 1 with an impressive 43-point jump in his negative rating is none other than Bill Cosby. Thanks to pretty obvious reasons, Cosby, according to Q Scores Executive Vice President Henry Schafer, is "likely the most disgraced celebrity in recent American history."
"I don't ever recall seeing an increase [in negative Q Score] like that. It's the biggest drop I've ever seen. A complete reversal." Back in the heyday of The Cosby Show in the late '80s, Schafer says Cosby once recorded the highest Q score ever, with more than 70% of Americans saying Cosby was one of their favorite celebrities. According to Schafer, Cosby's negative Q score in 2013 was 9, meaning 9% of adults had given him a negative rating. That number has since risen by 43 points to 52% in 2015."
Ouch.
So Ariana might think she has it bad. And she does. But she doesn't have it that bad. Although being mentioned in the same breath as Bill Cosby nowadays is still pretty bad.
(Via The Hollywood Reporter)