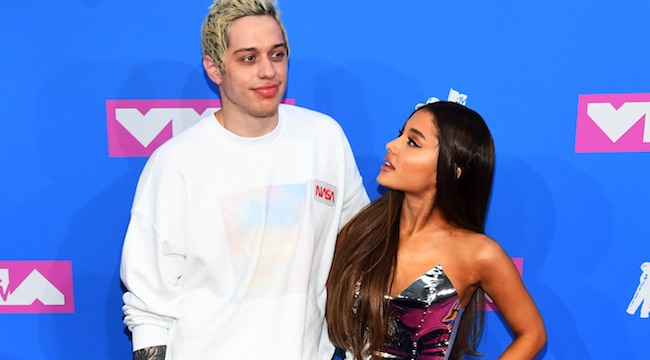 Now that news has broken that Ariana Grande and Pete Davidson have called off their whirlwind engagement, the next step is, of course, rampant internet speculation about why they did so. The most convenient explanation to present itself is that their breakup is the result of the recent overdose death of Mac Miller, who was previously involved with Grande before she linked up with Davidson. Many sites and fans have already run with this reasoning, despite the fact that there is little evidence to support it.
After all, there could be any reason for a split between two people, from financial reasons to impending long-term business commitments which are common to the entertainment industry both are a part of. Due to the brisk timing of their engagement, from casually dating to engaged in a matter of months, it's entirely possible that the pair simply were forced by circumstance to reevaluate their compatibility and life goals and realized they weren't as great a match as they thought.
However, if we were to operate under the assumption that the grief from Mac Miller's death caused friction in their relationship, so what? It's no one's business but their own.
Grief is an odd thing. Psychologists and therapists have invented multiple frameworks for trying to understand it, including the arguably best-known, the seven stages of grief theory, but there is no perfect system for analyzing how humans process loss. It's clear that Ariana was deeply affected by Mac's loss; she commented at length about being worried about how his dependency on drugs strained her relationship with him, and other stars close to the pair confirmed that she maintained contact with him after their breakup. It's difficult to deal with someone who has an addiction, but it's also difficult to simply cut off someone you care about deeply and move on.
And though Grande did move on, she moved on to another potentially difficult situation. Davidson has been open about his mental health struggles. The comedian was diagnosed with borderline personality disorder, a condition characterized by unstable relationships with other people, unstable sense of self and unstable emotions. While he states regularly that he manages the condition with medication, I can attest from personal experience that dealing with loved ones battling mental disorders can be a struggle in itself. Doing so while fighting your own personal issues — especially the intense grief that comes with the loss of a loved one — piles trouble on top of trouble.
Ariana Grande has had a rough go of life lately, to put it lightly. Very few people have ever survived proximity to a terrorist attack, whatever a certain group of self-interested politicians would have you believe, and for her to have experienced such a tremendous loss so soon after such a traumatic experience — one from which true recovery is an iffy proposition at best — there is no way for anyone who isn't Ariana Grande to hash out how she copes with it or how it affects her relationships.
Planning a wedding is usually a pretty stressful endeavor in itself, but doing so under the intense scrutiny of the public and the media industry, especially with the inescapable ubiquity of social media, is probably too much for anyone to handle under the best conditions. Doing so while figuring out how to handle someone else's mental health issues and while suffering the grief of a beloved ex's death and while working through a singular traumatic experience and while being bombarded with disturbing messages on Instagram and Twitter from disassociated fans blaming you for your ex's overdose is more than anyone should ever be put through.
So, maybe, just maybe, this one time, we can all back off and grant Ariana's desperate plea on Twitter for "just one day" without something traumatic. She's been through enough for two or three lifetimes and there's only so much one person can take. I don't know Ariana, but I feel for her and here's the thing: So should you, whether you work in media or you're a hardcore fan or you just have a passing interest in the story online. Empathy has been missing from our cultural discourse for far too long. Let's all let Ariana grieve in peace, for however long she needs to, and nix the speculation and harassment.