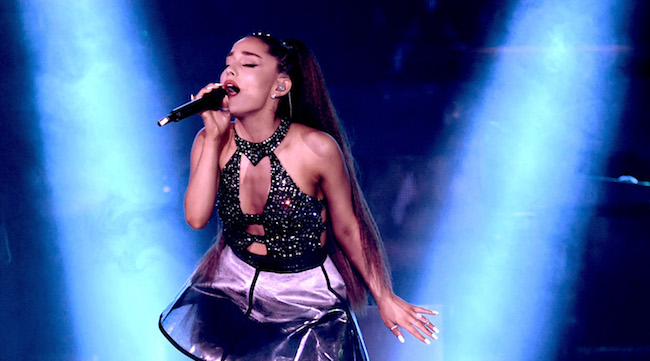 Ariana Grande just released Sweetener in August, but the singer is already hard at work on her next project. "Thank U, Next," released this Saturday, is rumored to be the lead single and title of Ari's fifth studio album. Though Grande usually takes at least a year between LPs, that album is apparently coming in a matter of months. Grande said that her upcoming world tour, which just released tickets for general on sale, will be a combined tour for both of her new projects.
But when, exactly, can we expect to hear AG5? Grande has been dropping hints about the album since before we even heard Sweetener.
Grande teased the album for the first time in a virtual listening party for Sweetener on August 16. She announced that she'd begin work in the studio "next month," September.
According to since-deleted images and videos posted to her Instagram story, Ariana was reportedly in the studio every day from October 1 to October 12. Grande has also been photographed leaving the studio on multiple occasions — these are from October 2.
On October 4, producer Tommy Brown shared a few seconds of a new song to his Instagram story. Later that day, Ari posted a 45-second snippet of the same song to her own Instagram. The video is captioned "tell me how good it feels to be needed," lyrics she sings in the video. Fans speculate that the song is called "Needy."
In the past few days, Grande has ramped up her hint-dropping, implying that the album may be coming even sooner than we think. On November 2, a day before she'd release the song, she tweeted lyrics to "Thank U, Next."
When a fan asked what the title of her upcoming project is, Grande responded that fans "already know it," confirming the fan theory that her next album will be called Thank U, Next.
On November 3, Grande also revealed that this album won't have any collaborations, and that there won't be an intro song. Still, Grande said that she thinks that fans will love her break with tradition.
"Thank U, Next" could be the last track on the album — this tweet hints that the album will include 12 songs, and Grande confirmed that the album will end with the song in another tweet.
Fans also speculate that this photo, posted to her Instagram on November 5, might be from an album photoshoot.
In general, Grande tends to become especially active on social media when she's gearing up to announce something. The morning before "Thank U, Next" dropped, she answered fan questions on Twitter about the song. She's doing the same today, posting the possible album-shoot photo, joking with fans about how much she loves iced coffee, and teasing a new visual for "Breathin."
"This week too" could just mean "in addition to 'Thank U, Next,'" but if the devil works hard, Ariana Grande works harder. All this teasing seems like it's leading up to an official album announcement or a bigger hint toward a release date. Ari released "No Tears Left To Cry" back in April, four months before Sweetener was released in full. If she's sticking to a similar timeline, we should expect a new album from Ariana around or before March — just enough time to learn every song before her first tour date.