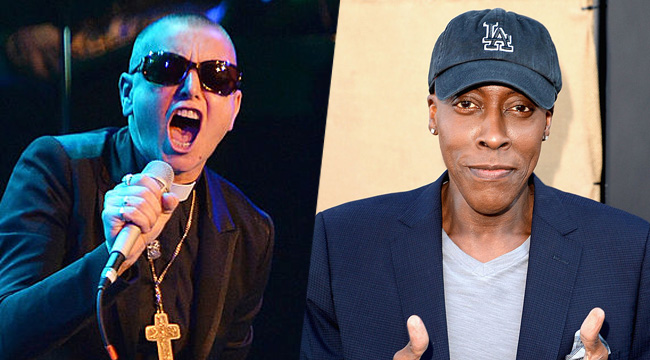 Nearly two weeks after Prince's death, his autopsy results arrived on Wednesday. The medical examiner concluded that the painkiller Percocet was discovered in the iconic artist's system. Law enforcement is looking into the possibility of multiple doctors and pharmacies that Prince may have used, but it will take some time before conclusive determinations are made.
In the meantime, Arsenio Hall is still reeling from allegations made by Sinead O'Connor in the wake of his friend's death. O'Connor, who is prone to social media outbursts, published a Facebook post to accuse the comedian of being responsible for Prince's demise. She also accused Hall for supplying the rock god with drugs and spiking her drink at a party. Hall's rep quickly denied the allegations as "absolutely false, ridiculous and absurd." Well, Hall has now filed a substantial lawsuit against O'Connor:

Hall's complaint, which was filed in Los Angeles on May 5th, calls O'Connor a "desperate attention-seeker" and calls her story "outlandish defamatory lies." Hall refutes all of O'Connor's claims and said O'Connor has a history of "bizarre, unhinged internet rants." Hall also goes into detail on the contentious relationship he believes O'Connor had with Prince, alleging they had a "feud" and once engaged in "a violent fistfight" with the late singer where O'Connor "spat on him repeatedly after she told Prince 'to go f*ck himself.'"

Hall is suing for $5 million in compensatory damages.
Clearly, Hall is not taking these accusations lightly. Hence his lawsuit for defamation, and he's looking for serious damages. Whether or not O'Connor truly reported Hall to law enforcement (as she claimed in her Facebook entry) is one thing, but she publicly accused him of these crimes. Hall previously said he knew nothing of Prince's specific medical problems, but he believed his friend was in pain after he started using a cane.
Here's a screenshot of O'Connor's Facebook post again, although she still hasn't deleted it.
(Via Rolling Stone)