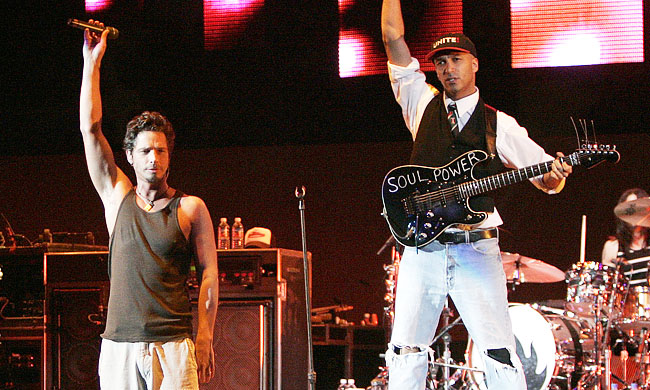 Audioslave formed in 2002 out of the ashes of Rage Against The Machine, with Soundgarden's Chris Cornell stepping in to join former Rage members Tom Morello, Tim Commerford, and Brad Wilk after Zack de la Rocha quit their former band. The group found plenty of success before disbanding in 2007 and even made history by playing a free concert in Cuba. It has been over a decade but now fans will be able to enjoy the group at the Prophets of Rage Anti-Inaugural Ball in Los Angeles.
It will be the first time the group has been on stage together in 11 years, releasing their last album Revelations in 2006. While Pitchfork reports that there are no plans for the group to reunite for more shows after January 20th, their inclusion at the Anti-Inaugural Ball packs an already impressive protest event according to Rolling Stone:
Along with Audioslave, the Anti-Inaugural Ball will feature Vic Mensa, Jackson Browne, Jack Black and the Los Angeles Freedom Choir. Morello, Commerford and Wilk will also perform with Prophets of Rage, their supergroup with Cypress Hill's B-Real and Public Enemy's Chuck D and DJ Lord…

The Anti-Inaugural Ball follows Prophets of Rage's protest concert in Cleveland during the Republican National Convention last July. The event also falls on the 20th anniversary of Radio Free Los Angeles, a show members of Rage Against the Machine hosted during Bill Clinton's inauguration.
Prophets Of Rage came together back in mid-2016 ahead of the RNC in Cleveland, giving the members of a Rage some legendary frontmen in Public Enemy founder Chuck D and B-Real from Cypress Hill. The group performed outside of the Republican convention in Cleveland a few months later, following that with a prison show that didn't go as planned and an announced EP.
Tom Morello released a statement about the event in Los Angeles, detailing the reasons behind it and why the group is standing in opposition to the president-elect:
"The Anti-Inaugural Ball is a celebration of resistance…Resistance to racism. Resistance to sexism. Resistance to homophobia. Resistance to bullying. Resistance to environmental devastation. Resistance to fascism. Resistance to Donald Trump. We are staring down the barrel of a dystopian nightmare unless we act now, unless we fight back now."
You can still buy tickets on Ticketmaster. According to Rolling Stone, a portion of proceeds from the Anti-Inaugural Ball will go to the Rape, Abuse and Incest National Network.
(Via Rolling Stone / Pitchfork)