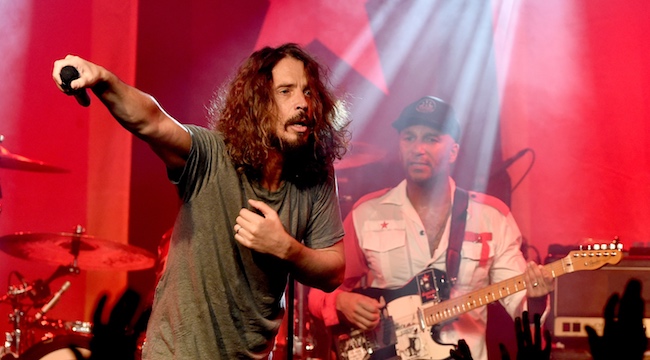 Audioslave made their triumphant return to the rock world earlier this year, when they reunited to perform at Prophets Of Rage's Anti-Inaugural Ball. It turns out that everybody involved felt pretty good about it, to the point that the band was seriously talking about getting the gang back together for a tour and a new album, plans that were sadly derailed by Chris Cornell's suicide in May.
Still, it looks like the remaining members of the band at least have an interest in opening their vault and sharing its contents with the world. When asked in a recent interview with Music Radar if unreleased Audioslave songs would ever be see the light of day, Tom Morello answered:
"I hope it does, because there's great Audioslave material in the vault. It's so sad: We had talked about playing more Audioslave shows and releasing that material and doing something together in the not-too-distant future."
Cornell seemed to be on the same page, because when asked shortly after the Anti-Inaugural Ball reunion if there were plans for more Audioslave shows, he said:
"It's always a possibility. I mean, we've been talking about it for at least three or four years now. We were talking about actually picking dates, and it just ended up not working out because everybody's so busy. […] So, it's really honestly as simple as we end up having a window of time where it's comfortable for everybody and we want to do it, because I definitely feel like everybody's up for it."
Morello penned a touching letter following Cornell's death, so read that note here. Also revisit our look at how the reaction to Cornell's death was different from the traditional celebrity grieving process, here.