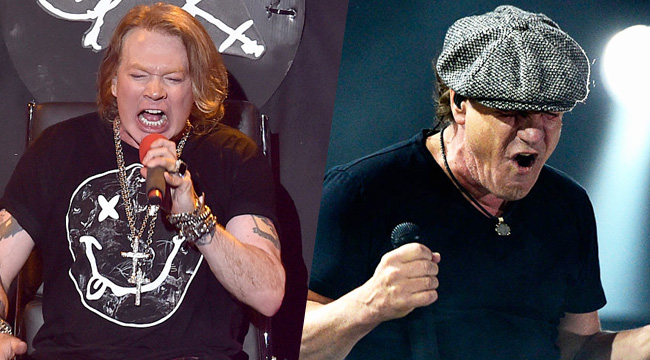 Axl Rose rode fairly high with the "original" Guns N' Roses at this year's Coachella festival. Even those of us who still hold candles for Izzy Stradlin and Steven Adler have to admit that the group's reunion has gone off better than expected. However, fronting one iconic band doesn't necessarily lead to success in another one. Fans know this all too well, and not everyone is thrilled with the prospect of Rose pinch hitting in AC/DC for Brian Johnson. Poor Rose must have heard that grumpy Roger Daltry predicted an instant "karaoke" trainwreck from this meeting of the rockers. Johnson won't know for a long while whether he'll return to arena performances, so fans can either take Rose or leave him.
Rose is hoping that folks will give him a chance. He's so eager to please that he sat down for an official interview for the first time in five years. Either it took that long to recover from Chinese Democracy, or Rose is as much of a recluse as his reputation would indicate. Both statements are probably true, but the world-renowned screamer spoke with BBC 6 Music to explain how he only wants to make AC/DC's fans happy. His trepidation is understandable, for thousands of fans have reportedly ditched their tickets since Rose signed on. That's brutal, but Axl says he means no disrespect to Johnson:

"I wasn't looking at it like, 'I'm singing for AC/DC.' I was looking at it like, you know, if I can, and if they think I'm able to do it. A lot of the Back In Black stuff is really challenging. I'm not here in any way out of any disrespect to Brian. I can't take anything away from his singing at all. He's a great singer and it's really challenging to sing it. I'm just trying to do it justice for the fans."
Please clap? Rose also admitted he was thrilled to land the gig because he respects Johnson so much. Yet he also felt terrible about his excitement because it meant Johnson was truly out of commission. Only time will tell whether AC/DC can prevail with a distinctive voice like Rose's attempting to replace Johnson. Will this be an utter disaster or passable? Some fans claim to have recorded bootleg audio of some Lisbon rehearsal sessions. The sound quality is about what you'd expect through a closed door and concrete walls, but this may be Rose singing "Thunderstruck," and it doesn't sound awful.
If you haven't seen the Guns n' Roses mini-docs, check out the whole series.
(Via BBC)