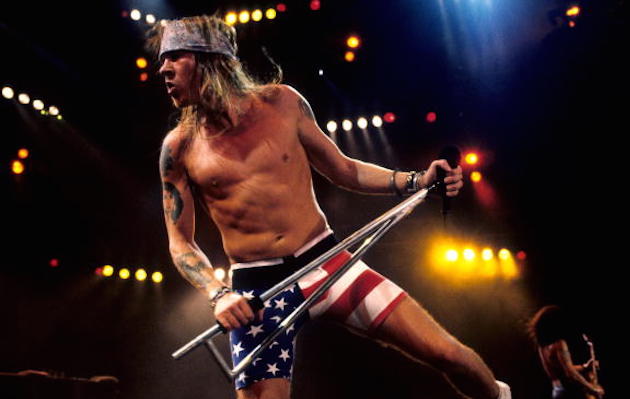 Last week, the metal world was shocked to learn that Axl Rose might be replacing Brian Johnson as the frontman of AC/DC. With Guns 'N Roses already reuniting, this leave's Axl's plate pretty full right now, while also raising the question of whether or not he would be a good fit with AC/DC's sound. While the news was a bit shocking at first, now that we've had a moment to sit with it, it's quite possible that Axl could be the perfect fit to fill Johnson's shoes.
First of all, he's taken on the band's songs before. At a recent G 'N R gig, he performed the AC/DC classic "Whole Lotta Rosie," and turned in quite a convincing performance. While his high notes don't resonate quite as strongly as they did in 1987, he still has the perfect voice to handle the wails that defined the vocals of both Bon Scott and Brian Johnson. When you think of Axl's trademark scream on tracks like "My Michelle" and "Paradise City," it's hardly a stretch to think he could handle "Let There Be Rock," and "You Shook Me All Night Long" just as well.
What really will be interesting is just how far this collaboration will go. Would the set consist entirely of AC/DC tracks, or will old Guns songs make the set, too? How will Slash's classic riffs sound coming from the guitar of Angus Young? That could be a fascinating proposition. Even more intriguing than the live show, however, is the thought of this group going into the studio. AC/DC's last studio album, Rock or Bust, was a generally strong effort, although, as you would expect, it did not do too much to diverge from the AC/DC formula. One can't help but wonder how the presence of Rose will affect things. The idea of a *serious* change in the band's sound at this point seems rather unlikely, but Axl might switch things up a little bit.
Of course, Axl's recent history in the studio has been less than encouraging. It took him forever to make Chinese Democracy and when it finally came out, the results were rather underwhelming. He tinkered with the production endlessly, and it did little to improve what was ultimately a mediocre batch of songs. Still, that doesn't mean a studio collaboration with AC/DC couldn't be fruitful. With Chinese Democracy, Axl was in total control, and that didn't work. Musicians shuffled in and out, and excessive perfectionism got him nowhere. Here, he would be forced to work in tandem with his bandmates. The result could be a focused, energized effort that seamlessly synthesizes the talent of every musician involved.
At first, this news might have seemed troubling, and perhaps even blasphemous. While not the original lead singer of the group, Brian Johnson had been with AC/DC for 35 years, and it's rather difficult to picture the band without the grizzled Scotsman and his trademark cap. Still, there's a lot of reason to be optimistic here. Axl is the rare vocalist who can match Johnson in terms of nailing those really high-pitched heavy metal wails, and that could be an enthralling thing to see in concert. Furthermore, collaborating in the studio could be quite therapeutic for Rose's songwriting abilities, which could lead to fruitful results for AC/DC and Guns 'N Roses. Now that we're used to the idea, bringing Axl onto AC/DC could actually be pretty awesome; bringing two of the greatest metal acts of all-time together. If nothing else, there's no reason why they shouldn't give it a shot.