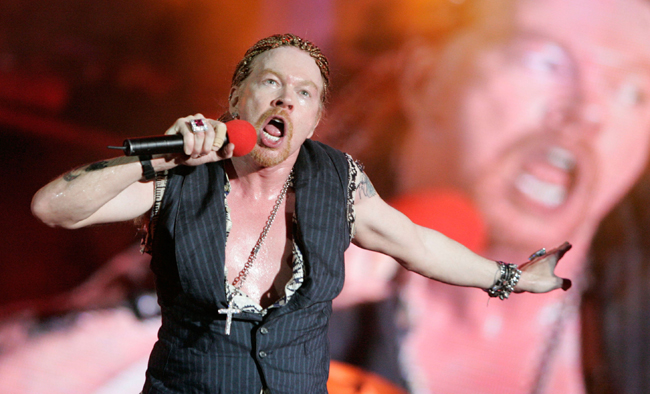 The Coachella 2016 lineup brought us the worst kept surprise in the music world — that Guns N' Roses was indeed headlining the second day of the festival. This confirms numerous rumors, but does not confirm the rumor that the band is getting back together. Axl Rose hasn't confirmed anything himself, using his time to praise the wonderful people at Taco Bell, but most just assumed he was going to do so during his appearance on Tuesday's Jimmy Kimmel Live.
That's no longer the case because Rose's appearance has been mysteriously canceled according to the LA Times:
The longtime singer and songwriter with Guns N' Roses, who will headline the Coachella Music and Arts Festival in April, was expected to make an announcement regarding the Coachella news — as well as to announce a reported Guns N' Roses tour with former guitarist Slash and other members of the so-called "classic" Guns N' Roses lineup.

But late Monday that appearance was scrapped. Said a source with "Jimmy Kimmel Live" who declined to go on the record or elaborate: "Due to unforeseen circumstances, unfortunately Axl is no longer scheduled to be on Kimmel tomorrow."
This is definitely right in line with other classic Axl Rose behavior. Keep the public guessing, even if it means you're eventually going to disappoint everybody. It's how you end up waiting decades for an album and then find out that said album isn't very good.
It remains to be seen what is in the cards for Guns N' Roses, but they have to be doing something special if they're headlining at Coachella. Hopefully no one is upset that the cat was let out of the bag before Axl's appearance on Tuesday.
UPDATE: Right before publishing, Axl Rose did update folks on Twitter and "confirmed" that the band would be headlining Coachella.
(Via LA Times)
And for more on a possible Guns N' Roses reunion…