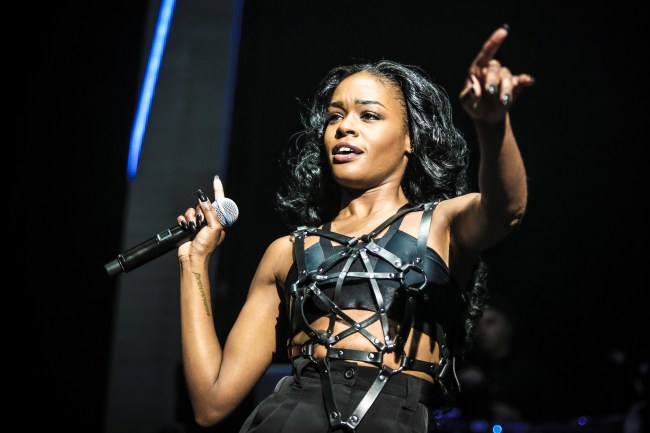 Azealia Banks quit Twitter (again) back in March, and after Twitter users rejoiced following her exit using the #AzealiaBanksDeactivatedParty hashtag, the rapper returned a month later only to get her account suspended Thursday. For some reason, Banks went on a long-winded, racist Twitter rant, where she attacked Zayn Malik and 14-year-old Disney star Skai Jackson in the process.
When she's not making music, Banks seems to be one major Twitter troll — constantly attacking other artists like Iggy Azalea and Wale — but this time her venomous ranting backfired.
After hours of attacking the ex-One Direction singer for allegedly stealing her look in his latest video for "Like I Would," Banks used hate speech and a racist slur against Malik. Then, Banks struck out at child star Jackson after she defended Malik, telling the teen to "grow some hips an start your menses."
Jackson did not back down during the attack, tweeting she has "more class" than the rapper and telling Banks to "worry about her own career."
At the end of Banks' rant, which was deleted prior to her account's suspension, Malik finally tweeted to his overall confusion about what was going on.
Of course, Banks issued her version of an apology to "everyone except the targets of my tirades," to The Independent saying:
"Not using my blackness or my NYC persona to excuse anything. I am Azealia Banks and I am who I am."
Not only did the rapper get her Twitter suspended, she was also kicked off the roster for the upcoming British Music Festival. Banks may have a little trouble getting back into England in the future. The Home Office released a statement to NME that read:
"Coming to the U.K. is a privilege, and we expect those who come here to respect our shared values. The Home Secretary has the power to exclude an individual if she considers that his or her presence in the U.K. is not conducive to the public good or if their exclusion is justified on public policy grounds."
(Via The Hollywood Reporter)