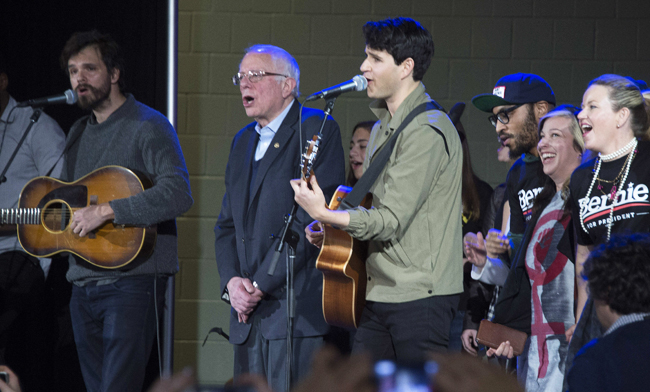 The Iowa caucuses are upon us and Democratic presidential candidate Bernie Sanders brought out some big guns to appeal to college students in Iowa City on Saturday night.
Foster the People and Vampire Weekend (albeit with something of a makeshift lineup) hit the stage at the University of Iowa to play at a "Students for Bernie" event. The highlight of the night by far came when Sanders came out to join Vampire Weekend for a rousing rendition of "This Land is Your Land."
Those big-time bands weren't the only celebrities in the house for the rally. Hunger Games star Josh Hutcherson jumped on stage and assured the crowd that Team Peeta, his Hunger Games character, is one in the same as Team Bernie, sending those in attendance into a frenzy.
Vampire Weekend made news this past week when the band's co-founder Rostam Batmanglij announced that he's no longer a member. That left Ezra Koenig to assemble a different lineup to join him for the rally, including Dave Longstreth of Dirty Projectors and the University of Iowa's all female a capella group, the Hawkapellas.
Mashable notes that the Sanders campaign claimed nearly 5,000 people attended the rally and that "hundreds were turned away" when the room reached its capacity.