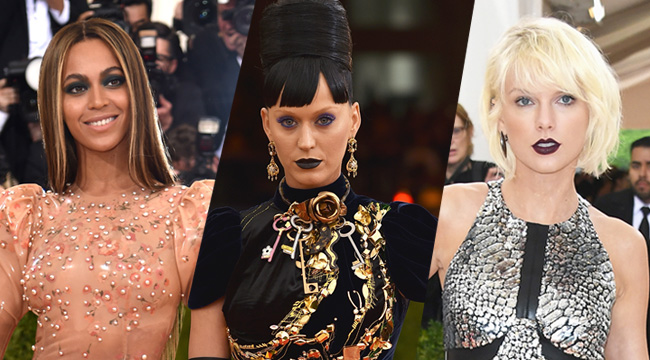 Monday evening's Met Gala brought the fashion party of the year, and this style roundup provides another chance to enjoy the superficial without guilt. The annual event raises money for the Metropolitan Museum of Art Costume Institute, which is a self-supporting establishment. Hence the massive event where musical artists, actors, and models collide. The end result isn't always pretty but never fails to be interesting. Pomp and circumstance is the name of the game and an ever-changing motif always leads to success and disaster.
This year's theme, "Manus x Machina: Fashion in the Age of Technology," executed with more nuance than 2015's "Chinese Whispers," which saw some embarrassing attempts at Asian flavor. Last year's biggest splash came from Rihanna with her scrambled-egg dress. In 2014, the Met Gala also became known for something very bad happening in an elevator between Beyonce, Jay-Z, and Solange Knowles. Who knows what scandals will eventually unfold, but for now, let's consider the fashion.
WARNING: The last selection is not for the faint-hearted.
Best – Alicia Vikander: This newly Oscar-minted actress went crazy enough for this year's theme in a Louis Vuitton minidress. The fashion house had a blast mixing textures, patterns, and asymmetric cuts. For her part, Vikander wisely kept hair and makeup minimal and let the outfit do the talking.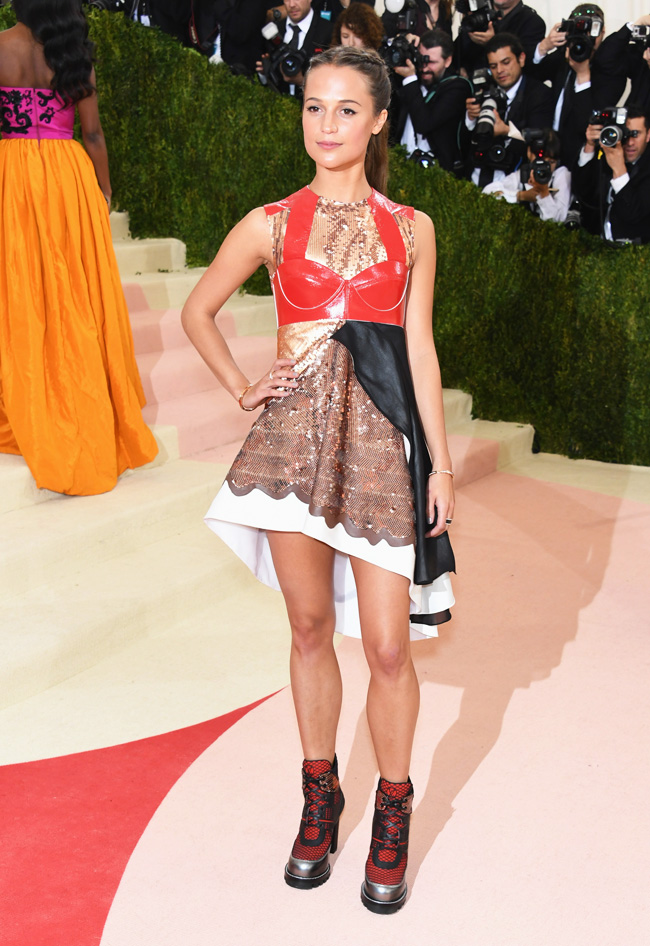 Worst – Demi Lovato: This gown was crafted by Moschino creator Jeremy Scott, who took the event concept too seriously. The gold-and-silver wrap panels went into overkill mode, perhaps in an effort to appear robotic but, instead, looked uncomfortable.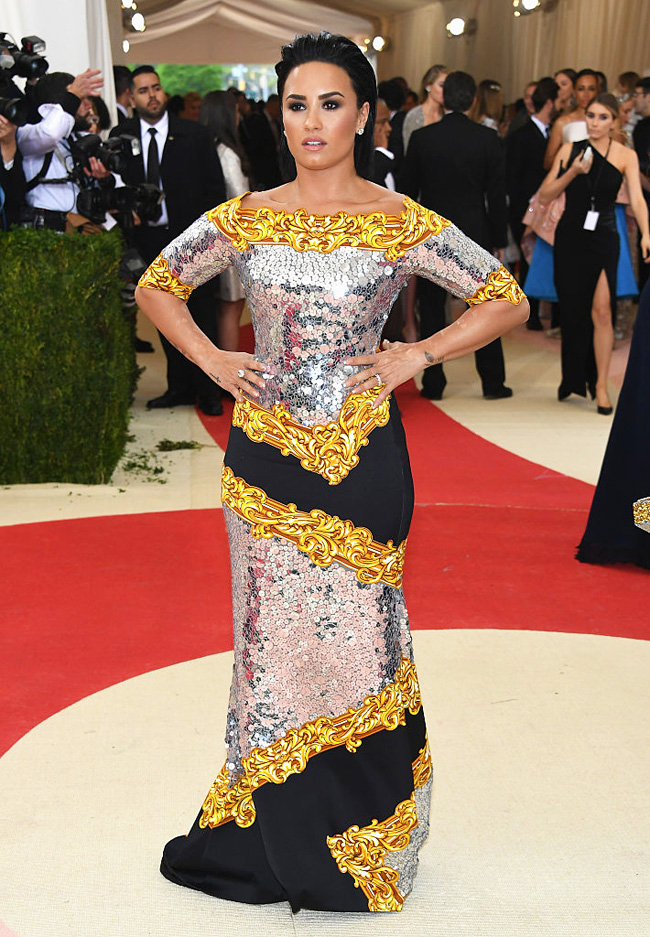 Best – Lupita Nyong'o: The actress played her hand well with a shimmering, light green Calvin Klein gown that could have been a fancy slip but for the impeccably slight train. The playful hairdo adds plenty of personality.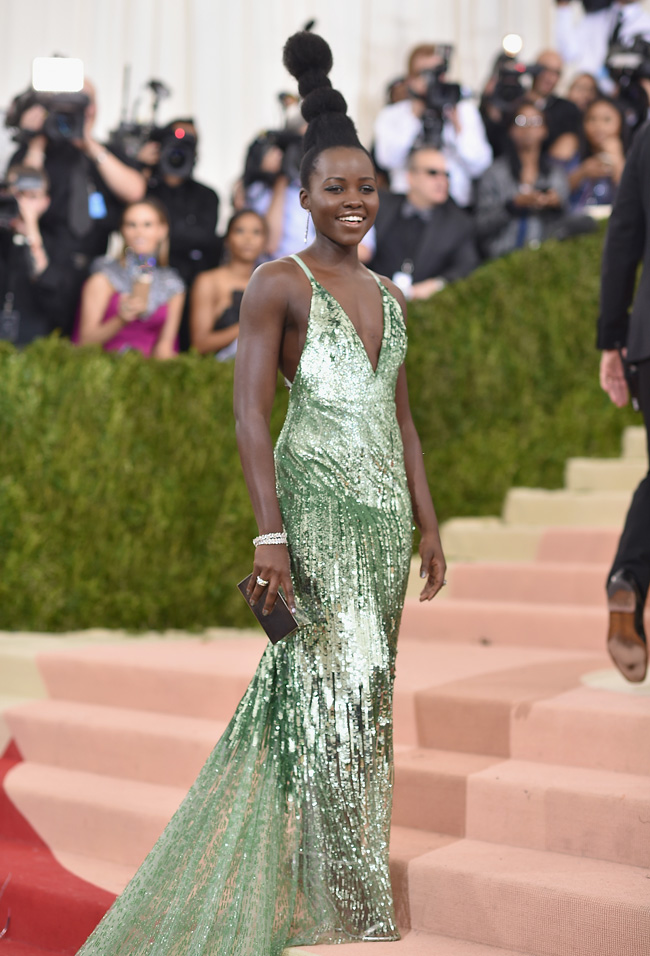 Worst – Blake Lively: Someone either did not get the theme memo or chose to ignore it in favor of a floral Burberry gown that looked like it was fused from the tears of artisanal angels. This is a bridesmaid dress that went haute couture in a bad way.
Best – Emily Ratajkowski: While this lady didn't exactly stick to the theme either, she's still event appropriate in black and white. This slinky Prabal Gurung number shows that the model-turned actress can pull off anything.
Worst – Kim Kardashian And Kanye West: A master lesson in tackiness appeared on the red carpet with this Balmain dress on Kardashian and a matching sparkly jacket on Kanye. Yeezus wept for those torn jeans.
Best – Rachel McAdams: The lovely McAdams usually doesn't make a huge red-carpet splash, but this structured Valentino gown is uptight up top with a gothy party on the bottom. The gold hem at the bottom is, ironically, the crowning touch on a pretty perfect themed dress.
Worst – Lorde: On one hand, Lorde's ability to give no f*cks about this fancy party is admirable. Yet the tailor of this Valentino concoction didn't care about achieving the right fit. The gown also makes Lorde look like she raided Bjork's closet.
Best – Taylor Swift: Score one for Louis Vuitton in this playful dress that, as shallow as it sounds, is about as punk rock as Swift will ever get. The minidress combines a metallic, flirty edge with strategic cutouts and wrapped sandals that mimic a bizarre, cyberpunk version of a gladiator.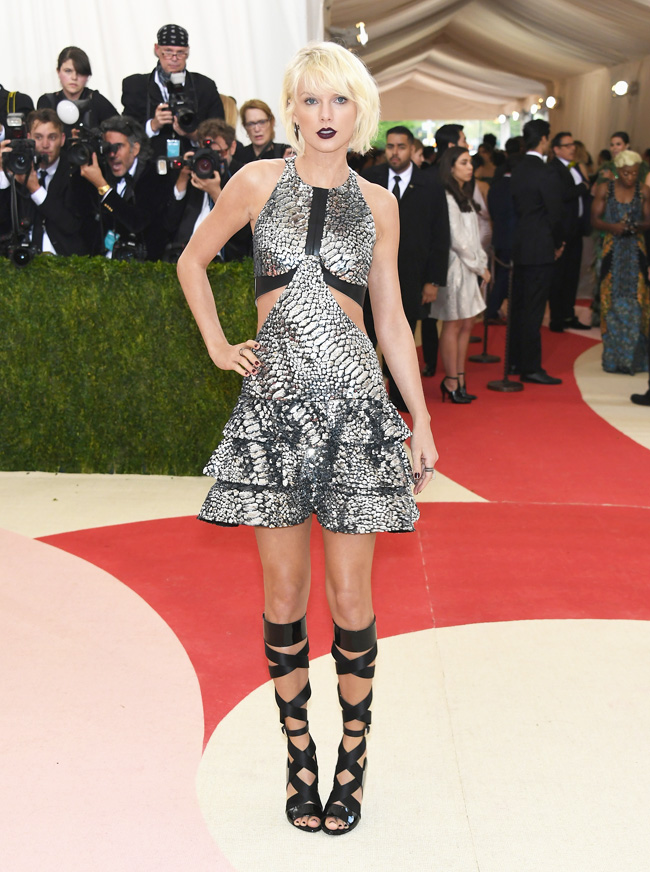 Worst – Kendall Jenner and Cindy Crawford: These ladies attempted to fit into the theme but faded into the background. Jenner's Atelier Versace and Crawford's Balmain are both straight-up dull. Crawford's also looking suspiciously younger with each passing year.
Best – Zoe Saldana: This Dolce and Gabbana gown was clearly designed to one-up or at least mimic the waves Rihanna's massive yellow gown made in 2015. A giant skirt with a train full of feathers may be unexpected but, somehow, it also works in a nature-turns-cyborg sort of way.
Worst – Kate Bosworth: The lady fancies herself a clotheshorse, but this Dolce and Gabbana gown doesn't combine clashing fabrics in an appealing manner. The top of the dress looks like a suit of armor while the bottom looks like an unflattering set of canopy curtains.
Best – Kate Upton: This dress could have been too plain for the event, but Upton's startlingly minimal choice of a Topshop gown seems almost adventurous. She kept her hair and makeup classic and glamorous. The gown is sparkly enough to fit with the theme, and so is that piece of jewelry that folks believe is an engagement ring.
Worst – Sarah Jessica Parker: The actress who played fashionista Carrie Bradshaw for years always attends this event. She usually goes super-glam, but this time, she curiously chose a Hamilton-inspired Monse outfit.
Best – Katy Perry: Folks across the internet are pretty sure Perry shaved her eyebrows for the sake of bizarre fashion, but no worries. She simply used light powder for trickery. This embellished Prada gown is gutsy and could have been too much, but Perry sells the hell out of it. She's wearing pure attitude.
Worst – Gigi Hadid And Zayn Malik: Meanwhile, Hadid didn't do much to sell this drab Tommy Hilfiger confection, and look, there's Zayn Malik trying to look like the Winter Soldier with metallic Versace sleeves.
Best – Beyonce: The famed Beyhive was buzzing for this second-skin, nude-colored latex gown with crazy embellishments and cap sleeves that looked anything but demure. Givenchy designed this gown that will go down as one of Bey's showstoppers. She was missing one important accessory, however. That would be Jay-Z, but the lady took the time to dispel the myth that Rita Ora could be "Becky" by taking a joint selfie.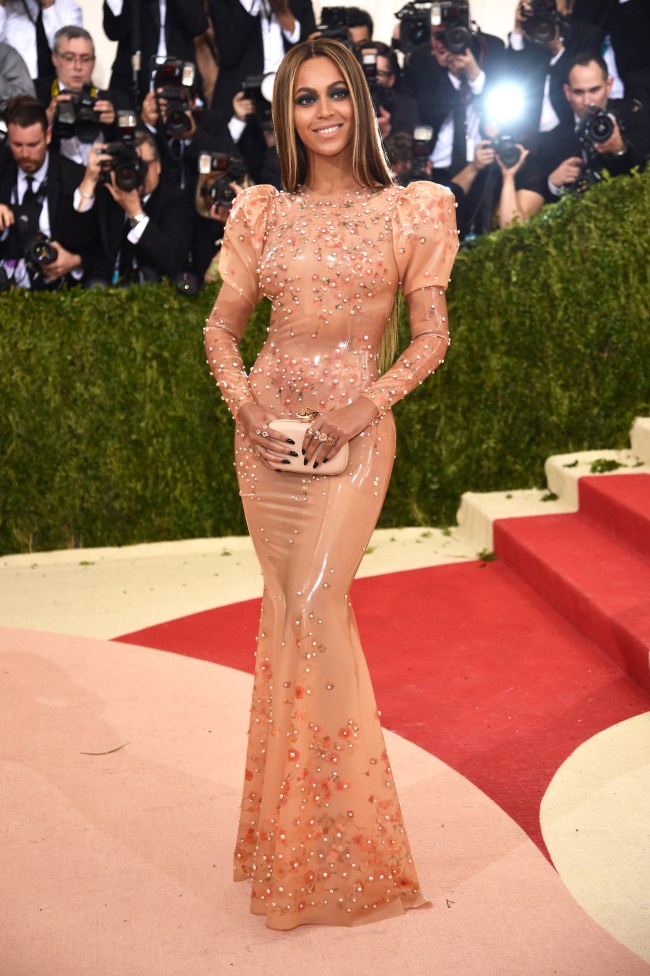 Worst – Emma Watson: Calvin Klein often favors simple, tailored looks that are also body-conscious in nature. However, these pants don't pair well with an awkward bustier and train. Overall, this outfit feels out of place.
Best – Claire Danes: This Zac Posen ball gown got a big tease on Twitter, where it was revealed to be covered with fiber optics, which illuminated like a silvery Christmas tree. Yes, this dress really lights up and makes an otherwise typical gown seem very cool.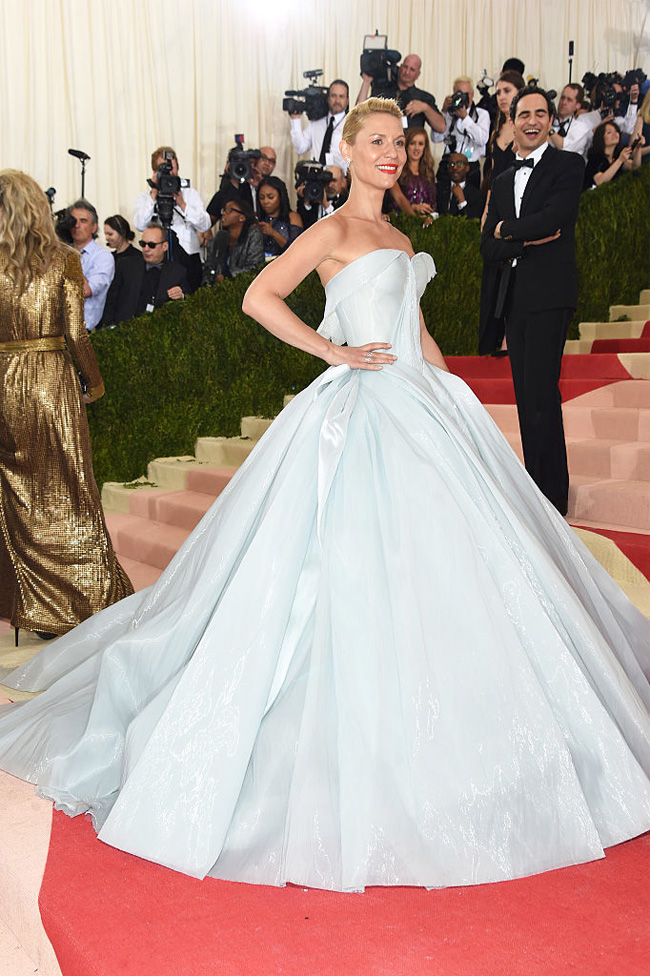 Best – Lady Gaga: There's room for one more "best" in this list before the irredeemable selection arrives. Is the old Gaga coming back? Perhaps not. She did some rocking and rolling in this Atelier Versace ensemble, but she knew precisely where to draw the line. Unlike what comes next.
Worst – Madonna: There are few words that can describe this monstrosity of a "fashion" creation, but here's Madge with designer Riccardo Tisci. You can blame him for this mess.
There's a bare-butt view to be seen too, but we'll spare you. Not even for the sake of bad fashion will we dignify this outfit with rear-looking exposure.