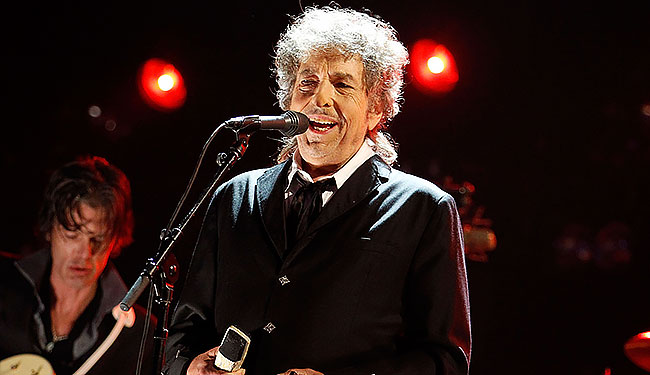 On Friday, Bob Dylan released Fallen Angels, his second straight album of all covers, the first being last year's Shadows In The Night. While these albums have focused on songs recorded by Frank Sinatra, many contemporary artists have given their brilliant takes on Dylan's work. Today, we look at 10 of the finest Dylan covers ever recorded. Of course, his songs have been performed hundreds of times, and there was a ton to choose from, so there's naturally going to be some disagreement. Now then, onto the fun!
10. Adele – "Make You Feel Love My Love"
This track, from 1997's Time Out Of Mind, has been one of Dylan's most covered songs, with Garth Brooks and Billy Joel both performing solid renditions of it. The best version, however, easily belongs to Adele, who recorded it for her debut album, 19. She wrings every possible bit of emotion out of these lyrics with her evocative delivery. After hearing this one, we should've seen instant classics like "Rolling In The Deep" and "Someone Like You" coming from a mile away.
9. Rage Against The Machine – "Maggie's Farm"
With rumors of a new Rage-affiliated supergroup brewing, let's look at one of their best moments: this brutal, fiery cover of a Dylan track that was already pretty pissed off in its original version. As the song builds up, Zach De La Rocha's vocals get angrier and angrier, giving a ton of power to the lament of an underpaid worker. If Rage were to really reunite, with the possibility of a Donald Trump presidency looming, don't be surprised if this track were to appear on several setlists, and is met with roaring approval.
8. The Byrds – "My Back Pages"
The Byrds covered several Dylan songs, with their take on "Mr. Tamboruine Man" likely being their best known. This track, from Younger Than Yesterday (a title seemingly inspired by this song's chorus) is their finest interpretation of the man's work, turning a plaintive folk lament into a jangly, power-popish tune. The background vocals bring the mantra of "I was so much older then/ I'm younger than that now" to life in a really stirring way.

7. Beck – "Leopard-Skin Pill-Box Hat"
In some ways, Dylan was Beck before Beck, as they both had a great fondness of stream-of-consciousness lyrics that somehow kinda make sense. Here, Beck turns the Blonde On Blonde tune into a killer fuzz-guitar rave-up that sounds a bit like a blues-ier version of his own "E-Pro." This is probably the most thoroughly Beck has ever rocked out, and as blasphemous as it might sound, this track just might surpass the original.
6. The Band – "I Shall Be Released"
The Band were Dylan's backing umm…. group throughout the late '60s, and they took on several of his songs during the time. While "When I Paint My Masterpiece" is also quite strong, we're going with this one just for the sheer beauty of the chorus. Levon Helm's pained delivery of "any day now, any day now/I shall be released" brings our narrator's pain to live in an incredibly vivid fashion.
5. Johnny & June Carter Cash – "It Ain't Me, Babe"
Despite coming from two vastly different worlds, Dylan and Cash were huge fans of each other. This was one of a few Dylan songs that Cash covered (his take on "Girl From The North Country" is quite strong, too), but it stands out as his best. While Dylan's version is sad and yearning, Cash's feels more bitter with the "NO! NO! NO!" in the chorus more emphatic than ever. Despite coming from the more conservative country scene, Cash nonetheless had a perfect understanding of Dylan's work.
4. The White Stripes – "One More Cup Of Coffee"
The White Stripes were never more raw than on their debut album, which added a punk vibe to their blues-y sound. While their sound would be more developed on later albums, there's a charming, youthful urgency to this album, and that comes through perfectly on this cover. Jack White does an even better job of presenting our narrator as a weary travel heading into uncertain danger (what exactly is the "valley below," anyway?) than Dylan himself.
3. Guns 'N Roses – "Knockin' On Heaven's Door"
On Use Your Illusion I and II, Axl Rose attempted to drop his sleaze-rock persona, and be taken more seriously. The results are mixed, but this gorgeous cover ranks among his best work. Rose's powerful vocals give the song a great boost of extra emotion, but what really makes this one memorable are the backup singers, who turn it into a soaring anthem.
2. George Harrison – "If Not For You"
This version came out around the same time as Dylan's original, so you'd be forgiven for not knowing it was a cover. Here, Harrison takes an already lovely ballad, and raises it up with a gorgeous slide guitar riff that builds up the entire song. The song was a perfect illustration of Harrison's abilities as a guitarist, as he adds his own brilliant flourishes to someone else's song, effectively making it his own.

1. The Jimi Hendrix Experience – "All Along The Watchtower"
Perhaps an obvious choice, but also the correct one. As a folk-y tune on Dylan's John Wesley Harding, this was a reasonably strong song, but Hendrix and his immaculate guitar playing turn it into a masterpiece, adding necessary urgency and power. Hendrix seems to actually understand the song more than Dylan himself did. To this day, it stands as the finest interpretation of the man's work.