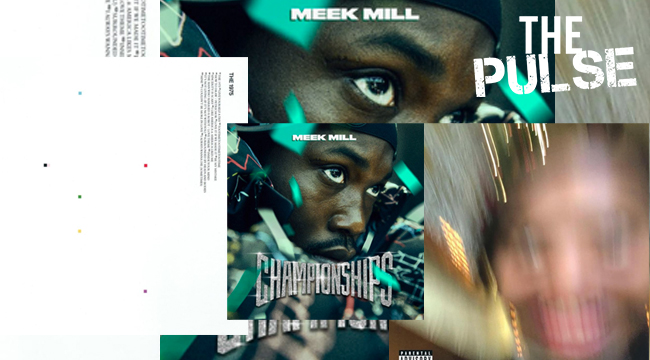 The Pulse is the Uproxx Music guide to the best new albums, mixtapes, and other music releases that matter this week. Find our complete list of the records coming out in November here.
JID established himself as the story of the week early on when he dropped his exemplary new album DiCaprio 2 on Monday, but there's still plenty to get excited about here at the end of the week. Earl Sweatshirt dropped his highly anticipated follow-up to his 2015 record I Don't Like Shit, I Don't Go Outside, Meek Mill is back with his feature-heavy first record after spending a few months behind bars, and Lil Baby continues his quick ascent with yet another release.
In terms of non-hip-hop things, The 1975 make their case for being the best rock band of today with their new record, Jeff Tweedy shared his first solo album of original material, and Coldplay are undergoing an identity crisis on their new EP.
Earl Sweatshirt — Some Rap Songs
Earl's been away for a long time, but now he's back with a record that's been anticipated for a while. He delivers on it, too, keeping things short and woozy as he often does on tracks like "Nowhere2go" and "The Mint."
The 1975 — A Brief Inquiry Into Online Relationships
The are few people doing pop-rock better than The 1975 right now, and their new album is filled with invigorating energy and catchy hooks, with those two qualities perhaps best exemplified by the frenetic "Give Yourself A Try" and the soaring "It's Not Living (If It's Not With You)."
Meek Mill — Championships
It wasn't an easy road for Meek to get here, but his first post-prison album has arrived. It's loaded with guests, too, most notably his former adversary Drake.
Jeff Tweedy — WARM
Jeff Tweedy has ventured outside of Wilco from time to time, but this is his first full-fledged solo album. On it, he shows off the indie, alt-country-leaning songwriting that has made Wilco great for all these years, and he sounds like he's having a lot of fun on songs like "Let's Go Rain."
Lil Baby — Street Gossip
The Atlanta rapper has made a huge impact in the hip-hop community over the past year or so, and now he's back with his second mixtape since his debut album, Harder Than Ever. His influence is evident in the features on the album, which include Meek Mill, 2 Chainz, Gucci Mane, and others.
Los Unidades — Global Citizen EP 1
If this band sounds like Coldplay, that's because it is them under a different name, for some reason. The highlight of this charity EP is the worldly "E-Lo," featuring Pharrell and Jozzy.
Clean Bandit — What Is Love?
If it feels like you've been without a monster pop album for a while, this sophomore effort from Clean Bandit will take care of that. The tracklist is packed with high profile guest appearances, including Demi Lovato, Kyle, Ellie Goulding, Rita Ora, Luis Fonsa, Charli XCX, Julia Michaels, and more.
Meek Mill, Coldplay, and Clean Bandit are Warner Music artists. Uproxx is an independent subsidiary of Warner Music.