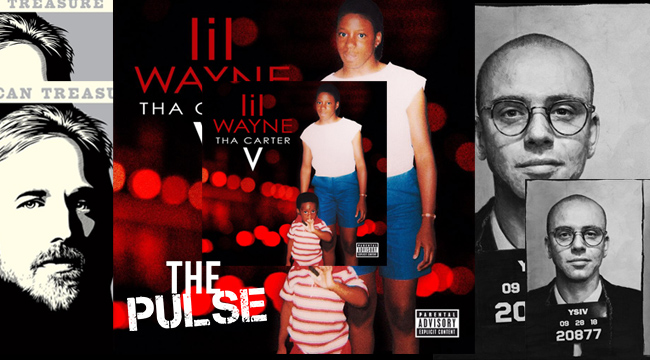 The Pulse is the Uproxx Music guide to the best new albums, mixtapes, and other music releases that matter this week. Find our complete list of the records coming out in September here.
The Carter V has infamously begun to feel like the album that, for one reason or another, would just never actually come out. There would always be some delay, some hold-up, some reason why Lil Wayne fans would have to keep waiting. There's no more waiting now: Tha Carter V is finally here.
It's also a cathartic week for Tom Petty fans, who get to hear a bunch of unreleased songs from the legend on an expansive new collection. Meanwhile, Logic is back with a fresh new album, and there's a variety of different sounds for indieheads to get excited about, courtesy of Marissa Nadler, Justus Proffit and Jay Som, 79.5, and Restorations.
Lil Wayne — Tha Carter V
Tha Carter V has become the modern hip-hop answer to Chinese Democracy in recent years, but now it's finally out. It comes just a day before Kanye West's Yandhi, and while that record is a big deal, 'Ye is confident that Tha Carter V, as anticipated as its been for years now, will outperform it.
Tom Petty & The Heartbreakers — An American Treasure
Aside from an esteemed and everlasting legacy, Tom Petty also left behind some unreleased songs, which have been collected in a new box set. It features cuts like "Surrender," which dates back to 1976, and "Gainesville," a tribute to his hometown.
Read our review of An American Treasure here.
Logic — YSIV
Logic has done a lot to raise his profile over the past year, and now it's time to see how well that translates to record. Even before it came out, YSIV (the "YS" referring to "Young Sinatra") was off to a strong start, with the news that the entire Wu-Tang Clan was featured on the album.
Kevin Gates — Lucas Brasi 3
Freshly released from jail, the Baton Rouge rapper is back. He's brought plenty of self-esteem-heavy lines as well: "Money long, but my d*ck longer," he raps on "Money Long."
Pinegrove — Skylight
Due to controversy, this album was only just getting released today, even though it was done as long ago as March, but now it's almost here. The band noted last night that they're holding it until noon EST today, but the question is whether or not fans will accept it and frontman Evan Stephans Hall, who was previously accused of sexual coercion.
Marissa Nadler — For My Crimes
Following a productive 2016 that saw Nadler release two albums — Strangers and Bury Your Name — the Boston songwriter is back with another album of gothic folk. It's led by eerie and haunting songs like "For My Crimes," which features backing vocals from Angel Olsen.
Justus Proffit And Jay Som — Nothing's Changed EP
Jay Som found herself a friend in Justus Proffit when she moved to Los Angeles, which prompted this collaborative project. The EP-opening title track sets the tone well: Mid-tempo jangle rock is the name of the game here, and it's something the duo does well.
79.5 — Predictions
The New York group's name might indicate how many influences went into its debut album: Predictions draws from everything from vintage disco to easy listening to modern pop, and is led by the delightful throwback single "Boy Don't Be Afraid."
Restorations — LP5000
It's been four years since 2014's LP3, and while they jumped ahead greatly this time around in terms of their record naming conventions, they've scaled it back in terms of length: At just 24 minutes, this is easily their shortest album. Each song feels like it means more this way, though, such as the anthemic and intense rocker of an album opener "St."
Read our interview with Restorations here.