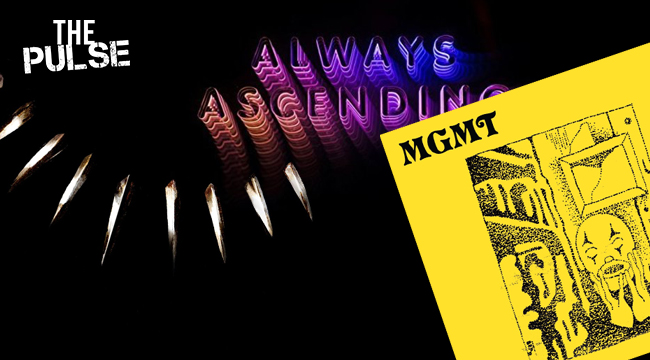 The Pulse is the Uproxx Music guide to the best new albums, mixtapes, and other music releases that matter this week.
The Black Panther soundtrack was only supposed to feature a touch of Kendrick Lamar, but instead (and thankfully for hip-hop heads), we got what is essentially a TDE party. The record features contributions from Kendrick, SZA, and a bunch of other big hip-hop names, so maybe it'll be enough to knock The Greatest Showman's soundtrack down a peg. It was a strong week for indie and alternative rock as well: Among others, we got new releases from beloved veterans like MGMT, Franz Ferdinand, and Dashboard Confessional, all of whom are back with their first albums after extended breaks.
Black Panther: The Album
The Kendrick Lamar album that comes out of nowhere has dropped, and as aforementioned, it really does feature an all-star lineup. The following might read like a list of contemporary hip-hop and R&B royalty, but it's actually just a rundown of who is on this soundtrack: Kendrick Lamar, SZA, ScHoolboy Q, 2 Chainz, Khalid, Swae Lee, Vince Staples, Jorja Smith, Ab-Soul, Future, James Blake, Travis Scott, and The Weeknd.
MGMT — Little Dark Age
It's been five long years, but the much-anticipated MGMT comeback has reached its apex with the release of their fourth album, and it's a winner. The title track was an exciting first taste of the record, and with the fourth-wall-breaking nature of "Me And Michael" (which is also a catchy synthpop tune, by the way), the duo shows that they're just as ready as ever to subvert the expected norm.
Read our interview with MGMT here.
Franz Ferdinand — Always Ascending
Speaking of indie comebacks, Always Ascending is Franz Ferdinand's first record in five years, and the break has breathed new life into the group. The title track hinted that there's an aggressive disco influence at play here, and their other pre-release songs cemented the fact that there's a place for their brand of dance-ready indie rock in 2018.
Dashboard Confessional — Crooked Shadows
I know last week was the week of big returns, but like the previous two entries in this list, Dashboard Confessional is also back with their first album in a while: eight years, in fact. The solo-project-turned-full-emo-band showed on lead single "We Fight" that emo-tinted alternative rock is one of the best delivery methods for a soaring hook, and that in their absence, they haven't lost a step.
Brian Fallon — Sleepwalkers
After The Gaslight Anthem went on hiatus in 2015, band leader Brian Fallon got to work on making a name for himself, and his new solo release, his third, shows that he's done an admirable job at that. Singles like "Forget Me Not" show that even on his own, he's more than capable of conjuring up classic rock images of yesteryear but with an unmistakably contemporary and fresh sensibility.
Read our interview with Fallon here.
Alela Diane — Cusp
Despite what countless lines of questioning from red carpet interviewers suggest, balancing motherhood and a career in entertainment isn't as impossible or taboo as it may seem. In fact, Alela Diane thrives in this setting on her new album, on which she draws from these personal aspects of her life for a lovely piano-laden folk album.
Read our interview with Diane here.
Hockey Dad — Blend Inn
A lot of great art comes from a place of discomfort or unfamiliarity, but instead of hiding from that, Hockey Dad leans directly into it on the raucous rock single "I Wanna Be Everybody." Frontman Zach Stephenson previously told us, "I just couldn't understand people. It's about being a bit uncomfortable in scenarios where people just seem so relaxed and worry-free."