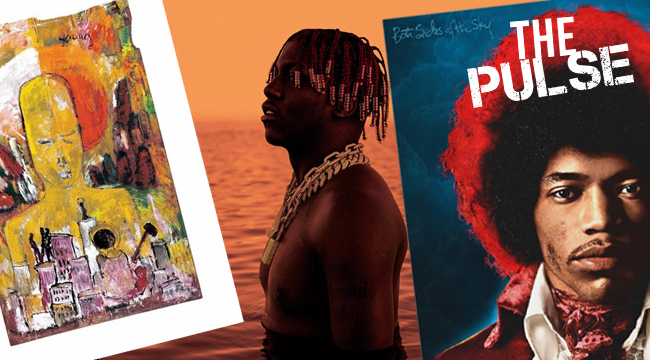 The Pulse is the Uproxx Music guide to the best new albums, mixtapes, and other music releases that matter this week.
David Byrne's name pops up fairly often these days, so it might be surprising to realize that he hasn't released an actual, honest-to-goodness solo album since 2004's Grown Backwards. That all changed yesterday, though. Another legend from a similar era is also back with new material, since another posthumous Jimi Hendrix compilation record (featuring new material) is out now. Also, you wouldn't know this if you've been off the internet the past few days because the news came so quickly, but Logic has a new mixtape. Meanwhile, this week also saw fresh releases from Lil Yachty, Young Fathers, Nap Eyes, and August Greene (Common's new project).
David Byrne — American Utopia
The Talking Heads frontman has been fairly active over the past 14 years, but in that time, he hasn't released a proper solo album, so in a sense, American Utopia is a sort of comeback record. Although he now regrets the lack of female collaborators on the album, Byrne is still of course worth a listen on his own merits, and he hasn't lost his keen and distinctive sense of sonic experimentation, such as on songs like "This Is That," which is an adventure for the headphone listeners among us.
Read our interview with Byrne here.
Lil Yachty — Lil Boat 2
Today, Lil Yachty's Lil Boat mixtape turns two years old. To celebrate, Yachty has released the sequel, and aside from Yachty himself, there are some big names on board here. Represented across the tracklist is a sort of who's-who of hip-hop, both established and rising, since it includes contributions from 2 Chainz, Quavo, Offset, Tee Grizzley, Lil Pump, Trippie Redd, Lil Baby, and NBA Youngboy.
Read our interview with Yachty and some of his collaborators here.
Logic — Bobby Tarantino II
Surprise! Thanks to Rick And Morty, the world learned just a couple short days ago that Logic had a new mixtape on the way, and now, it's here. The sequel to his 2016 mixtape has some high-profile guest spots from 2 Chainz, Wiz Khalifa, Big Sean, Marshmello, and again, even Justin Roiland, the voice of both Rick and Morty (that audio of that album announcement video is also the opening track).
Young Fathers — Cocoa Sugar
Young Fathers have always charted well in their home of Scotland and the UK, but now it's time for the rest of the world to take notice. The trio is making some of the most engaging and hard-to-categorize music out there right now: They've been referred to as hip-hop, but there's a lot more to it than that: "Lord" is a huge and yearning anthem, "In My View" is closer aligned to that hip-hop label they're often ascribed, and the rest of Cocoa Sugar is surely as enigmatic and wonderful.
Jimi Hendrix — Both Sides Of The Sky
Based on a quick Google search, Jimi Hendrix was apparently a musician who was fairly popular in the late 1960s, best known for his advanced guitar-playing abilities. I kid, of course, and what we have here is the latest posthumous compilation from a legend, and even after all these years and all these post-life releases, there's still unreleased material to discover, like Hendrix's cover of Muddy Waters' "Mannish Boy."
Nap Eyes — I'm Bad Now
The marriage between contemporary indie music and throwback twangy folk is a natural one, a union that Nap Eyes embodies confidently and beautifully. Advance singles "Every Time The Feeling" and "I'm Bad" were a testament to that, and evidence that this band that is very much in its early stages is off to a cracking start.
August Greene — August Greene
Common was so excited about winning the Primetime Emmy Award for Outstanding Original Music and Lyrics for the song "Letter to the Free" that he wrangled collaborators Robert Glasper and Karriem Riggins and decided to make a legit album under a new name. The record is led by "Optimistic," which features a lot of Brandy and rapping from Common on the soulful track.
Stream August Greene via Amazon Music.