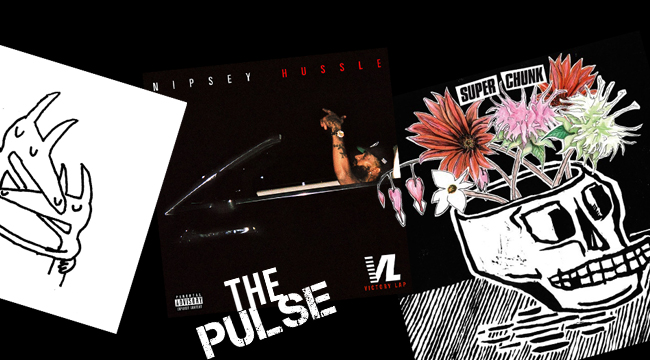 The Pulse is the Uproxx Music guide to the best new albums, mixtapes, and other music releases that matter this week.
If you got excited about Car Seat Headrest and Smash Mouth covering each other's songs, then I have a treat for you: Car Seat Headrest has a whole new album today, and on it, it's sort of like he's covering himself. What convenient timing! But wait, there's more: Nipsey Hussle is taking his victory lap, Belle And Sebastian wrap up their 3-EP series, and there are also new releases from Superchunk, Johanna Warren, Ought, U.S. Girls, and Cozz.
Car Seat Headrest — Twin Fantasy
Before he got wide attention, Car Seat Headrest's Will Toledo was prolific and released a bunch of albums on Bandcamp. Now that he's made more of a name for himself in mainstream indie, he's decided to re-record his 2011 album Twin Fantasy, and it's a fascinating modernization of Toledo's more experimental Bandcamp days: Five tracks run for more than six minutes, while two of those are longer than 13 minutes.

Nipsey Hussle — Victory Lap
The Los Angeles rapper signed with Atlantic recently, which is a big deal since he's famously remained independent, making a name for himself by himself. On his new album, he recruited big-name talent for a tracklist that features the likes of Kendrick Lamar, Diddy, and YG.
Watch our new mini-documentary on Hussle here.
Superchunk — What A Time To Be Alive
This is indie mainstay Superchunk's eleventh album, and incredibly, there's no noticeable dip in quality. Songs like the title track and "Erasure" are clearly by a band still deserving of their space in the indie rock pantheon. The band's Mac McCaughan previously said the album is "about a pretty dire and depressing situation but hopefully not a record that is dire and depressing to listen to," and I can assure you that it's a beyond fun listen.
Listen to McCaughan guest on an episode of the Celebration Rock podcast here.

Johanna Warren — Gemini II
This album, like its predecessor, is "about a complicated three-year relationship with a Gemini man," Warren previously said, and as you'd expect, there's raw emotion here. The vehicle for this vulnerability is gentle indie folk, on serene and mystical tracks like "Inreverse" and "Here To Tell."
Belle & Sebastian — How To Solve Our Human Problems, Pt. 3
Belle & Sebastian decided to modernize with their latest batch of songs, releasing it as a series of EPs instead of an LP, because the band's Stuart Murdoch thought it'd be a good idea to have new music more regularly. He has a point, as it's been nice to get a new dose of the Scottish group's signature brand of midtempo indie rock every few months; the funky "Poor Boy" is a highlight from this group of tunes.
Revisitourt interview with the band's Stuart Murdoch here.

Ought — Room Inside The World
On their third record, Montreal post-punks Ought come off like a mix of Joy Division and The Cure, especially on single "These 3 Things." That's not light praise, but then again, "These 3 Things" is about as good as its music video is weird.
U.S. Girls — In A Poem Unlimited
Toronto pop act U.S. Girls are bringing the sounds of the '70s into the modern day in a way that nobody else seems to be. "Rosebud" borrows from the booty-moving disco sounds that defined the era, while "Velvet For Sale" owes more to Pink Floyd's brand of spacey psychedelic rock. And yet, with influences as throwback as these, there's no mistaking U.S. Girls for anything but modern.

Cozz — Effected
Cozz's debut record is a great fit for fans of J. Cole-style instrumentals, and vocally, he's all over the map (in a good way), borrowing as much from gangsta rap as he does from faster and more complex rappers. It sure doesn't hurt that the album features guest spots from Kendrick Lamar and Cole, either.