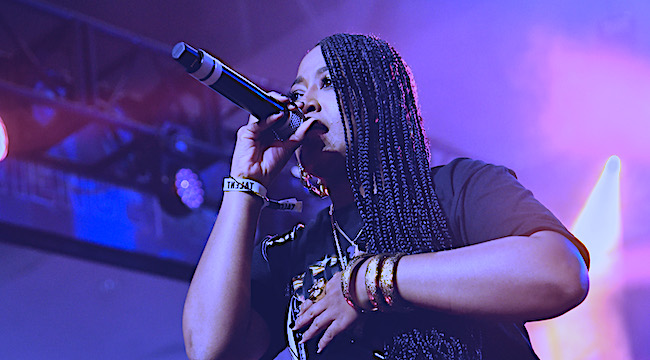 This week's hip-hop preview is jam-packed. Rapsody, Brockhampton, and Jeezy are the headliners, but don't sleep on the names further down the lineup, as you'll definitely be hearing more from these burgeoning talents in the future. Without further preamble, here are the best hip-hop albums being released this week.
Brockhampton — Ginger
The self-declared "boy band" returns after a strong showing in 2018 with Iridescence. They're older, wiser, more polished, and with a full arsenal of creative, innovative videos including "Boy Bye," "I Been Born Again," "If You Pray Right," and "No Halo." The year they've spent touring and writing has apparently paid off.
G Perico — Ten Eight
https://www.instagram.com/p/B1W_A-iHToy/
LA gangsta rap stalwart G Perico has been slowly building his buzz with a steady stream of G-funk-inspired releases including All Blue, 2 Tha Left, and 2018's Guess What? EP. The lead single from Ten Eight is "Big Raccs" produced by Sonny Digital, suggesting Perico may be expanding his musical palette on this release, while still sticking to his lifestyle raps and hoodrat-loving ways.
Jeezy — TM104: The Legend of the Snowman
The Thug Motivation series is iconic in certain hip-hop circles and while Jeezy's shine has dimmed somewhat since his debut in 2005, in a year of big sequels like Nas' Lost Tapes 2 and Rick Ross' Port Of Miami 2, it's only right that the Snowman gives fans another taste of nostalgia by returning to the early trap sound that once made him a household name. Lead single "1 Time"shows off Jeezy's improved flow on a trunk-shaking beat that sounds like, a modern evolution of his original sound.
Jidenna — 85 To Africa
https://www.instagram.com/p/B1W8BdeAK49/
Putting the suits away at last, Jidenna returns with a revamped look and sound for his sophomore effort. Lead single "Tribe" is a celebratory anthem that shows Jidenna still cares a lot about aesthetic, but has relaxed into a more mature and refined look and sound without the "Classic Man" gimmick.
Powers Pleasant — Life Is Beautiful
The Beast Coast producer is releasing his first EP, which naturally features appearances from his Beast Coast family like Joey Badass, Kirk Knight, Meechy Darko, and Zombie Juice, but which also showcases expanded range thanks to guest spots from G Perico and Buddy, Denzel Curry and IDK, as well as fellow New Yorker ASAP Ferg on previously released single "Pull Up."
Rapsody — EVE
https://www.instagram.com/p/B08_-KtHIWo/
Jermaine Dupri may have overlooked Rapsody when he made his comments about female rappers earlier this summer, but judging from the response from both fellow rappers and the public, he might be the only one still doing so in 2019. After her 2017 album Laila's Wisdom was nominated for a Best Rap Album Grammy, it's clear her hard work is paying off with increased appreciation from hip-hop fans all over. Eve will expand on some of Laila's themes with an ear toward paying homage to influential Black women throughout history, such as "Sojourner" Truth, "Phylicia" Rashad, and "Ibtihaj" Muhammad.
Trae Tha Truth — Exale
https://www.instagram.com/p/B1c_sYpBeot/
Houston hometown hero Trae has been teasing this album for some time and it appears he's finally ready to release it to the world. With a song dedicated to the late Nipsey Hussle and lead single "Slidin" racking up plays, Trae sounds as sharp as ever, making this one well worth the wait.
Young Nudy — Faded In The Booth
Young Nudy's Sli'merre with Pi'erre Bourne hasn't yet grown cold, but the Atlanta rapper has already followed up with a collection of new songs created when the email he set up for beat submissions was flooded by hopeful young producers looking for a placement. Nudy was apparently happy to oblige, hitting the lab to craft a new batch of songs to build on the buzz he received from appearing on Revenge Of The Dreamers III.
Some artists covered here are Warner Music artists. Uproxx is an independent subsidiary of Warner Music Group.