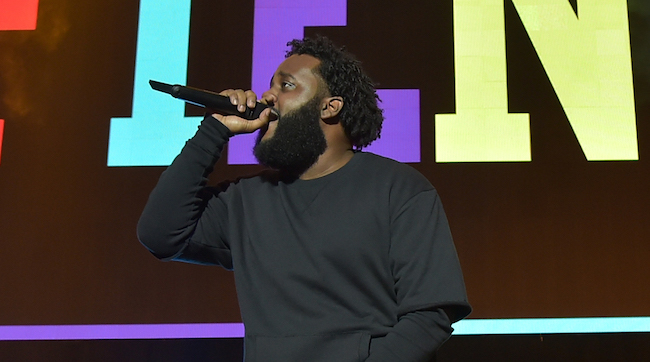 While there's never a truly dull week in hip-hop releases given the sheer volume of product on the market, there are some weeks when the high-profile releases from the likes of superstars like Drake and Kanye eventually slow down, giving space to check out rising artists and independent vets.
In this case, one of each has thrown their name in the ring for weekend consideration. The rising star is Bas, of J. Cole's Dreamville Records, who makes his return after two years with his third album, Milky Way. The established rapper chugging along with a low-key release of his own is none other than Bay Area rap godfather E-40, turning in his 25th offering, The Gift Of Gab.
While there are a few other releases that similarly meet the criteria, namely Binary Star's double release Lighty and Ears Apart and Youngboy NBA's 4Respect, we're going to stick to highlighting the safer bets this week due to their consistency and originality.
Bas, Milky Way
Whatever your feelings for Dreamville team captain J. Cole, whether you think he's a iconoclastic genius forging his own path through the rap game without compromise or a stodgy, legacy backpacker with a grumpy anti-Soundcloud rap streak, there's one thing about him that's undeniable: He is one hell of a recruiter.
So far, Dreamville Records has scooped up representatives of nearly every major hip-hop hub in its mission to bring the finest, lyrically-focused, socially-conscious rap to the forefront, from innovative ATLiens Earthgang and JID, to rugged West Coaster Cozz. Bas is the mega-crew's New York representative, but he's no trapped-in-the-'90s, Big L-aping Luddite.
Instead, the 31-year-old Queens representative has been of J. Cole's staunchest and most original soldiers, distinguishing himself over the course of his four mixtapes and two retail albums as a clever wordsmith and creative musician, willing to work unique sounds that set him apart from the established, relatively low-key Dreamville sound.
Supported by two singles, "Boca Raton" with ASAP Ferg and "Tribe" with J. Cole, Milky Way looks to display Bas' gift for reinvention yet again, with tropical-inspired sounds that diverge from the straight-up hip-hop longtime fans might be used to.
E-40, The Gift Of Gab
It might be a little hard to believe, but E-40 has had one of the longest, most diverse careers of anyone in rap, yet he's only ever been signed to a major label deal twice in 30 years (he signed with Jive in 1996, releasing six albums between then and 2006, when he switched to Warner Bros. for two albums before returning to Jive for his Revenue Retrievin' series. Since then, he's been independent with distribution handled either through EMI or direct market). Yet, in that time, he's carved out an unmatched legacy, with no less than 24 solo albums under his belt, along with three group outings with The Click, a pair of collaborative albums with fellow Bay Area pioneer 2 Short, and a joint project earlier this year with B-Legit. Simply put, E-40 might just be the hardest working rapper in the game right now.
The Gift Of Gab keeps his independent gravy train moving with a shorter setlist than his loyal fans may be used to. Maybe it's a case of learning to pace himself at the age of 50 years old. Maybe, with the assistance of younger rappers like G Perico, Kent Jones, and Vince Staples in tow, he's taking it a little easier. However, if the lead single "Ain't Talking Bout Nothing" is any indication, it doesn't seem like that philosophy extends to his pen game; he's still jotting linguistically acrobatic bars to put his rubber tongued delivery to the test. If anything, it looks like 40 Water — like fine wine — only gets better with age.