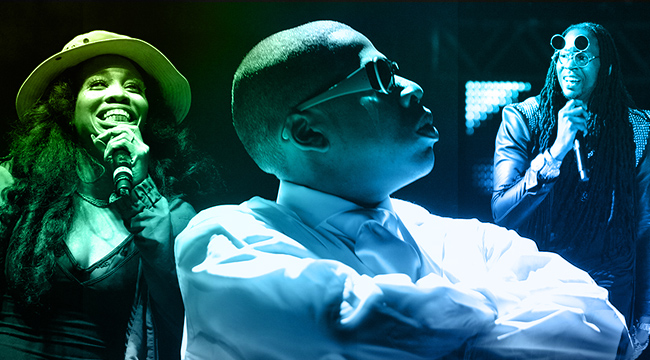 The state of hip-hop through the month June 2017 was very good. Actually, scratch that. The state of hip-hop through the month June 2017 was absolutely phenomenal. You know what, let me try that one more time. The last thirty days were the best month for new hip-hop of the entire year, and might even give most of the months of 2016 a run for their money too. The sheer amount of talented artists who all decided to drop new projects at the mid year point is staggering. Vince Staples, SZA, 2 Chainz, Young Thug, DJ Khaled, all capped by one of the greatest MCs of all-time Jay-Z who at the buzzer came through with his first album of new music in four years.
I honestly don't even know where to begin. For the past few months, I've been pretty certain in my estimation that Kendrick Lamar's DAMN would prevail as my favorite rap album of the year. Then I got a listen to what Vince Staples cooked up on Big Fish Theory. I don't know that I'm ready to put Vince over Kendrick quite yet, but I'm certainly considering it. Having seen him live on more than a few occasions, I can already tell that tracks like "Big Fish," "745," "Bagbak," and "Party People" are going to turn more than few festival crowds crazy this summer.
Then you have SZA, who put together one of the most gorgeous, thought-provoking and deep collections of music I've heard since Solange's A Seat At The Table with her long awaited album CTRL. 2 Chainz swung through with maybe the best record of his entire career Pretty Girls Like Trap Music. Thugger brought the country vibes better than anyone since Nelly to the hip-hop space on Beautiful Thugger Girls. Then you had Dallas rapper T.Y.E. manifesting all of his anxieties into one of the most thrilling listening experiences I've heard in quite some time on his debut 32.
Putting it altogether, June gave us a bounty of new music that we're all going to be feasting on for quite some time. Here are some of the choice selections.
Jay-Z – "Kill Jay-Z"
I've only managed to listen to Hov's new album 4:44 a few times, so I'm not really sure which song is my favorite yet. That being said, if you're only going to listen to just one song, you almost have to make it "Kill Jay-Z." This is the one where he shows remorse to his wife, Beyonce for cheating — "You almost went Eric Benét / Let the baddest girl in the world get away / I don't even know what else to say / N***a, never go Eric Benét" — and kicked off a feud with his old collaborator Kanye West: "But you ain't the same, this ain't KumbaYe / But you got hurt because you think Kumbaye / You give him $20 million without blinking/he gave you 20 minutes on stage, f*ck what was he thinking?" He's been here for all of two minutes, and Jay's already dropping atom bombs. We should be grateful.
2 Chainz -– "It's A Vibe" (Featuring Ty Dolla Sign, Trey Songz and Jhene Aiko)
It's all in the name. This track is a vibe. Right from that opening, shiny guitar riff, you're immediately put at ease. Then comes 2 Chainz laugh. Then there's the finger snaps. Then there's Ty Dolla Sign in full, sensual crooner mode. Trey Songz makes it raunchy, before Tity Boi comes back to the front dropping bombs like, "Broke so many bales down that I'm shell-shocked / I held Glocks, sold rocks by the mailbox." Perfect BBQ music. Shout out to Murda Beatz who's putting together an incredible string of production credits this year.
Dizzee Rascal -– "Space"
I'm not the most adept follower of British Grime rap. I know Stormzy. I know Skepta. That's about it. This primer put together by Alex MacPherson was a total eye-opener for me, that also introduced me to one of the progenitors of the entire movement, Dizzee Rascal. As it happened, Dizzee announced earlier this month that he was going to put out a new album titled Raskit, and shared this single "Space." The song has a paranoid vibe, accented by a cricket-like hi-hats and wailing synth melodies. At the center is Dizzee who goes hard in the paint, bringing serious swagger and braggadocios flows.
T.Y.E — "Aliens & UFOS"
I spoke to this up and comer from Dallas a few weeks back after becoming enamored with his debut effort 32. The whole album is certainly worth your time and attention, but if you only have time for one cut, I fully recommend "Aliens & UFOS." T.Y.E. was very candid about his mental health struggles and revealed to me that this track in particular was like the sonic manifestation of a full blown anxiety attack. It very much feels that way too. The energy is fast-paced, so much so that you can hardly catch your breath. T.Y.E. himself morphs his voice multiple times relaying the fear and menace that can rear its ugly head far too often in his own life.
Wu-Tang Clan — "Don't Stop"
The W rides again! I think we call safely agree that the last Wu-Tang Clan album was pretty terrible. I'm one of the biggest Wu stans out there, but I seriously didn't need A Better Tomorrow in my life. Nevertheless, the Clan endure, and on this single which was created for the Silicon Valley soundtrack, they really manage to capture that soulful, grimey vibe that cemented their place among the immortals of rap. Raekwon in particular has been on a wave this year, and his opening verse, with callbacks to the Wu's greatest hit "C.R.E.A.M." got me fired the hell up.
Vince Staples — "Crabs In A Bucket"
I went back and forth several times about which song from Big Fish Theory to include here. I eliminated the two singles "Big Fish" and "Bagbak" because they came out months earlier. I didn't want to include "Yeah Right" because I gave Kendrick a place on this list already with SZA. It really came down to "745" and the opening track "Crabs In A Bucket." I went with the latter, because it reminded me a lot of my favorite Kanye West albumYeezus, maybe not strictly from an auditory standpoint, but it has that frenetic, nihilistic feel I find exhilarating.
DJ Khaled — "Wild Thoughts" (Featuring Rihanna and Bryson Tiller)
I'm sorry to say it, but DJ Khaled's newest album Grateful is not very good. I asked on Twitter why anyone would choose to listen to this hour and a half long, star-packed behemoth when they could listen to Vince Staples, tight, compact 30-ish minute banger three times in a row instead. Many people agreed. Perhaps Khaled should have spent less time assembling the Avengers of hip-hop to gift him some of their worst material and spent more time with fewer artists actually creating something of real value. This is all excepting "Wild Thoughts" by the way, which is the perfect summertime epic that we all needed. Rihanna x Santana = brilliance. Stick to the singles market Khaled!
Drake — "Signs"

Drake debuted his latest single during Louis Vuitton's fashion week show in Paris which seems like an extremely Drake way of sharing a new piece of music. It also seems like a move ripped straight out of the Kanye West playbook. The artist formerly known as the "Louis Vuitton Don" would be pleased. As for the song itself, it's good! It feels very much apiece with some of the Carribean/Afro vibes that filled out his most recent album More Life, especially the song "Passionfruit." If "Signs" is any indication, Drake seems committed to scouring the earth for new sounds and I'm personally very here for it.
Dej Loaf — "No Fear"
Hope. Positivity. Love. These elements beyond almost all others are the key ingredients to unlocking your best life. Dej Loaf serves up a heaping helping of each in her latest single "No Fear." The vibe of the song is extremely breezy. Through the verses, Dej raps about refusing to allow her own crazy schedule as a famous musical artist come between her and the person she loves. "I know my life can get so crazy but as long as you're right here / None of the gossip, nothing can stop us / I'm wanna love you with no fears." In other words, keep your eye on the prize and remember what's really important.
Jay Electronica — "Letter To Falon"
I'm not going to make a joke here about where his next album is. It's played out, and besides, can't we just for a minute be grateful that Jay is dropping new tracks with this kind of heat? You have to love the ominous, minor-key feeling put together by Paul Epworth and the Bullitts. Jay takes full advantage of that dark mood too. Here's the opening line on the first verse: "I was born on Tatooine with dreams of sand / I kept going / The blind would undermine my plans / I kept growing." Fire. Even though he's taking his time crafting his official debut, it's good to hear that he hasn't lost anything off his fastball.
Young Thug – "Family Don't Matter" (Featuring Millie Go Lightly)
Young Thug is the kind of artist that's exceedingly difficult to pin down. On his latest album, Beautiful Thugger Girls, he sounds like someone chasing every single sound that enters his orbit, with little care or attention as to where he ends up. In most places he succeeds, like on the opening track "Family Don't Matter." I never, ever thought I would hear Thugger "Yeehaw!" in earnest, but its 2017 and you can't count on anything anymore. "Family Don't Matter" answers the question that I'm nor sure anyone ever really posited, "What if we melded trap and country music?" The results are interesting to say the least, but I don't know if anyone else besides Young Thug would be capable of pulling it off.
Desiigner — "Liife" (Featuring Gucci Mane)
To many people — old school hip-hop heads — Desiigner remains public enemy No. 1 when the conversation comes back around to denigrating mumble rap. Make no mistake, on his latest track "Liife," the New York MC brings his signature ad-libs and vocal ticks, but he also came with bars too. Deep bars in fact, about real sh*t. "Told me stay away from the bullsh*t / Stay focused, here the rhymin' / Shout to Big Blood, f*ck the police." Gucci Mane holds it down in the guest role, but its a credit to Desiigner that he's able to go toe-to-toe with Wop on the mic. Far from being a one hit wonder, the G.O.O.D. Music artist is showing that he's got some staying power.
SZA — "Doves In The Wind" (Featuring Kendrick Lamar)
If the last two years have proven anything it's that Top Dawg Entertainment has one of the most stacked lineups of talent in the entire history of hip-hop. Two of their brightest stars, Kendrick Lamar and SZA come together for one of the best tracks on her emotion-packed new album CTRL. "Doves In The Wind" is laconic in delivery, but sharp in content. The entire song is about a certain part of the female anatomy that both SZA and Kendrick feel deserve the greatest degree of reverence. "N—-s will lose they mind for it / Wine for it, dine for it, pussy," K Dot raps. "I will make you beg for it," SZA declares. "I wanna see you call out."
Mobb Deep -– "Shook One Pt. II"
Okay, so this one did come out in June 2017, but you know what? F*ck it. RIP Prodigy!