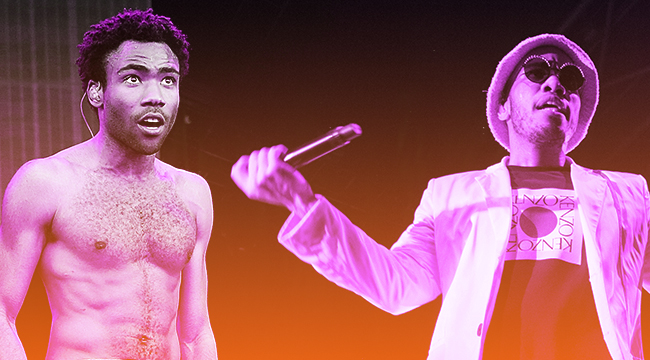 Keeping up with new music can be exhausting, even impossible. From the weekly album releases to standalone singles dropping on a daily basis, the amount of music is so vast it's easy for something to slip through the cracks. Even following along with the Uproxx recommendations on daily basis can be a lot to ask, so every Monday we're offering up this rundown of the best music released in the last week.
This week saw Anderson .Paak offer up his second album in just the last six months, Childish Gambino unveil his new film project, and BTS furthering their dominance of the pop world. Yeah, it was a pretty great week for new music. Check out the highlights below.
Anderson .Paak — Ventura
What do you do when you drop your sophomore album near the end of the year and lineup an intense year of touring and festivals to follow? Well, for Anderson .Paak, the answer was to offer up another album before the dust even settles. Less than six months after Oxnard, we get Ventura, with the hip-hop showman bringing Andre 3000, Smokey Robinson, and Brandy along for the ride, as well as a feature from the late Nate Dogg. Genius does not rest.
Childish Gambino — Guava Island
For his headlining appearance at Coachella, Donald Glover had something special in mind. He timed his appearance to the release of Guava Island, an hour-long film that features some of Gambino's recent offerings, including "This Is America." Rihanna appears in the movie but doesn't sing, but the move showcases Gambino's penchant for big gestures, not satisfied with just a regular album rollout. Read our review here.
BTS — Map Of The Soul: Persona
Ahead of their massive stadium tour this summer, ahead of their much-anticipated appearance on SNL this week, we get this new offering from Korean pop icons BTS. The seven-song collection features Halsey, but mostly it's just the boys showing off their varied taste and genre-crossing abilities.
LSD — Labrinth, Sia & Diplo Present… LSD
Labrinth, Sia, and Diplo have all found their own success in the music world, but their collaborative project shows that there is strength in numbers. The album includes standout "Genius" and a Lil Wayne remix, plus plenty of new peppy numbers that find the three artists in remarkable harmony, crafting the sound of the summer together.
Schoolboy Q — "Chopstix" Feat. Travis Scott
This song technically dropped for a brief period last week, but was quickly pulled in respect to Nipsey Hussle. Now that it's out, Q and Travis make a formidable pair, with the former's smooth flow in fine form while the latter's titular hook makes the most of his comfort zone.
Lil Uzi Vert — "Sanguine Paradise"
Lil Uzi Vert has been enduring a very public beef with his label, so the sudden release of two new songs was a little surprising. Still, his label troubles don't seem to be affecting the high quality of his music, with "Sanguine Paradise" striking a sweet balance between his impeccable sense of melody and his sharp flow.
Tame Impala — "Borderline"
Are Tame Impala going to title all their new songs after popular '80s numbers? That remains to be seen, but after "Patience" (think Guns N' Roses), the band has now offered up "Borderline" (think Madonna), which they also debuted on SNL a couple of weeks back. The song's deep groove and infectious melody quickly embed themselves in the listener's consciousness, the kind of tune that is deeply familiar even after one listen. Tame are clearly tapping into new territory for the project, and the results are extraordinary.
Courtney Barnett — "Everybody Here Hates You"
Among the things that Courtney Barnett does not get enough credit for — including her incredible songwriting and majestic live presence — is her prolific nature. Even after releasing a couple albums in the last two years, she's still been releasing standalone songs at a steady clip. Her latest lives up to the high bar she sets for herself, with our own Chloe Gilke noting, "Barnett channels Jeff Buckley's honesty, but in her own riotous, rebellious style. The song's refrain of "we're gonna tell everyone it's ok" is a rallying cry for the hurting, healing weirdos of the world."
Charly Bliss — "Hard To Believe"
New York punky indie rockers Charly Bliss are about a month off from releasing one of the most anticipated rock records of the year. And "Hard To Believe" only increases that feeling, as the band is consistently knocking it out of the park with their advance releases. Writing about the song for Uproxx, Chloe Gilke said, "'Hard To Believe' is a roaring, guitar-driven song about the endless, unbreakable cycle of a bad relationship. You want out, but when the pull between you and another person is that strong, it's easier said than done. "Hard To Believe" captures the frenetic energy of being at war with yourself, aware of your best interests but ignoring them anyway."
Kevin Abstract — Arizona Baby
Brockhampton's breakout star Kevin Abstract offered up this new three-song release, produced by Jack Antonoff of all people. Writing about it, Uproxx's Aaron Williams called it "a richly-layered and surprisingly complex listen, reminiscent of the best of Andre 3000 at his most creative and frenetic."
Some artists covered here are Warner Music artists. Uproxx is an independent subsidiary of Warner Music Group.