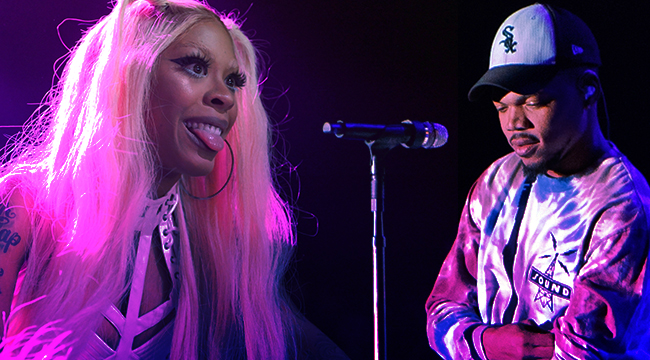 Keeping up with new music can be exhausting, even impossible. From the weekly album releases to standalone singles dropping on a daily basis, the amount of music is so vast it's easy for something to slip through the cracks. Even following along with the Uproxx recommendations on a daily basis can be a lot to ask, so every Monday we're offering up this rundown of the best music released in the last week.
This week saw Chance The Rapper's debut "owbum" and some anticipated new songs from Big Sean. Yeah, it was a great week for new music. Check out the highlights below.
Chance The Rapper — The Big Day
Ed Sheeran isn't the only big-time star to drop an album full of great and fascinating collaborations this year. Chance The Rapper is the clear star of The Big Day, but the list of collaborators is eclectic and delightful. Some highlights: Death Cab For Cutie's Ben Gibbard, Randy Newman, Shawn Mendes, Justin Vernon, Gucci Mane, Nicki Minaj, Smino, and plenty more beyond that.
Drake and Rick Ross — "Gold Roses"
Following the Toronto Raptors' win in this year's NBA Finals, Drake teamed up with Rick Ross for a new track, "Money In The Grave." Now the pair is back together on a new single, "Gold Roses," which features a minimalistic beat and the two rapping about success.
Lil Nas X — "Seoul Town Road" (feat. RM of BTS)
Lil Nas X is doing everything he can think of to keep "Old Town Road" at the top of the charts. His latest effort is a pretty good idea: He teamed up with a member of phenomenally popular K-pop group BTS for the new "Seoul Town Road" remix. As long as there's still stuff in Lil Nas X's bag of tricks, he ought to continue making history.
Big Sean — "Overtime" and "Single Again"
Big Sean spent some time seriously working on his mental health, and now that he seems to be in a better place, he's back with new material. He's apparently in "album mode" right now, and he's preceded that record with a pair of singles so far. First came the motivational "Overtime," which was followed by "Single Again," on which he talks about how fine he is with being alone.
Taylor Swift — "The Archer"
Taylor Swift kicked off the Lover album cycle with "Me!" and "You Need To Calm Down," a pair of upbeat pop singles. Then she released "The Archer," which is not in the same ballpark. Instead, it's a more meditative song, which, as Uproxx's own Chloe Gilke notes, means the song is fulfilling its role as the album's fifth track, which typically serves as the emotional centerpiece on a Swift record.
Future — "Rings On Me"
If you've been curious about Future's policies regarding gift-giving, "Rings On Me" is the single for you. Even though he won't be buying rings for anybody besides himself, he's still blessing us with plenty of presents this year, as he's still releasing new music after sharing the album The Wizrd earlier this year.
YBN Cordae — The Lost Boy
Being chosen for the XXL Freshman issue cover is a tremendous honor, and this year, YBN Cordae is among the few to make it. It's a bummer that his album got overshadowed by Chance The Rapper's new one, because Cordae is more than a silver medalist. Chance's album has a ton of great features, but the guest list on The Lost Boy is noteworthy in its own way, as it includes Anderson .Paak, Meek Mill, Ty Dolla Sign, and even Chance himself.
Rico Nasty — "Time Flies"
Speaking of XXL Freshman issue cover stars, Rico Nasty is in the midst of prosperity as well. In addition to receiving that honor, she just dropped the fun new single "Time Flies," a track that sees her reminiscing over a bright trap beat.
The 1975 — "The 1975"
For the fourth time now, The 1975 have released a new song called "The 1975." The band has made opening their albums with a song named after themselves a tradition, and these tracks are usually short introductory numbers. That's not the case this time, though: The Notes On A Conditional Form iteration of "The 1975" is five minutes long, and its main feature is a monologue encouraging listeners to take climate change seriously.
Caroline Polachek — "Ocean Of Tears" and "Parachute"
With Chairlift behind her, Caroline Polachek is fully dedicated to her solo career, and her debut record under hew own name, Pang, is on its way. She made some of the most fascinating indie with Chairlift, and early tastes of her solo record are more of the same. She shows off her diversity on the latest pair of tracks: "Ocean Of Tears" is upbeat and hip-hop influenced, while "Parachute" is far more tranquil in its approach.
Some artists covered here are Warner Music artists. Uproxx is an independent subsidiary of Warner Music Group.