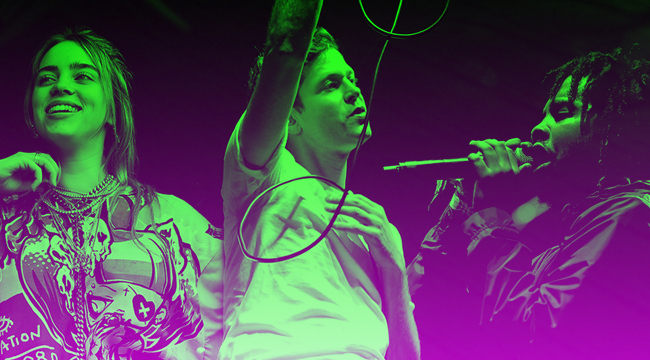 Keeping up with new music can be exhausting, even impossible. From the weekly album releases to standalone singles dropping on a daily basis, the amount of music is so vast it's easy for something to slip through the cracks. Even following along with the Uproxx recommendations on daily basis can be a lot to ask, so every Monday we're offering up this rundown of the best music released in the last week.
This week was fairly quiet, but still managed to deliver a new Dipset album that was 14 years in the making, a new track from Earl Sweatshirt that helped announce his new album, and a new EP from Uproxx favorite Oneohtrix Point Never. Yeah, even with the holiday, it was still a pretty good week for music. Check out the highlights below.
Dipset — Diplomatic Ties
Hip-hop legends The Diplomats return after a 14-year break between albums. The rap world has changed a lot since Cam'ron, Juelz Santana, Freekey Zekey, and Jim Jones put out their last album, and Santana is currently dealing with some serious legal troubles, but the world still seems ripe for the crew's return. With advance singles like "On God," there is plenty of reason to be excited.
Oneohtrix Point Never — Love In The Time Of Lexapro
Daniel Lopatin seems to never stop working, so it shouldn't be surprising that his excellent Age Of from earlier this year is already seeing a follow-up with this EP. Featured are a pair of unreleased tracks that have been live staples, as well as a collaboration with (Sandy) Alex G and a rework from Ryuichi Sakamoto.
Earl Sweatshirt — "The Mint"
It wouldn't be the end of the year without a sudden release that throws the whole industry through a loop. And this year it looks like that honor belongs to Earl Sweatshirt, who is returning after a few years of minimal output with a new album, Some Rap Songs, at the end of the month. His latest single finds the Los Angeles rapper reflecting on the time away over dreary piano keys and record-player crackles, impressive as always with his wordplay and cadance.
Billie Eilish — "Come Out And Play"
Mark these words, 2019 will be a huge year for Billie Eilish, with festivals providing a huge launchpad for her to expand her already growing audience. Her latest, "Come Out And Play," gets an Apple commercial treatment for its debut if that says anything about how fast the nearly-seventeen-year-old star is rising. And the gentle, smoky ballad showcases how captivating she can be with even the minimal flourishes.
Perfume Genius — "Not For Me"
Perfume Genius and W Records have been unveiling their partnership over the past couple weeks, first with a rework of his song "Alan," and now with a new number. The song benefits Immigration Equality with the artist noting the importance of "doing important work providing free legal services for LGBTQ and HIV-positive individuals that are seeking asylum in the US." It's an ominous and foreboding number, hammering home the idea of feeling disenfranchised: "All of your church bells are ringing, but not for me."
Grandaddy — "Bison On The Plains"
The reunion of this underappreciated indie band saw tour dates, an album, and finally the tragedy of the death of bassist Kevin Garcia that put the band's future in jeopardy. "Bison On The Plains" is a welcome one-off return, perhaps signaling the return of the project, or maybe just finishing of an odd number from the vaults that it's presented as. Regardless, the serenity and loveliness of the tune deserved to be heard.