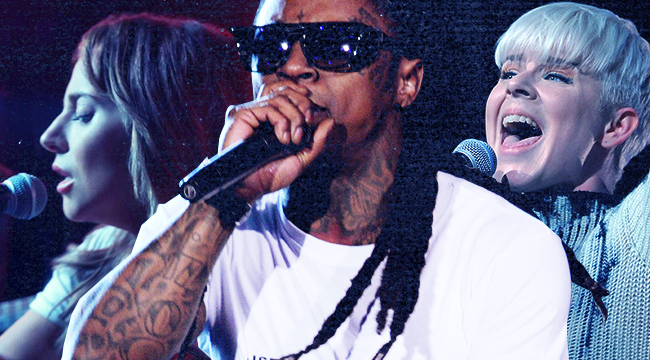 Keeping up with new music can be exhausting, even impossible. From the weekly album releases to standalone singles dropping on a daily basis, the amount of music is so vast it's easy for something to slip through the cracks. Even following along with the Uproxx recommendations on daily basis can be a lot to ask, so every Monday we're offering up this rundown of the best music released in the last week.
This week, Lady Gaga and Bradley Cooper teamed up for a song that's already become a sensation, and both Robyn and Lil Wayne proved that sometimes the wait is worth it. Yeah, it was a pretty great week for music. Check out the highlights below.
Lil Wayne — Tha Carter V
[protected-iframe id="cafb23d8f0a4186a6d3372450b3d8169-60970621-76566046″ info="https://open.spotify.com/embed?uri=spotify:album:50yFYgKdwJANZ5O9MIbMkg" width="650″ height="380″ frameborder="0″]
One of the most anticipated and delayed albums in recent memory finally sees the light of day. Bearing the same name as Lil Wayne's classic series, it's understandable why the clamoring for its release has been so feverish, and Wayne does not disappoint with the guest list, which includes Kendrick Lamar, Nicki Minaj, Snoop Dogg, Travis Scott, XXXTentacion, and many more. Just that this album is out in the world feels like a gift, bolstered by the fact that it was literally released on Wayne's 36th birthday.
Tom Petty & The Heartbreakers — An American Treasure
[protected-iframe id="a3bd3b281ee4f7278dc6e684ed973181-60970621-76566046″ info="https://open.spotify.com/embed?uri=spotify:album:0m6B5ZF9TTOR0mkxVH3DWz" width="650″ height="380″ frameborder="0″]
Arriving nearly a year after Tom Petty's death, An American Treasure is a massive box set of unreleased material, alternate versions, and rarities. For an artist so renowned for his hits, it recontextualizes a career as something more far-reaching and deep. In his review, our own Steven Hyden wrote "An American Treasure is also a surprisingly good introduction for neophytes, no matter the dearth of hits. You already know "American Girl" by heart. Now it's time to meet the flawed, achingly vulnerable man who built all of those national monuments."
Restorations –- LP5000
[protected-iframe id="4e11c490e54ffd8c703a1a4ca3cacde1-60970621-76566046″ info="https://open.spotify.com/embed?uri=spotify:album:4Knr6qLYQgClIO1p0zkJ9Z" width="650″ height="380″ frameborder="0″]
Philly band Restorations can draw their lineage to bands like The Gaslight Anthem or even that band's biggest influence, Bruce Springsteen. And in taking four years between their excellent last album, LP3, and their great new one, LP5000, the band has managed to keep things feeling immediate and lean, crafting a collection of songs that is as earnest as it is anthemic. In his interview with the band, Steven Hyden notes "Restorations have pared-down to the essentials — the wall of guitars, the jackhammer rhythm section, and Loudon's emotionally direct storytelling. They sound leaner, and more determined, than ever."
Pinegrove — Skylight
[protected-iframe id="ca6ed070baeae7ea48fba805b1f975a7-60970621-76566046″ info="https://bandcamp.com/EmbeddedPlayer/album=2874731889/size=large/bgcol=ffffff/linkcol=0687f5/tracklist=false/artwork=small/transparent=true/" ]
Pinegrove's new album, Skylight, follows a year off for the band after songwriter Evan Stephens Hall followed through with therapy after allegations of sexual coercion. Whether or not their audience is ready for the band to return remains to be seen, but Skylight remains a smart and undeniably well-crafted document of the band from before their scandal.
Lady Gaga And Bradley Cooper — "Shallow"
This week saw an important distinction in time. There will forever be the moments before you heard Lady Gaga and Bradley Cooper's soaring duet "Shallow" from the upcoming A Star Is Born film, and the moments after, where you listened to it again and again for next several years of your life. It's rare that a song emerges that is so clearly destined to become part of the cultural lexicon, but "Shallow" is just that type of song. And the best part is that it totally deserves it.
Robyn — "Honey"
It's no Tha Carter V, but Robyn's "Honey" single has also been highly anticipated for more than a year-and-a-half. Originally featured on the HBO series Girls, her new album's title track arrived this week and proved to be worth the wait. Robyn will always unfurl new scenes on well-traversed dancefloors, steeped in the idea that every club contains a thousand storylines, a thousand ways to interpret a dance or a look or a song. In Robyn's hands, club music has endless possibilities, and the listener can get lost in the potential.
Jeff Tweedy — "Some Birds"
Jeff Tweedy has released a ton of music outside Wilco, ranging from the more experimental sounds of Loose Fur to his familial project simply called Tweedy. But in terms of music actually released under his own name, it's mostly been music for film or his 2017 release of re-recorded old songs. On the solo single from his first album of original material as Jeff Tweedy, we get a feathery, comforting tune that shows the songwriter's innate gifts. He almost makes it look too easy.
Empress Of — "Love For Me"
Following a more traditional pop banger that incorporated Spanish and English together, Empress Of shows her versatility with her latest single. In her write-up for the song, Uproxx's own Chloe Gilke calls the song "electropop at its catchiest," with the song notable for how the "sweet, romantic vibe of the melody contrasts with the lyrics."
Mumford & Sons — "Guiding Light"
From creating a sound that rippled throughout pop music to abandoning their banjos in favor of U2 maximalism, it was safe to wonder what Marcus Mumford and his band would sound like on their next effort. "Guiding Light" finds the band splitting the difference between their two directions, not quite turning back to the folk instrumentation they are largely known for, but certainly finding a way to meld a familiar hook with their more electric, more stadium-ready aesthetic.