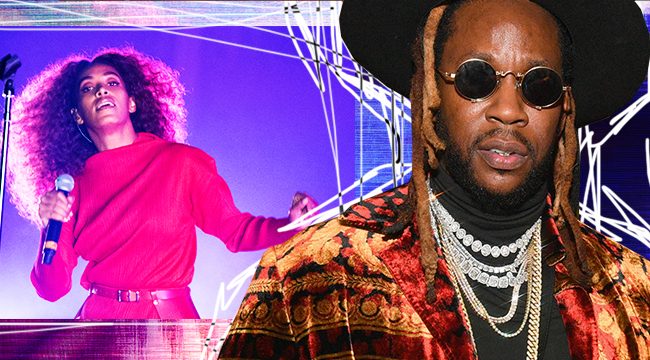 Keeping up with new music can be exhausting, even impossible. From the weekly album releases to standalone singles dropping on a daily basis, the amount of music is so vast it's easy for something to slip through the cracks. Even following along with the Uproxx recommendations on daily basis can be a lot to ask, so every Monday we're offering up this rundown of the best music released in the last week.
This week saw Solange, Lil Skies, and Lomelda all offer up surprise releases, Big Thief emerge with one of the sharpest songs in their catalog, and 2 Chainz bringing the only album that can boast both LeBron James and Ariana Grande in its DNA. Yeah, it was a pretty great week for new music. Check out the highlights below.
Solange — When I Get Home
[protected-iframe id="de3e3c7f95e9d1a9f70e80061fe00971-60970621-76566046″ info="https://open.spotify.com/embed/album/4WF4HvVT7VjGnVjxjoCR6w" width="650″ height="380″ frameborder="0″]
Though it has been three years since the release of A Seat At The Table, Solange's influence in the music world feels as tight as ever. So though we knew that When I Get Home would be coming eventually, probably before she began her festival schedule, last Thursday night felt like true appointment listening, with the music community all dropping what they were doing to give Solange their full attention. For her part, she brings the heat, with appearances from Tyler, The Creator, Gucci Mane, Sampha, Earl Sweatshirt, Dev Hynes, and Panda Bear.
2 Chainz – Rap Or Go To The League
[protected-iframe id="8b271505ad5823c1fdefaac9a270e4c8-60970621-76566046″ info="https://open.spotify.com/embed/album/1BR69wIifGZUSimcuTjWVg" width="650″ height="380″ frameborder="0″]
Atlanta's 2 Chainz doesn't need help to catch the rap world's attention. Still, it's hard to ignore two huge names that come along with his latest album. LeBron James A&R'd the project while Ariana Grande showed up for a feature, both of which give added intrigue to what would already be an anticipated album. Kendrick Lamar, Travis Scott, Chance The Rapper, Lil Wayne and Young Thug are all along for the ride.
Hand Habits — Placeholder
[protected-iframe id="4b50566b87e8d49a979bf778258ff27d-60970621-76566046″ info="https://open.spotify.com/embed/album/7y3l8rXPVyAspEngY1Beev" width="650″ height="380″ frameborder="0″]
Meg Duffy might be known by some as the guitarist for Kevin Morby, but on this excellent new album, they have built their own world which eclipses any supporting work from their past. Uproxx's Steven Hyden called it "an autobiographical record that emerged from a "pissed off" time in Duffy's life, Placeholder is more atmospheric than show-offy, in which Duffy's tasteful, restrained playing supports the delicate melodies and reflective lyrics.
Lomelda — M For Empathy
[protected-iframe id="9c015441e23d68d1f7e6fbae3b14acc0-60970621-76566046″ info="https://open.spotify.com/embed/album/0pJhS1FW6oVe9FV8WeWBv9″ width="650″ height="380″ frameborder="0″]
It's not the biggest surprise album of the week (or even really the second biggest surprise album), but Lomelda's latest still feels like a gift for her devoted fanbase. The songs often feel like sketches, where the brilliance is stumbled upon and shared in its rawest form. Writing about the record for Uproxx, Sasha Geffen said, "Despite their truncated lengths, these songs tackle weighty ideas: The difficulty of human communication, the distance between people that looms inside even the closest relationships, and the isolation and despondency that can arise when the distance seems to outweigh the connection.
Delicate Steve – 'Till I Burn Up
[protected-iframe id="d4a6042cf772e1fc99c7c4c3b035475b-60970621-76566046″ info="https://open.spotify.com/embed/album/0kfjnSmIHHOmCYi0tQRgai" width="650″ height="380″ frameborder="0″]
There isn't a lot of room for guitar wizards in the modern music climate, but Delicate Steve uses that novelty to his advantage. Fresh off some great collaborative work with Amen Dunes, Steve is back on his own and happy just being himself. "There is a confidence that comes with abandoning the idea of wanting to create something that everyone might like to check out," he said about the album in a statement, which might make people want to check out his album even more.
Tom Petty — The Best Of Everything
[protected-iframe id="736d32a58c354453cdcdb92a691bcbfd-60970621-76566046″ info="https://open.spotify.com/embed/album/0fOsrdLub7GfVJCPqaPxji" width="650″ height="380″ frameborder="0″]
There might not be a better "greatest hits" artist than Tom Petty. That's not to discount the value of his individual albums, but just that between his work as a solo artist, with Mudcrutch, and, of course, with The Heartbreakers, Petty's has amassed a core 40-or-so songs so sturdy that it's unparalleled when combined together. The Best Of Everything is the first time these worlds all come together on a single comp, with a couple never-before-released tracks and liner notes from Cameron Crowe. With Petty's death still stinging, this collection serves as both a great introduction and an essential sampling.
Lil Skies — Shelby
[protected-iframe id="b30f4163932a65b18c6f485b0f6835b3-60970621-76566046″ info="https://open.spotify.com/embed/album/47FalEKu0of8GExDtZBkxT" width="650″ height="380″ frameborder="0″]
Tis the week for surprise releases. And though Life Of A Dark Rose certainly put Lil Skies on everyone's map, he's ready to wipe the slate clean and start again on this record. "It's my first real project. It's like a new beginning. This is really like me being born again," he said, and he's bringing Gucci Mane and Gunna along for the ride.
Big Thief — "UFOF"
One of the great joys of listening to Big Thief is how the delicate intersects with noisier, full-band inflections. The harmony of how these elements work together is often captivating, and it makes the band's latest single, "UFOF," such a success. As Uproxx's Chloe Gilke notes, "'UFOF' sparkles with tenderness for the unknown. Lenker's soft and resonant voice leads the multilayered, warm track through unexpected musical flourishes and a grounding guitar."
Gesaffelstein & Pharrell Williams — "Blast Off"
Though his previous single with The Weeknd didn't quite catch on as a massive pop hit (and caused some controversy), Gesaffelstein is back with an '80s-inspired collaboration with Pharrell Williams. It can honestly be said that no one is really making music like this in 2019, taking its cues from the Pet Shop Boys and other funky new wave progenitors. The song works in the same way that Pharrell's last big collaboration with an electronic music titan did — Daft Punk's "Get Lucky," though this isn't quite the instant hit that that one was.
Marina — "Superstar"
Marina doesn't need "The Diamonds" added to her name to make forward-thinking pop bliss. On her latest song "Superstar," Marina embodies the titular concept with grace. Writing about the song, Uproxx's Chloe Gilke said "'Superstar' strikes that perfect balance between bleak and hopeful that has earned Marina so many fans.
Some artists covered here are Warner Music artists. Uproxx is an independent subsidiary of Warner Music Group.