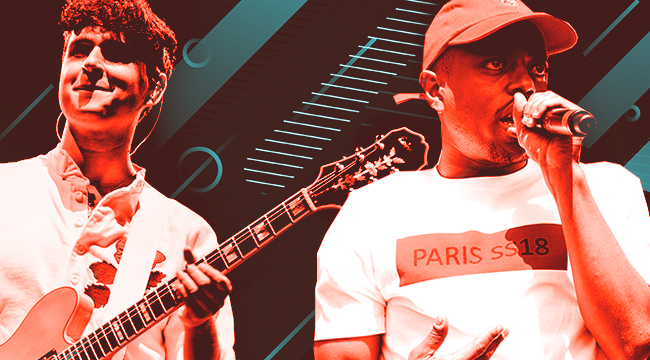 Keeping up with new music can be exhausting, even impossible. From the weekly album releases to standalone singles dropping on a daily basis, the amount of music is so vast it's easy for something to slip through the cracks. Even following along with the Uproxx recommendations on daily basis can be a lot to ask, so every Monday we're offering up this rundown of the best music released in the last week.
This week saw the triumphant return of Vampire Weekend with a '90s jam revival, the long-awaited debut album from Compton's own Boogie, and a surprise collaborative album from Conor Oberst and Phoebe Bridgers as Better Oblivion Community Center. Yeah, it was a pretty great week for new music. Check out the highlights below.
Boogie – Everything's For Sale
One of the most anticipated hip-hop releases of 2019 is already here. 6lack, JID, and Eminem all join in on the fun for the Compton rapper's debut album. The last of these is particularly significant, as the album is released on Shady Records and could stand as one of the best offerings from that label.
Better Oblivion Community Center — Better Oblivion Community Center
Two talented songwriters from different generations come together to bring out the best in each other. Phoebe Bridgers and Conor Oberst's new project Better Oblivion Community Center finds both artists pushing each other into exciting new terrain. As I wrote in my interview with the pair, "Musicians this well-matched rarely find each other, and when they do, even rarer is it in something so effortlessly symbiotic at Better Oblivion Community Center. Phoebe Bridgers and Conor Oberst come across as each other's biggest fans."
Dawn – New Breed
On her first full-length since 2016, the artist formerly known as Dawn Richard is offering up what might be her most impressive outing yet. Most of the record is self-produced, with help from Cole M.G.N (Christine & The Queens, Ariel Pink), Kaveh Rastegar (John Legend, Sia) and Hudson Mohawke. But maybe most interesting is the personal nature of the material, with Dawn drawing upon her experiences growing up in New Orleans for the content, where her own unique worldview collides with the city's rich traditions.
Julia Michaels – Inner Monologue Part 1
One of pop's most exciting rising voices and writers is back. Michaels last captured our attention with her 2017 EP Nervous System and now she's here with another EP, offering collaborations with Selena Gomez and Niall Horan on the collection. The Gomez song is the one getting the most attention out of the gate, with Michaels' importance to the pop world hard to overstate.
Dreezy — Big Dreez
It's been three years since Dreezy released her debut full-length, No Hard Feelings, an album that felt like it never quite found the audience it deserved. Now she's back with Big Dreez, and as our own Aaron Williams notes, "With thumping party starters like "Chanel Slides" and "RIP Aretha" driving the hype train for Dreezy's latest, more fans than ever are checking for Big Dreez and her new album." It's good news for the rising star, and she brings Offset, Jeremih, and Kash Doll along for the ride.
Vampire Weekend — "Harmony Hall"
There might not be a more anticipated single this year than Vampire Weekend's "Harmony Hall," which ends a nearly six-year drought of new music from the indie rock band. But even with all the wait and the tips of where their sound might be heading (they did have a Grateful Dead cover band opening for them last year), no one was really prepared for the '90s neo-jam style that appeared in the track. It's a polarizing song that showcases the effort that went into it, only whetting our appetite more for what else this cycle might bring.
Florence + The Machine — "Moderation
Even though her last album came out in 2018, Florence Welch is not taking her foot off the gas. And this single, "Moderation," is actually a better standalone than anything off her last record, relying less on vibe than that collection and going back to her hit-making days of old. Both looks are great for Florence + The Machine, and "Moderation" just puts a little more balance into the world.
Nilüfer Yanya — "In Your Head"
With a debut album, Miss Universe, due in June, Nilüfer Yanya is showing listeners what all the fuss is about. The songwriter, who is about to go on tour with Sharon Van Etten, shows a similar knack for landing a rock song as she has shown in her ability to conquer more spare territory. As our own Chloe Gilke notes, "'In Your Head' is a fuzzed-out, passionate rock song that evokes the feeling of clawing through the mud of your own mind and trying to break free, whatever that might look like."
Ryan Adams — "F*ck The Rain"
Ryan Adams has made a career off of transcendent, reflective, gorgeous songwriting. So the fact that his latest, "F*ck The Rain," is all of these things, isn't as much a surprise as it is an affirmation that Adams is once again drawing water from a deep well. John Mayer shows up for a guitar solo, but Adams owns this song's dreary mood, enough so that we're all ready to flip the bird at the rolling thunder and gathering puddles.
King Princess And Fiona Apple — "I Know"
King Princess doesn't need a cosign to prove her worth. Still, getting on a collaborative version of Fiona Apple's "I Know" with Apple has to feel good, like crossing some imaginary threshold of success. This version comes 20 years after the release of the original and is a Spotify exclusive. Still, it resonates as strongly today as it did when it was written, with two generations of talented musicians bridging that time with this collab.
Some artists covered here are Warner Music artists. Uproxx is an independent subsidiary of Warner Music Group.