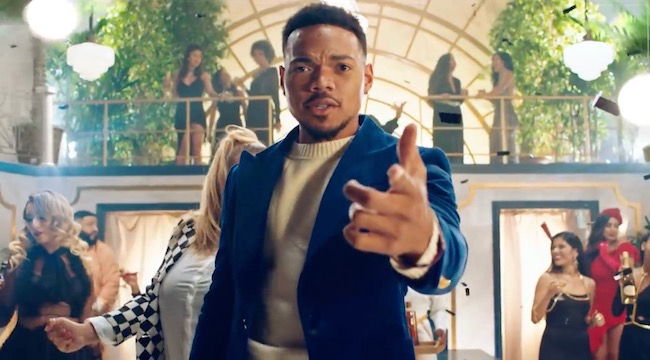 Sometimes the music is only half the story. Would Michael Jackson's immortal pop ballad "Thriller" have been the runaway success it was at the dawn of MTV if not for the extended video filled with zombies, werewolves, and Vincent Price? Probably not. Though MTV's clout has diminished significantly in subsequent decades, artists are still releasing videos at a stunning clip, sharing them on Youtube, Vevo, and pretty much every streaming service out there.
Videos not only offer another side of the person making the music, but also of the music itself, adding in context clues and visual cues that enrich the sonic material. They can also be fun, funny, weird, and shocking. Collected below are some of the most interesting and compelling videos released over the last week.
DJ Khaled — "No Brainer"
DJ Khaled's truest and most critical talent is getting some of the biggest stars in the world to work with him on new projects. Seriously, I don't know how he does it, but the guy corralled damn near every A-list music maker on the planet to help him create new tracks. His latest, "No Brainer," brings back together the triumvirate of Justin Bieber, Chance The Rapper and Quavo that helped propel his hit "I'm The One" to the top of the charts. The video is fun and quirky and hammy, all the things you've come to expect from Khaled. If anything is gonna knock Drake out of the No. 1 spot in the coming weeks, it's gonna be this.
Drake — "Nonstop"
Drake music videos are events unto themselves, especially in 2018. Remember how he gave away over $1,000,000 of his label's money for "God's Plan?" Or how he got the DeGrassi gang back together for the "I'm Upset" video? For the latest Scorpion album visual, Drizzy decided to do something a little more conventional, piecing together footage of him performing in London and then hitting the club afterwards. It's pretty standard rap video fare, but because it's Drake, it's still compelling as hell.
Blood Orange — "Charcoal Baby"
From something light and fluffy to a production that's deep and thought-provoking. Dev Hynes latest single under the Blood Orange label is an endlessly melodic piece awash in shimmering guitars and flat snares. The video features a split screen, broadcasting a wide array of different images, representing two different sets of families, with Hynes performing throughout.
YG — "Handgun"
2018 has been a helluva year for marquee hip-hop releases with seemingly every single major player in the game dropping new full-length projects of one kind or another. At the end of this week, you can add Compton rapper YG to that list with his latest album Stay Dangerous. Earlier this week, YG shared the video for one of the singles from that project, featuring none other than ASAP Rocky. The clip itself is almost like a hood version of Full Metal Jacket with YG as the no-nonsense drill sergeant schooling a class of new recruits.
Alt-J — "In Cold Blood"
Alt-J's latest video is a trippy, animated production starring no less than the President of G.O.O.D. Music himself, Pusha-T, who shows up as a psychedelic floating head, spitting his guest verse with heady abandon. The way Pusha is acting in the video is the same way I feel he acted in the song," director Osean said in a statement. "He flows through the song as his experience in someone else's world trying to find his place."