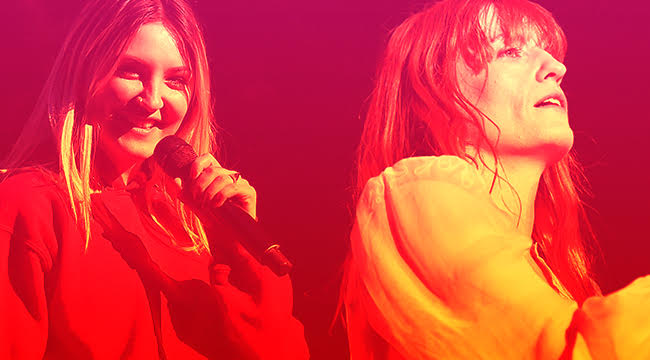 With Valentine's Day only a few weeks away, it's a funny coincidence that this week's best new pop songs are full of heartbreak. Julia Michaels dropped a fantastic EP full of sad bops. Lauv and Troye Sivan teamed up to tell us how tired they are of love songs. King Princess covered the classic Fiona Apple gut-punch "I Know," with background vocals from Apple herself. Florence And The Machine are here for your love life frustration catharsis, and although Broods' new song expresses more heartbreak for the world than for one person, it still counts.
Every Monday, Uproxx will round out the best new pop releases. Give your heart a break and listen to some great new music.
Julia Michaels, Feat. Niall Horan, "What A Time"
Honestly, almost every song off Julia Michaels' new EP Inner Monologue Part I deserves to be included here, but I especially adore the EP's final track, "What A Time." A nostalgic, resigned ballad, "What A Time" features a gorgeous vocal turn from former One Direction singer Niall Horan. Horan and Michaels (who toured together last year) echo one another's gentle heartbreak beautifully, as they reminisce together about a love that is no more. Michaels said Horan was a delight to record with, and he sounds like a "sweet baby angel" on the track. We have to agree.
Florence And The Machine, "Moderation"
A classic from the time they first performed it in Perth a few weeks ago, Florence And The Machine have finally given "Moderation" the studio recording she deserves. "Moderation" is a no-hesitation punch of a song, with pounding drums, passionate lyrics, and singer Florence Welch's wild, burn-the-house-down vocals. Welch wrote the song around the same time as High As Hope, but didn't include it on the record because it didn't match the mellow contemplation of that record. Even if it didn't find a home on her last record, I'm glad "Moderation" made it out here. We've only been aware of its existence for less than a month, but "Moderation" is already one of my favorite Florence songs, hopefully to be performed live on the rest of her High As Hope Tour and many other shows to come.
King Princess, Feat. Fiona Apple, "I Know"
After teasing a mysterious collaboration (or at the very least, high five) on Instagram earlier this month, King Princess finally revealed the reason she and alt-pop legend Fiona Apple were hanging out on a couch together. Apple and King Princess recorded a gorgeous cover of Apple's song "I Know" as a Spotify exclusive. KP switches the instrumentation of the song from Jon Brion's lush, strings-filled arrangement to simpler synths, but maintains the song's complicated push and pull of emotions. Apple's feature on the song is minimal (you can barely hear her echoing KP's vocals), but it's just thrilling to hear the enigmatic singer's voice again.
Tori Kelly, "Change Your Mind"
After the release of her 2018 gospel-leaning album, Hiding Place, Tori Kelly is returning to her pop roots. "Change Your Mind" still deals with themes of love and forgiveness, although with a different father in mind. In the song, Kelly wishes to change the mind of her family, who disapprove of a bad-boy lover. Kelly has an effortlessly powerful, slightly edgy voice — think the Christina Aguilera of the Scooter Braun cohort. "Change Your Mind" is the first track off her upcoming third studio album. If you're not excited yet, let this song "Change Your Mind."
Broods, "Falling Apart"
The New Zealand pop duo followed up the release of their fantastic single "Hospitalized" with another intensely felt electro-pop banger. "Falling Apart" details a glitchy, empty world on the verge of collapse — if the lyrics have resonance, it's probably because Broods wrote the song in the aftermath of the 2016 US Presidential election. Singer Georgia Nott's voice sounds gorgeous both natural and altered, and on the heavily autotuned chorus, she sounds like an omniscient alien or voice speaking from the heavens. "Falling Apart" is a beautiful track, despite the ugliness that inspired it.
Lauv, Feat. Troye Sivan, "I'm So Tired"
Lauv, who released one of the most-streamed love songs of 2018, has apparently tired of penning the songs they play when everyone at the club is coupling up for the night. On "I'm So Tired," Lauv and Troye Sivan sing their frustration with romance post-breakup. Musically, the song skates the line between being a dance anthem and mellow headphones listening. Whether you'd rather stay at home or go out and live your own love song, Lauv and Sivan have crafted a moody, versatile bop to take you from romance to apathy and back to the dance floor again.
Aurora, "Animal"
The first single off Norwegian pop singer Aurora's upcoming third EP, "Animal" is a striking, drum-driven anthem. The intense instrumentals form a fun contrast with Aurora's youthful, soft vocals — she sings about "hunting for love, killing for pleasure" with the voice of an angel. The lyrics hit the perfect balance between simplicity and poetry. Aurora compares isolation to hunger and describes looking out with a "goddess in her eye," but she makes sure to hit the "I'm an animal" metaphor pretty hard in the chorus, so no one forgets what the song is about.
Drax Project, Feat. Hailee Steinfeld, "Woke Up Late"
New Zealand pop group Drax Project have released a new version of their 2017 track "Woke Up Late" featuring a new verse from Hailee Steinfeld, the pop singer-Academy Award nominee-Bumblebee star who never sleeps. "Woke Up Late" is a bouncy club anthem about a night-out hookup, with all the playful and easy energy that a song with that kind of subject matter should have. Steinfeld's verse is a fun reminder that while it's been three years since the release of her last EP, she's still one of the biggest pop princesses on the rise right now.