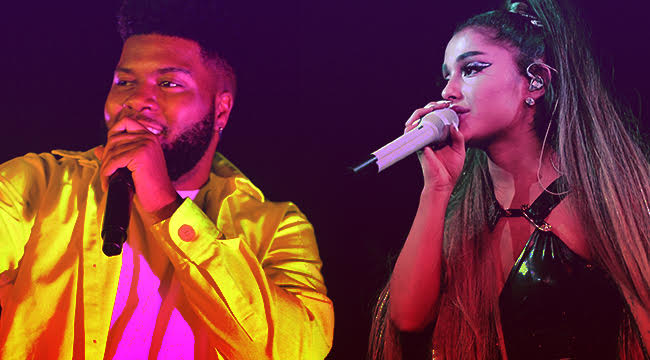 This was a great week for big pop releases. Khalid, who hasn't loosened his grip on the Top 40 since his debut album was released in 2017, reached a new career peak on his new album Free Spirit. Ariana Grande should be busy on tour and promoting her no. 1 single, but God is a woman who gets no sleep. Her new song with Victoria Monet, "Monopoly," is a gift to fans and a celebration of all the success the two have already achieved this year. The Jonas Brothers are continuing their comeback with another future chart-topper, and Marina surprised us with an early drop for the first half of her double album.
Every week, Uproxx will round out the best new pop releases of the last seven days. Listen up.
Khalid, "Heaven"
Khalid is one of the biggest pop stars on the planet right now, and Free Spirit proves why. He's a genre chameleon, dabbling in everything from dance-pop, smooth R&B, country, and soft rock with enviable confidence. If the morose, intricate "Heaven" sounds a little bit like a Father John Misty song, that's because Josh Tillman co-wrote and produced the song. Khalid is often contemplative and honest in his songwriting, but "Heaven" is stunningly dark. "Heaven, make me an offer / Lord, there's nothing left for me out here" almost sounds like a battle cry over the grandiose instrumentals, until you sit with that a minute and realize he's singing about burning out and chasing death. But damn, can Khalid find the heavenly beauty in even the darkest of landscapes.
Bazzi, "Paradise"
On the romantic "Paradise," Lebanese-American singer-songwriter Bazzi imagines a utopic paradise that exists outside time and space. Over a glittering, nostalgic beat, Bazzi dreams up a place where distance can't keep love from growing, and every night out with friends makes history. Previous singles "Mine" and "Beautiful" were big radio hits, but "Paradise" is his best track to date. Listen now before it soundtracks this summer's biggest and most memorable moments.
Jonas Brothers, "Cool"
Speaking of nostalgia, "Cool" proves that the Jonas Brothers' comeback isn't just a one-off. After the brilliantly catchy "Sucker," The Jo Bros followed it up with an even more infectious pop anthem. In their years apart, the brothers have grown as singers and songwriters. Joe's falsetto is more impressive than ever, and "Cool" is playfully self-aware and confident. The song sparkles with dreamy, sunny energy — they haven't officially announced an album or tour yet, but "Cool" is a summer anthem if I've ever heard one.
Blackpink, "Kill This Love"
If you don't know who Blackpink are yet, you better catch up fast, because you're about to see them everywhere. The Korean girl group, already massively popular with global audiences, are set to break out in the US in a huge way. They'll be the first K-pop girl group to play Coachella this spring, and they've got a US arena tour to follow it up. The confident, bombastic "Kill This Love," off their new EP of the same name, proves Blackpink's incredible talent and star power. The members are stunningly great dancers and performers, and the video glows with the power of four women at the top of their careers.
Ariana Grande, Feat. Victoria Monet, "Monopoly"
Ariana wants it, Ariana's got it. In celebration of "7 Rings" spending an eighth week at the top of the Billboard Hot 100, Grande and collaborator Victoria Monet released a brand new track. Like "7 Rings," "Monopoly" is a confident banger with a trap-pop beat and top tier vocals. Like "7 Rings," Grande faced a fair amount of criticism regarding the song's message. (Grande sings "I like women and men," and said on Twitter that she prefers not to label her sexuality. Of course, that just makes people online twice as likely to call her bisexual or straight.) But "Monopoly" is a fun new release, and the fact that she dropped it in the middle of a massive and exhausting world tour just shows that Grande's creative vision never sleeps.
Hatchie, "Stay With Me"
Australian singer-songwriter Hatchie (real name Harriette Pilbeam)'s debut album Keepsake is out this June, and she's continuing her run of great pre-release singles with "Stay With Me." Over a glossy, synthy beat, Pilbeam begs a lover not to leave her. It's a great dance-through-your-tears anthem, equal parts electric and melancholic. It's poppier than most of the stuff Hatchie has released so far, but "Stay With Me" proves that Hatchie's dreamy sound is malleable. She can be your shoegaze rock god or dancing queen.
Alison Wonderland, "Peace"
Dance-pop musician Alison Wonderland (real name Alexandra Sholler) is one of EDM's brightest stars. In a genre that can feel especially male-dominated, Sholler proves that EDM needs to do better and support more diverse voices and sources of talent. Her first solo release of 2019, "Peace" is determined, with a driving beat and powerful refrain. When she cries, "Someday I'll find peace," you can hear Sholler fighting off her inner demons and pushing through the tough stuff. It's an inspiring song, and it's also a banger.
Marina, "Enjoy Your Life"
In that same vein of positivity, Marina's new single "Enjoy Your Life" is a sunny burst of optimism and shining synths. Marina has made a career making depressive, angsty art pop, but Love sees her embracing a happier outlook. (Although the second half of the record, Fear, will presumably bring her back to the dark side.) "Enjoy Your Life" is a glittery electro-pop confection and immediate mood booster. When Marina tells you to enjoy your life, you listen up and enjoy your life.
Some artists covered here are Warner Music artists. Uproxx is an independent subsidiary of Warner Music Group.