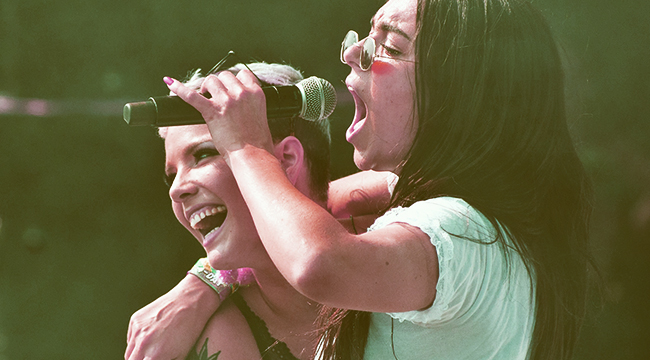 Rejoice, for she has returned!
Technically, that could be about any one of our pop queens this week. Carly Rae Jepsen released her long-awaited follow-up to Emotion, the fantastic Dedicated. Halsey, who is still tearing up the charts with "Without Me," dropped her first new single of 2019, "Nightmare." Charli XCX promised us a new album sometime this year, and while "Blame It On Your Love" is just one single, it's a great sample of what's to come.
Every week, Uproxx will round out the best new pop releases of the last seven days. Listen up.
Kim Petras, "Sweet Spot"
Kim Petras has been releasing new singles at a breakneck Tierra Whack pace. Her fourth new track in as many weeks, "Sweet Spot" is a bass-heavy dance anthem. "Sweet Spot" borrows from disco and Euro-dance, a different vibe from the more hip-hop-inspired sound Petras has been embracing in this new era. But Petras is the queen of pop versatility, and "Sweet Spot" is a fresh and intoxicating Song Of The Summer contender.
Charli XCX, Feat. Lizzo, "Blame It On Your Love"
"Track 10" was a perfect song to begin with, and arguably Charli XCX had no reason to touch the song again. But while "Blame It On Your Love" shares some hooks and lyrics with its Pop 2 sister, it's also a song worth appreciating on its own. Charli XCX is a master at weirdo electro-pop and more mainstream dance hits, and she courts the latter with "Blame It On Your Love." It's straightforward and fun, and while Lizzo's eight bars feel like eight seconds, her feature is still killer. Charli has said that she hopes to release an album later this year. "Blame It On Your Love" might sound like an anomaly for fans who dig her artier Pop 2 stuff, but it's also a reminder of the breadth of her pop talents.
Madonna Feat. Quavo, "Future"
I will admit that Madonna and Quavo make an odd pairing, but "Future" is a first-rate banger. The dancehall-inspired song takes its inspiration from contemporary politics, as Madonna and Quavo denounce those who still get wrapped up in hate and prejudice and haven't learned from the past. The "future," for Madonna, is a "culture ride," a place where confidence, tolerance, and sparkle win out. And if the future is the kind of place where Madonna and Quavo will team up for a breezy dancehall track, I'm ready to leave the past in the dust.
Halsey, "Nightmare"
For the follow-up to her massive single "Without Me," Halsey is showing her teeth. "Nightmare" is an electro-rock banger, full of the attitude that won her so many fans in the first place. "I, I keep a record of the wreckage in my life / I gotta recognize the weapon in my mind," she sings, eviscerating the graveyard of lovers who dared cross her. "Nightmare" is four minutes of pure catharsis. It's her first new solo single of 2019, and there's no doubt the album at the end of this rollout will be something special.
Carly Rae Jepsen, "Want You In My Room"
"Want You In My Room" is pure pop perfection. Over syrupy, '80s synths, Carly Rae Jepsen teases a lover — her window is open, the light is on. She wants love and romance and everything, all at once. Over the course of her discography, Jepsen has found a million ways to describe love, but she might have nailed the best line of her career with "I'll press you to the pages of my heart." This is the first song that super-producer Jack Antonoff has produced for Jepsen (at least that's been released), but I hope it's not the last. On this song (and the rest of Dedicated), she's pining harder and shining brighter than ever before.
Mark Ronson Feat. YEBBA, "Don't Leave Me Lonely"
Following "Late Night Feelings" and "Nothing Breaks Like A Heart," Mark Ronson has dropped another crying-in-the-club anthem. Rising star YEBBA sounds powerful and gorgeous on the disco-inspired "Don't Leave Me Lonely," her airy vocals sending the song straight to the stratosphere. Ronson's production is masterfully muted, and the thrumming drums and soaring strings are the perfect accompaniment to YEBBA's yearning. Ronson's album Late Night Feelings is due out in June, so expect more disco-pop diva goodness as he releases more singles in the coming weeks.
Dana Williams, "Holiday"
Dana Williams has a delicate voice, but the rising singer-songwriter finds power in the quiet of being alone. Her latest single, "Holiday," is about the catharsis of independence. "That's when I have my space / when you're away," Williams sings, making an effective case for everyone to dump their terrible boyfriends and just live the free and single life this summer. Williams' voice is like a time machine, smooth and contemplative as the '90s R&B queens and evocative as a '60s torch singer. But her music itself is quintessentially fresh and contemporary, and "Holiday" is a great introduction.
Slayyyter, "Daddy AF"
"Daddy AF" is the fourth single off rising pop star Slayyyter's upcoming self-titled mixtape. If you don't know who Slayyyter is yet, let "Daddy AF" be your introduction. The track is intoxicating from the get-go, as Slayyyter chronicles her night "poppin' bottles" and "f*ckin' models" over a glitchy, fuzzed-out beat. "Daddy AF" displays an aspirational level of confidence and self-assuredness, and Slayyyter doesn't hold back from the graphic descriptions of everything she's feeling. There's no one making pop music like Slayyyter right now.
Some artists covered here are Warner Music artists. Uproxx is an independent subsidiary of Warner Music Group.