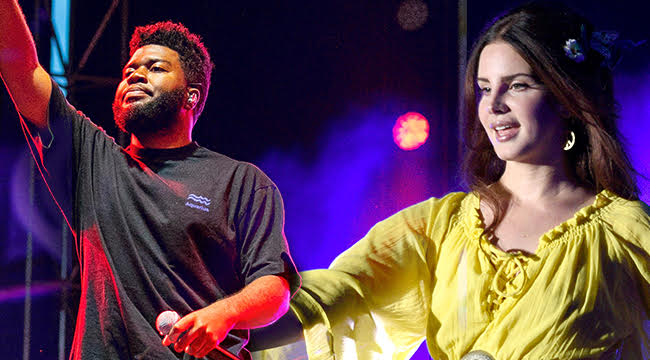 This week blessed us with an incredible number of great new singles. Lana Del Rey shared another fantastic track from the upcoming Norman F*cking Rockwell, we got new solo bangers from two former Fifth Harmony members, and Billie Eilish wrote a song inspired by my favorite movie of 2018. Indie pop duo Broods released my favorite song of the week, and some high-profile features are setting up LEÓN and Kane Brown to be two potential breakout stars in 2019. Every Monday, Uproxx will round out the very best pop releases from the week. Enjoy this week's spoils.
Sam Smith And Normani, "Dancing With A Stranger"
Following the disbandment of Fifth Harmony, Normani has been the queen of collabs. The R&B-pop singer has worked with some of the biggest names in pop and hip-hop — Calvin Harris, Khalid, 6LACK, and now, Sam Smith. Smith and Normani sound incredible on "Dancing With A Stranger" as they sing about filling the void of heartbreak by, uh, dancing with a stranger. The song is more mellow than most of Normani's solo singles so far, but the chilled-out tempo showcases the singer's impressive versatility. With her debut album forthcoming, Normani is building an impressive repertoire of singles to perform on tour with Ariana Grande later this year.
Billie Eilish, "When I Was Older"
Have you seen Roma? It's excellent. Billie Eilish has definitely seen Roma, and the young cinephile's eerie, atmospheric new single is apparently inspired by the film. "When I Was Older" is reminiscent of one of Eilish's best singles, "You Should See Me In A Crown," but the new track keeps you waiting for the beat to drop. The building drums and synths add to the creepy, dark vibe of the song, and Eilish's quiet, delicate voice sounds haunting and incredible. And don't worry — if you haven't caught Roma yet, the song doesn't spoil anything.
Kehlani, Feat. Ty Dolla Sign, "Nights Like This"
Kehlani's debut studio album came out in 2017, but the young R&B-pop singer kept busy in 2018 with an impressive number of features on songs by everyone from Cardi B to Charlie Puth. Kehlani is back to conquer 2019 solo. "Nights Like This" is a vibey, mid-tempo bop, a showcase for Kehlani's incredible voice. The singer may be very pregnant right now, but she is reportedly hard at work recording a new mixtape and ambitious concept album, which she shared some details about this week. 2019 is Kehlani's year, and I can't wait to hear whatever else she's getting ready for us.
Lana Del Rey, "Hope Is A Dangerous Thing For A Woman Like Me To Have — But I Have It"
Twitter doubled its character limit a few years ago just so we could type out the full title of this song. Lana Del Rey's latest single off Norman F*cking Rockwell is gorgeous and spare, a showcase for the singer's haunted and melancholy voice. Over a minimalistic piano melody, Del Rey compares herself to Sylvia Plath, tearing around the room in her nightgown and writing in her blood because all her pens don't work. Everyone who was worried that the album's producer, Jack Antonoff, would sand away the edges of what makes Del Rey unique to make another '80s-inspired synth-pop confection needn't worry. "Hope Is A Dangerous Thing," just like everything the singer has previewed from the album so far, is classic Lana Del Rey.
Lauren Jauregui, "More Than That"
Normani's former bandmate Lauren Jauregui has surpassed expectations set by her excellent debut single with its follow-up, "More Than That." Jauregui has one of my favorite voices in pop, alternately raspy and breathy, elastic enough to pull off ballads and club bangers with style and talent. Jauregui has been working with some impressive collaborators for her upcoming debut album — Kid Harpoon (Harry Styles, Florence And The Machine) and Prince Charlez (Kendrick Lamar, Rihanna). No news on when to expect the album, but whenever Jauregui is ready to share it, it's sure to be incredible.
Grey, Feat. LEÓN, "Want You Back"
"The Middle" was one of the best and biggest songs of 2018, and dance-pop duo Grey is back to follow-up that success with another sure-to-be-massive track. "Want You Back" features vocals from Swedish pop singer (and pop column staple) LEÓN. "Want You Back" is fun and danceable, with a brash, sparkling beat. The new track is definitely reminiscent of Grey's work with Zedd — you can hear a little bit of "Starving" and "The Middle" here — but the song is proof that they have the golden touch when it comes to making a dance-pop hit. Don't fix what's not broken, right?
Broods, "Hospitalized"
Broods heard Mitski sing "I want a love that falls as fast as a body from the balcony" and took it a step further — this pop duo wants to feel so much that they land in the hospital. Singer Georgia Nott fills in the details of this compelling death wish in an expertly crafted pop song. When emotional turmoil gets to be too much, don't we all long for an excuse that forces us to take a break from it all? (Nott's desired "break" is medically mandated.) The bass is deliciously groovy, and the synths shimmer. The New Zealand pop duo's new album, the impeccably named Don't Feed The Pop Monster, comes out on February 1. Dance all to this one all you want, but please stay safe and out of the hospital.
Khalid, Feat. Kane Brown, "Saturday Nights Remix"
"Saturday Nights" is one of the best tracks on Khalid's standout 2018 EP, Suncity. The young singer is often categorized as R&B or pop, but his music borrows from a wide range of genres and styles. It took a Kane Brown feature to make me realize that "Saturday Nights" is a country song. The "remix" of "Saturday Nights" is actually quite similar to the original, but Khalid is joined by Brown on the second verse. Brown is an exciting young rising country star — this Khalid feature is huge, and will hopefully introduce Brown's music to a wider pop audience. "Saturday Nights" is a gentle and sentimental love song, the perfect sweet spot between Khalid's compassionate pop and Brown's conscious country.