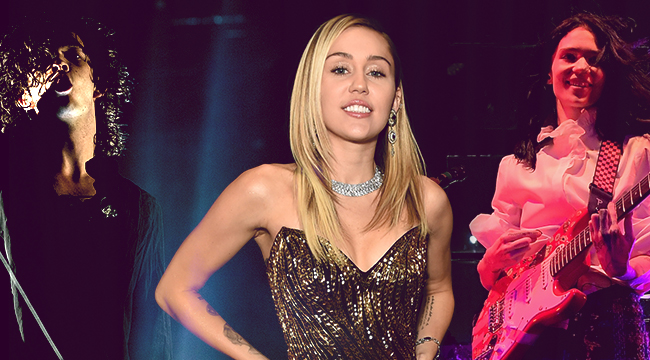 The first full week after the Thanksgiving holiday was completely stuffed with great pop music. (I swear, I didn't mean for that to be a pun). We got full albums from some pop column staples — English electronic group Clean Bandit released their second studio album on Friday, and The 1975 finally dropped the fantastic, genre-spanning A Brief Inquiry Into Online Relationships. Grimes is back and hailing the genius of our benevolent AI overlords. Just when we thought she'd turned away from pop for good, country girl Miley Cyrus has returned for a collab with Mark Ronson.
Every Monday, Uproxx will round out the very best pop releases from the week. I know A Brief Inquiry Into Online Relationships is so good you could get lost in it for a month, but give the rest of these picks a listen, too.
Grimes, Feat. HANA, "We Appreciate Power"
Grimes has had a busy year, collaborating with K-pop group LOONA/yyxy, Janelle Monae, and Poppy, but the electro-pop singer's first single since 2015's Art Angels proves why she's one of the most iconic artists working in that genre right now. On "We Appreciate Power," singer Claire Boucher pulls off hairpin turns from sugary sweet vocals to some Nine Inch Nails-esque industrial rock screams. Grimes and fellow electro-pop singer (and longtime collaborator) HANA trade verses about our kindly robot rulers, asking us to "pledge allegiance to the world's most powerful computer." I don't know about robots, but I'll appreciate the power of this absolute banger.
Cheat Codes, Feat. Kim Petras, "Feeling Of Falling"
Electronic trio Cheat Codes' latest single, "Feeling Of Falling," features a genius collaboration with German pop princess Kim Petras. Petras' infatuated voice is a perfect accompaniment to Cheat Codes' gleeful synths. Petras sings about hating "the feeling of falling in love," but you also get the impression that there's joy in the refusal of commitment. This song is so happy. It's easy to imagine a dance floor of people shouting "If you wanna stay, be my one mistake / I don't wanna wait anymore, anymore." If there's any justice in this world, "Feeling Of Falling" will be this this winter's "Closer"-esque bring-the-club-down hit. (This song is about a thousand times better, so there's also that.)
The 1975, "Be My Mistake"
Speaking of "being my mistake," The 1975 have had me in my feelings all weekend with "Be My Mistake." It's an absolute heartbreaker on an album full of them. A Brief Inquiry Into Online Relationships is often up-tempo and bursting with feeling, but even the album's most cheerful sounding tracks are painfully aware of the dual beauty and agony of being young and being alive.
Singer Matty Healy shows just how delicate his voice can get on "Be My Mistake." Healy sings about a meaningless hookup, two bodies finding one another in confused, wine-soaked sadness. The song isn't super representative of everything that's on A Brief Inquiry Into Online Relationships — the album tends toward activity, not resignation, and The 1975 rarely sound this gentle. On the record, "Be My Mistake" is sandwiched between the anthemic "Love It If We Made It" and the jazzy, Social Experiment-esque "Sincerity Is Scary." This embrace of experimentation and genre-hopping is what makes the album such an instant classic.
Mark Ronson, Feat. Miley Cyrus, "Nothing Breaks Like A Heart"
Like her shape-shifting former alter ego, Hannah Montana, Miley Cyrus is multi-dimensional. The contemplative country-pop singer who recorded last year's Younger Now sometimes seems like an entirely different person than pop phenomenon who danced with a foam finger and stuck her tongue out at critics. Younger Now didn't reach the same critical and commercial success of her other, poppier work. But Cyrus found a way to brilliantly marry the two on "Nothing Breaks Like A Heart." Mark Ronson is a confident collaborator leading the singer back into her embrace of pop, and"Nothing Breaks Like A Heart" sounds like a Dolly disco mix, emotional and frenetic. Cyrus is working on her seventh studio album with Ronson and frequent collaborator Andrew Wyatt. Cyrus brought us "Wrecking Ball" and "We Can't Stop," and Ronson and Wyatt penned "Shallow." I'd say I'm excited for this upcoming album, but I honestly don't think I'm ready for it.
Rina Sawayama, "Flicker"
On "Flicker," Japanese-British pop singer Rina Sawayama extols the beauty of being different. "When the people on TV / They all look the same / I know I can do / I can do better than them," Sawayama sings, with the conviction of someone who has repeated this to herself a million times. They may have an easier time, but privilege produces a dull flame. Sawayama, a queer woman of color, leads an anthemic electro-pop chorus, her urgent pop rallying its listeners in community. They flicker, but we glow.
Clean Bandit, Feat. Ellie Goulding, "Mama"
English electronic trio Clean Bandit have been a staple in this column over the last couple months, and for good reason. The singles released off their sophomore album, What Is Love? have been some of the best produced in the genre this year. Clean Bandit have collaborated with a who's who of pop singers for the album, from up-and-coming princesses like Zara Larsson and Louisa to some of the biggest names in pop. Charli XCX and Bhad Babie are featured on the same track. This album truly has everything.
Honestly, "Mama" is best listened to with your brain turned off. Don't ask why the very white, very English Ellie Goulding dips occasionally into singing in Spanish. Don't think about what these lyrics mean: "I've never felt so good, I feel so soft, na na na / And now I know myself, I know my spots, na na na." And most of all, don't ask why she's thinking of her mother in the throes of ecstasy. "Mama" is an infectiously catchy electro-pop banger, and Goulding is a proven hit-maker. Don't think, just dance to it.
Zayn, "Rainberry"
Zayn Malik loves to sing about a sugary beverage. "Lucozade" was a contemplative highlight from his first solo album, Mind Of Mine, so it seems fitting the singer would introduce his new album by returning to a familiar lyrical inspiration. "Rainberry" is a flavor of Gatorade, but it's also an incredible pop song, showing off Zayn's impressive falsetto and pop sensibility. Many of the singles he has released this year have been more muted and downtempo, but "Rainberry" is a stunning reminder that the "Pillowtalk" singer can craft a banger with the rest of them.
Leland, "Middle Of A Heartbreak"
If you don't know Leland's name yet, you definitely know his music. Leland has written hits for everyone from Troye Sivan to Selena Gomez to Kelsea Ballerini, and you may have caught him touring with Sivan and Kim Petras on the Bloom tour earlier this fall. "Middle Of A Heartbreak" is synth-driven and compulsively danceable despite the melancholy of the lyrics. Leland sings about a heartbroken series of nights, but the up-tempo melody makes "Middle Of A Heartbreak" sound like he's pulling himself out of that funk. The "middle of a heartbreak" implies that there's an end, and dancing through the toughness of the middle will bring on that optimistic ending even faster.