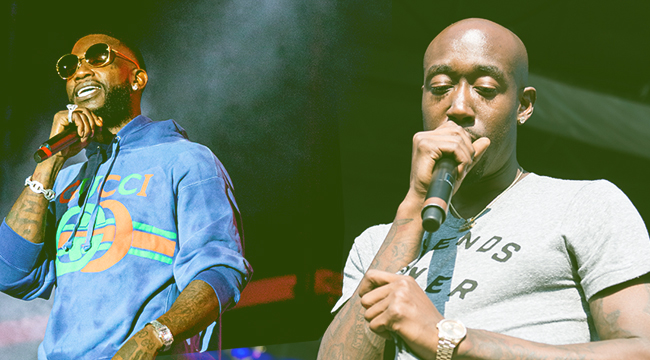 Hip-hop is moving as fast as ever. Luckily, we're doing the work to put the best new music in one place for you. This week, there was new music from Brockhampton, as well as Pivot Gang, Kota The Friend, and theMind. There were also new songs from Rick Ross, Rexx Life Raj and SiR, who tabbed TDE partner Kendrick Lamar for "Hair Down." Here's the best of the rest:
Flying Lotus — "Black Heaven" Feat. Ras G
The hip-hop world is still reeling from the loss of LA Beat scene stalwart Ras G, who passed away last week. Longtime friend Flying Lotus decided to pay homage to Ras with "Black Heaven" a collaboration the two put together after a creative session that Lotus presciently described as "urgent" on the intro to the experimental, winding track.
Cousin Stizz — "Toast 2 That" Feat. Freddie Gibbs
Cousin Stizz delivered another taste of his imminent Trying To Find My Next Thrill project with "Toast 2 That," a thumping ode to the small (and) large victories in life featuring Freddie Gibbs.
T-Pain — "Girlfriend" Feat. G-Eazy
T-Pain linked up with G-Eazy on the breezy "Girlfriend," where the two artists take turns discussing their need for an extra girlfriend for trysts with their current girlfriends.
Lil Pump — "Hardy Brothers" Feat. Smokepurrp
Soundcloud rap heroes Lil Pump and Smokepurrp linked up together on "Hardy Brothers," a short freestyle where the two pay homage to the iconic wrestling duo through noting how much their money is flipping these days.
Vic Mensa & Jesse Rutherford — "Let U Know"
Vic Mensa and Jesse Rutherford are set to embark on a Heads & Tails tour of the United States. They vied to stir attention for the national tour with "Let U Know," where Vic and Jesse take turns delivering fun, braggadocious bard over a bouncy, synth-driven production.
Boosie Badazz — "No Suicide"
Boosie urged the hip-hop universe to keep their collective heads up on "No Suicide," a poignant song where the Baton Rouge rhymer empathizes for anyone whose ever felt like "giving up" on life.
Dom Kennedy — "Pharoahs" Feat. Game & Jay 305
Dom Kennedy and his O.P.M. crew are set to release their OPM Young Nation Vol. 2 compilation album this year. "Pharoahs" is the first single from the project. The recently released track features Game, who gets flossy over the smooth, arresting production.
Jay Critch & Pi'erre Bourne — "One 2"
A pair of New York's burgeoning stars link on "One 2," a Pi'erre Bourne production so lush that the Queens producer decided to get behind the mic for a catchy, melodic verse alongside Jay Critch.
Yung Mal — "Fresh" Feat. Gucci Mane
"Fresh" is the Gucci Mane-assisted first single from Atlanta rapper Yung Mal's upcoming Iceberg album. Both Mal and Gucci lived up to the album title, displaying their effortless cool over a mysterious Zaytoven soundscape.
Connor Donovan — Ditch The Function | Planets
Cambridge, Mass rapper Connor Donovan released his cathartic Conn(is) debut album just a few months ago. But the always-grinding MC is back with some new work in the form of Ditch The Function | Planets, a two-song EP. While Conn(is) was a wrenching work of introspection, Connor is more upbeat on the smooth "Ditch The Function" and experimental "Planets."
Stack Skrilla — Hood Caviar
Yesterday, Bronx rhymer Stack Skrilla delivered some visuals for his 4-track Hood Caviar EP. Skrilla unfurls abstract, rewind-worthy lyricism over a suite of JIGINTHEBASEMENT beats that range from the searing "Melted Butter" to the arresting "Bonanza."
Some artists covered here are Warner Music artists. Uproxx is an independent subsidiary of Warner Music Group.