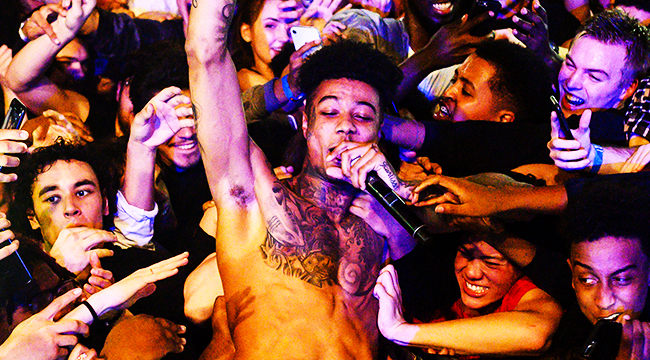 Hip-hop is moving as fast as ever, but luckily we're doing the work to compile in one place. You may not have heard, but there's a show called Game Of Thrones that aired the season premiere for its final season last Sunday. Travis Scott, SZA, and The Weeknd collaborated on a new songfor the show's soundtrack. Elsewhere, there was new music from grime artist Octavian featuring ASAP Ferg, Cupcakke, and Kevin Abstract's Ghettobaby EP, the latest portion of his ingeniously-unfurling Arizona Baby album. Check out our thoughts on all this and more below.
Tyga, "Goddamn"
Tyga had one of the songs of summer 2018 with "Taste," and he's making a bid for this year with "Goddamn," a DA-produced, party-ready track with some of the most turned-up violin play you'll hear.
French Montana Feat. Blueface & Lil TJay, "Slide"
French Montana used a couple bars to pay homage to Dr. Dre's famous "Dre Day" flow on "Slide," an uptempo piano-driven track featuring 17-year-old MC Lil TJay and Blueface, who lets us know his "VVS is bussin' like Jerome Bettis."
Co Cash Feat Lil Yachty, "tOLD mE"
Lil Yachty made waves this week by noting that he wrote most of City Girls' "Act Up" single. Then he also dropped a couple of bars himself on rising Memphis rapper Co Cash's smooth-yet-menacing "tOLD mE."
Beanie Sigel & DJ Paul, "Real Money"
A pair of hip-hop legends are connecting this year when DJ Paul produces Beanie Sigel's upcoming album. Beans isn't exactly known as a purveyor of the 808-sound DJ Paul helped introduce to the game, but he's a gifted and ambitious enough rhymer to give it a shot. "Real Money" may or may not be a taste of what to expect from Beans' next project.
Tee Grizzley, "God's Warrior"
Despite the title, Tee Grizzley's "God's Warrior" isn't exactly a devout affirmation of spirituality, moreso a gritty record where the Detroit rapper lets us know that, "I'm not gon' snatch your chain / I'm gon' take it off politely, so when I go back to sell it, it's not damaged, not even slightly."
Kash Doll, "Hustla"
[protected-iframe id="7223dddda07f2990e6379641b168589a-60970621-76566046″ info="https://open.spotify.com/embed/album/5Jcqz3XsWLvYUlIAI4hrwT" width="600″ height="80″ frameborder="0″]
Kash Doll's "Hustla" is a timely track In light of the recent controversy with Cardi B and her admission to drugging men back in the day. Kash Doll's tale is a well-crafted, similarly scandalous story about how far a person with their back against the wall and a lust for money is willing to go.
G Perico, "West Coast" Freestyle
Hopefully G Perico started a trend of west coast rappers jumping on the beat for G-Eazy's "West Coast." He opened up his lyrical exercise paying homage to "King Nip" before jumping in his bag and spitting some harsh truths about life in the city of angels.
Smokepurrp, "Repeat"
Smokepurrp is back with his latest banger, riding the catchy plucks of "Repeat" with finesse and an animated delivery that delves into how he "run through a bag every day of the week" and "spent your house on my motherf*cking teeth."
OG Maco & Kino Beats, "Check On Me"
OG Maco has been having a hard time lately, but it's good to see that health issues like losing an eye in a car crash and an unfortunate flesh-eating disease haven't stopped his hunger to create. He jumped on a single for his go-to producer KinoBeats' upcoming Work As Usual album.
Jay Critch, "Something Special"
Brooklyn rapper Jay Critch released "Something Special," a breezy record where he lets a woman know she's on his mind and just how far he's willing to go to affirm her special energy.
Kota The Friend, "Birdie"
Kota The Friend's "Birdie" is the kind of sweet ode to love that we all need in our week. The Brooklyn rhymer raps sweet nothings about a thriving relationship, and matched it with a video that shows a loving couple actualizing Kota's romantic lyrics.