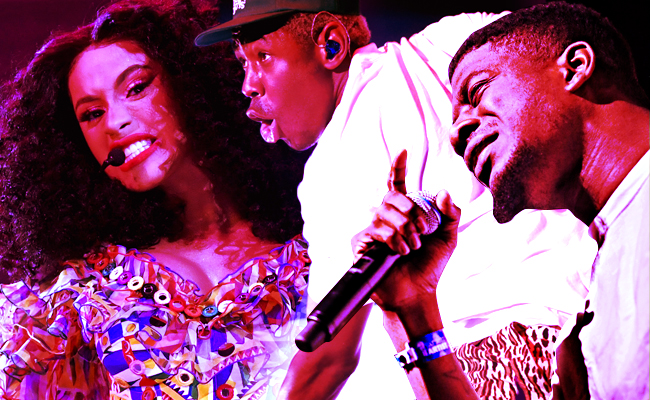 Hip-hop is moving as quickly as ever. Luckily, we're doing the work to compile the best singles of the past week and highlight them in one space for you. This week, Cardi B dropped off the first single from her upcoming project, and Mick Jenkins stirred anticipation for Pieces Of A Man album, which is out today. Elsewhere, Tyler updated a classic song from The Grinch, and Kanye West and Nicki Minaj are trying to fight against slut shaming with a new track.
Cardi B, "Money"
Cardi B is back with the first single from her upcoming project, simply titled "Money." After the year and a half she's just had, she's accrued plenty of it, and she's celebrating on top of the sinister piano play and thumping bass drums. The flashy single is an ideal choice for her return to the game, as she lists off the high-price items she likes, but reminds that there's "nothing in this world that I like more than Kulture."
Rapsody Feat. J. Cole, "Sojourner"
Two of North Carolina's finest connect on "Sojourner," a track from 9th Wonder's Jamla Is The Squad 2 album. The 22-track album boasts a range of features from a who's who of lyricists, but "Sojourner" may be the standout. The track's value doesn't just lie in the relevance of J. Cole and Rapsody, two sonic birds of a feather, finally linking up for North Carolina. The soulful song stands on its own merits, with both artists delving deep and showing why they're considered among the best lyricists in the game.
Tyler, The Creator, "You're A Mean One, Mr. Grinch"
Tyler, The Creator's been dropping freestyles and instrumentals all year, so it's only right that he offered something he could make a profit from. Tyler dropped off his contribution to The Grinch soundtrack, which will be out on November 9. He puts his own spin on the classic, "You're A Mean One, Mr. Grinch," rapping over some swinging drums.
XXXTentacion Feat. Lil Pump, Maluma, and Swae Lee, "Arms Around You"
The latest from controversial artist XXXTentacion has arrived. The new track features the late, troubling-yet-talented artist vying for pop success with the breezy "Arms Around You." He, Lil Pump and Swae Lee sound right at home crooning over the lush soundscape, and Maluma adds his own flavor to the end of the track singing in Spanish.
Tee Grizzley Feat. Offset, "Pray For The Drip"
Tee Grizzley had one of the best days in hip-hop history, having both Jay-Z and LeBron co-sign his "First Day Out" track, but he's aiming to let us know it's Still My Moment with his upcoming project. He entrenched that mission statement via a collaboration with one of the hottest rappers of the moment in Migos' Offset. The Detroit and Atlanta connection is a winner, with the two trading rhymes over a mysterious synth soundscape ripe for their menacing presence.
The Black Eyed Peas Feat. Nas, "BACK 2 HIPHOP"
The Black Eyed Peas may be best known for their early decade foray into pop stardom, but they have a strong grounding in hip-hop from their early offerings. Perhaps that's why they got with Nas and let us know that it's "BACK 2 HIPHOP" over energetic production and a rework of Soul II Soul's "Back To Life" classic.
Alchemist Feat. Conway, Westside Gunn, and ScHoolboy Q, "Fork In The Pot"
Alchemist's birthday was yesterday, and he decided to give us a gift in the form of "Fork In The Pot," a grimy assembly of some of hip-hop's hottest lyricists. Over a beat that sounds like the theme for an '80s cop drama, LA's ScHoolboy Q and Buffalo's Conway and Westside Gunn connect on "Fork In The Pot," which will be released as a 12″ in the near future. Perhaps the future also holds more TDE and GRISELDA collaborations? We can only hope.
Tyga Feat. Swae Lee, "Shine (Zeze Freestyle)"
Tyga shut the summer down with "Taste," which was produced by D.A. Doman. After helping Doman achieve his biggest look, it's only right Tyga jumps on the beat for Doman's next hit "Zeze," which features Kodak Black, Travis Scott and Offset. Joined by Swae Lee, Tyga has fun on the marimba-dominated track which displays some of the same vocal filtering and pacing that made "Taste" one to savor.
Mick Jenkins, "Barcelona," "Padded Locks (Feat. Ghostface Killah)"
Mick Jenkins' Pieces Of A Man is here. He's been building demand with a steady slew of singles throughout the last few months, and decided to drop two of them in the past week. "Padded Locks" with Ghostface shows the two meeting right in the middle stylistically, flipping glowing strings from BADBADNOTGOOD's "Speaking Gently" and trading rapid-fire verses. "Barcelona" is seemingly an inversion of "Padded Locks," with busier production but a more lax overall tone. Mick is at his best on the smooth track, showing off the lyricism that has him regarded as one of Chicago's brightest lights.
Jay Critch & Rich The Kid, "Oh Wow"
Jay Critch is one of New York's bright spots. The Brooklyn MC has been gradually making a name for himself — to the point where he can now give looks to other artists. That's what he did with "Oh Wow," a fun, autotune-laden track for producer Captain Crunch's upcoming BeverlyKillbillies album.
IDK Feat. Maxo Kream, "Moral"
It's a DMV and Houston thing on "Moral," a track where both MCs show why they're names to watch. IDK starts off the track with a Juicy J inspired flow, then Maxo jumps on at the end with a flashy verse that shows off a range of cadences. Try to rhyme along with the rapping emojis in the creative visual that IDK uploaded.