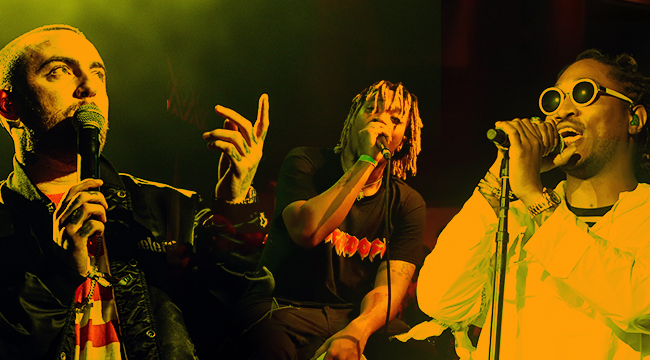 Hip-hop is moving as fast as ever. Luckily, we're doing the work to compile the best singles of the past week and highlight them in one space for you. This week was relatively quiet for established stars, save for Future and Mac Miller, who dropped off a freestyle to fuel the buzz his Swimming album. Aside from Mac were a hoard of new artists trying to fuel the buzz for themselves period. Upcoming acts like Brockhampton, the YBN crew, Wifisfuneral, and Lil Baby are still hungry — which means we're getting to hear their best. That's always a good thing.
Future, "Translator"
Future still has the world buzzin' from his Beast Mode 2 project — and some questionable comments on who's worthy of being marriage material — but you know how he does. Something like a month-old project isn't going to stop the ATLien from releasing new work. That's why he dropped "Translator" on Wednesday. The smooth, soulful track sounds like early '10s Future, as his delivery and voice resonate in a more lucid manner than what we've heard from his artful drawl in recent years. Who knows if these are old vocals or an attempt at a throwback vibe from 2018 Future, but his fans will enjoy figuring it out.
Mac Miller, "Inertia"
Mac Miller has released his Swimming album, which is a smooth, reflective project that showcases him taking incisive stock of his career and life to this point. Though his jazzy "Inertia" freestyle wasn't on the album, it served as a proper preview of what was to come — and the video he shot in his studio for the song added to the personal, organic vibes.
Lil Durk, "In A Hole"
Lil Durk has been making a name himself as one of the few acts to breakthrough from the early 2010s Chicago rap scene, but now he's bringing his crew along. His OTF (Only The Family) crew has one of the dopest group names in hip-hop — and now they're going for a catalog to match. They recently released Only The Family Volume 1, but one of the standout tracks is the melodic Lil Durk solo "In A Hole," in which he croons about his love for his brothers, his disdain for opps, and a range of other urgently delivered musings.
YBN Nahmir Feat. YBN Cordae, "Pain Away"
De-facto YBN leader — and XXL Freshman — YBN Nahmir and his lyrical lieutenant YBN Cordae dropped "Pain Away," a smooth change-of-pace in which the two artists reflect on how far they've come to become beat the figurative game of life and achieve stardom. The two artists match the doleful soundscape with reflective verses, with YBN Nahmir divulging on making his mother proud after his brother's arrest and YBN Cordae how the rough things he saw "f*cked up his mental."
Brockhampton, "1997 Diana"
Brockhampton is leading up to something. On the heels of "1999 Wildfire" and "1998 Truman" comes "1997 Diana," an uptempo trap and jock jam groove which shows the recent RCA signees doing their thing over a fast-paced, thumping track. The production expertly switches tempos, pulling the rug out from under the breakneck pace for a slower, trap-influenced vibe. The disparity allows each member of the massive squad to put their own twist on the production. Hopefully, by the time a 1996 track drops, we'll have an idea of where these '90s-titled songs are heading toward.
WifisFuneral, "Fade Away"
Florida artist Wifisfuneral reflected on having the weight of the world on his shoulders in his recent interview with hip-hop editor Aaron Williams. That kind of pressure can lead anyone to some dark places. Wifisfuneral went on a sonic excursion to that space on "Fade Away," a gloomy track in which he wishes to move on from what anguishes him — but self-medicates amid his inability to do such. The earnest track is as mesmeric as it is morose, exemplifying Wifisfuneral immense musical gifts.
Lil Baby, "Seattle"
Atlanta's Lil Baby promises to let us know what "a thousand'll do" on "Seattle," his latest offering. Lil Baby has surely been learning from his Quality Control comrades Migos, dropping new music off weekly even after recently releasing his Harder Than Ever album. That title wasn't just branding, but a mindset for the young Atlanta artist who flowed effortlessly over "Seattle," which unfortunately isn't a reference to his label being the new legion of boom.
Dame D.O.L.L.A. Feat. P-Hu$tle, "Boo'd Up Remix"
While some NBA stars can't keep their hands to themselves this summer, we're thankful Dame D.O.L.L.A, aka Portland Trailblazers star Damian Lillard can't keep his bars to himself. The 28-year-old has legitimate skills on the mic, as evidenced by his freestyle over Ella Mai's "Boo'd Up" smash. If he wasn't in the league, he'd still likely make it to the public eye with his brazen Bay flow and clever rhymes.